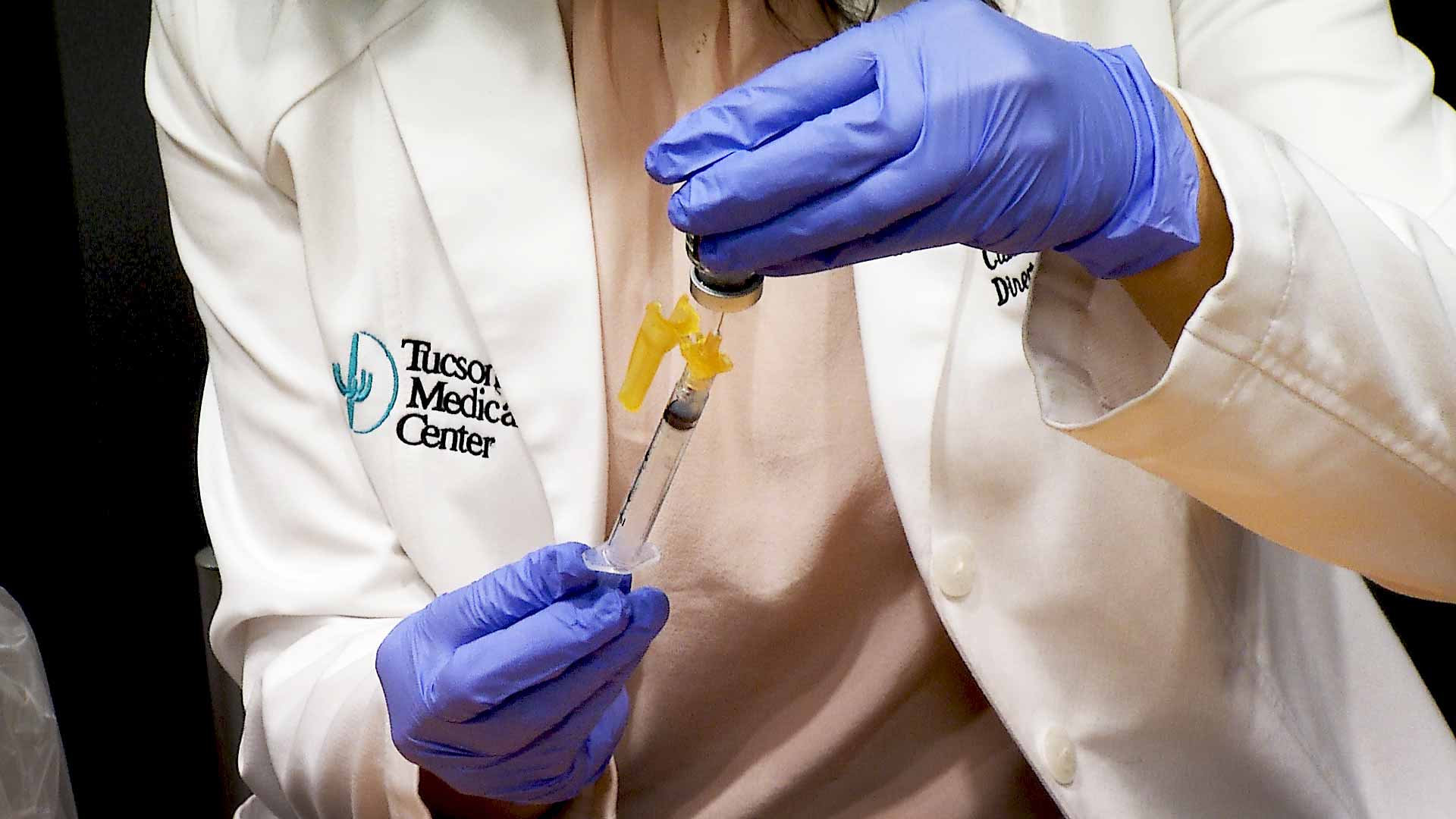 A health care worker at Tucson Medical Center fills a syringe with a dose of the COVID-19 vaccine. January 2021.
Robert Lindberg/AZPM Staff
As COVID-19 cases continue to climb in Pima County, health officials are trying to control the spread of the disease by promoting vaccinations for children and booster shots for vaccinated adults.

County health director Dr. Theresa Cullen says the coronavirus is once again spreading rapidly through Pima County, so much so that it's beyond the CDC's definition of high transmission.
"High transmission is 100 cases per 100,000. We are at 350 cases per 100,000, so what we know is that moniker of high transmission, it is not helpful right now. If anything, we're in high-high-high transmission at the current time, and we don't have a sense where in this wave, where we are going to stop," Cullen said during a Wednesday news conference.
That high transmission rate is the reason Cullen jumped ahead of the Centers for Disease Control by authorizing booster shots for all vaccinated adults. Currently the CDC is only recommending boosters for certain high-risk individuals.
"I made the decision — in conjunction with talking with others — that our community was now a high-risk community. You've seen this in other states. I do believe we are the only county jurisdiction that has moved ahead beyond Santa Clara in California, but the decision was made looking at the numbers of cases that we are seeing," she said.
The high rate of COVID cases in schools is part of that trend. The county health department's COVID School Liaison, Brian Eller, says since the start of the school year 176 outbreaks have been reported, including 30 in the five days since November 12.
Pima County reported 434 new COVID-19 cases today, and Cullen says the county has an overall infection rate of 350 cases per 100-thousand people, more than triple what the CDC classifies as a high transmission rate for the disease.

The state Department of Health Services says 2,829 people in Pima County have died from the virus since the pandemic began.