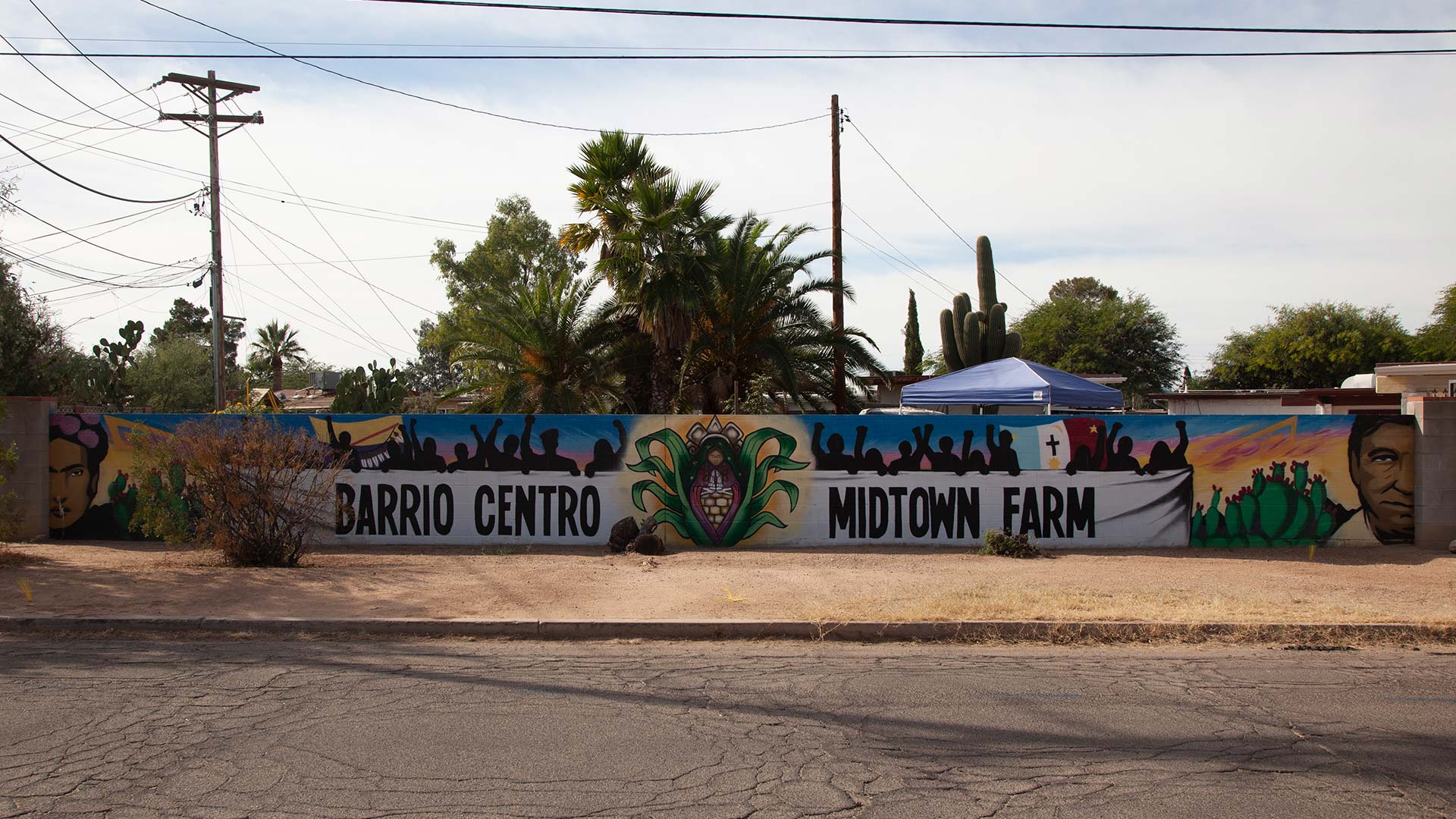 Flowers and Bullets is a grassroots movement that uses art and food to talk about larger issues, like gentrification or pollution, affecting Barrio Centro. This mural welcomes people visiting their Midtown Farm housed at the former Julia Keen Elementary School.
Emma Gibson/AZPM
Tito Romero is "growing the squash your nana grew."
A co-founder of the group Flowers and Bullets, he helps run a farm on the grounds of the closed Julia Keen Elementary School in Barrio Centro.
The food it produces not only nourishes a community but also provides tools to talk about deeper environmental and social issues facing the neighborhood now and in the future.
"If you drive up and down 22nd Street, we don't have any access to healthy food, organic food," Romero said. "We have Jack in the Boxes, we have Long John Silver's, some Church's [Chicken]. The Natural Grocers store is north of us in a more affluent community."
He said several of the members are high school dropouts or "push outs," and the local communities are underserved.
"We come from what's known as the hood — the barrio. But we see the magic and the beauty that's behind here," Romero said.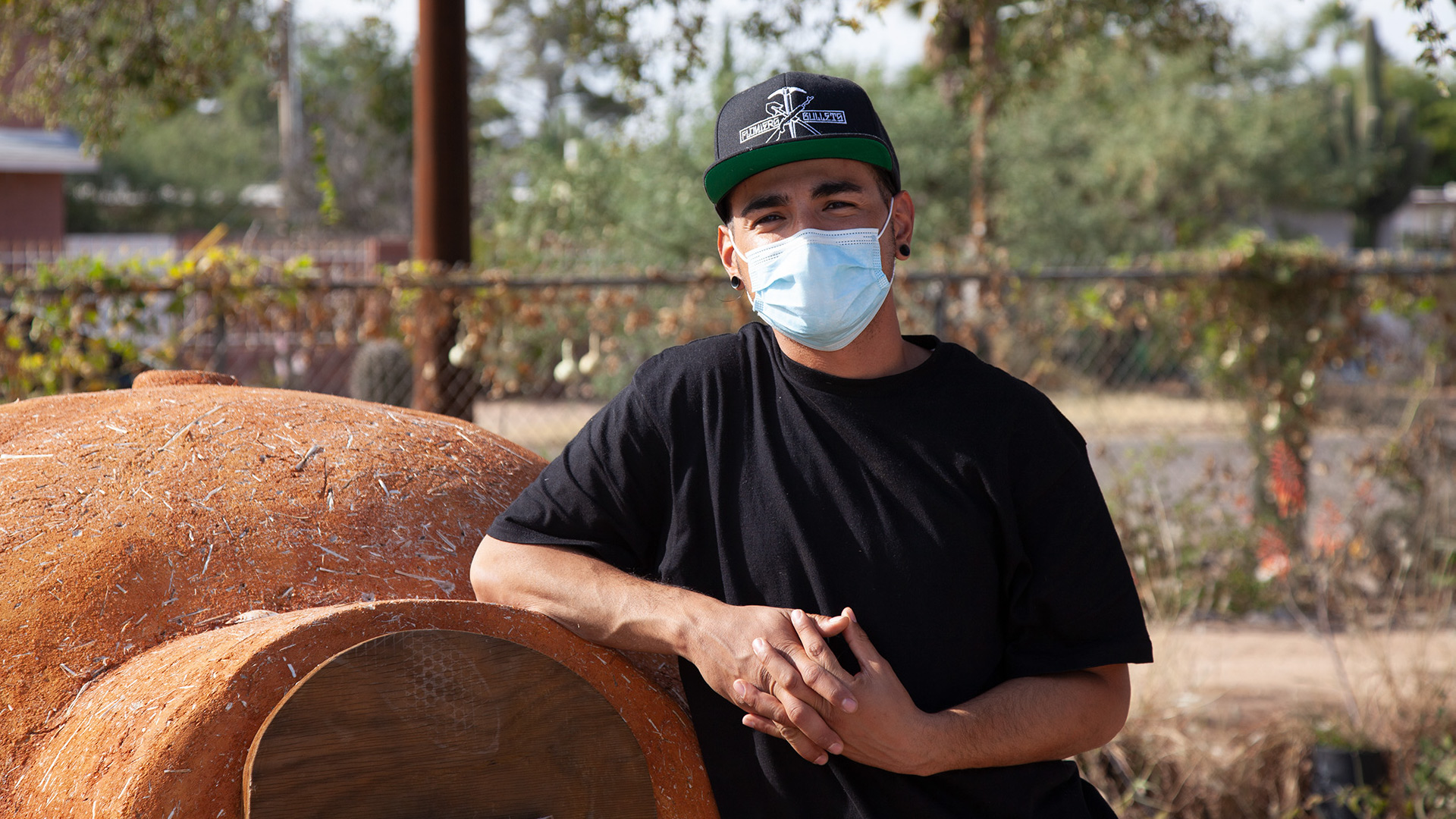 VIEW LARGER Tito Romero, the outreach coordinator and co-founder of Flowers and Bullets, posing by the group's new adobe oven. Flowers and Bullets is a grassroots movement that uses art and food to talk about larger issues, like gentrification or pollution, affecting Barrio Centro.

Emma Gibson/AZPM
Throughout the pandemic Flowers and Bullets made their own food subscription service using their small crop. They call it Barrio Sustained Agriculture and is a riff of the popular Community Supported Agriculture business model.
Joe Marlow, the owner of Southwinds Farm, has a CSA, too, and he said community is something he sees every week at the Rillito farmers market.
"A lot of what happens on Sunday morning at the market is that you see people come here. They buy their food and two then hours later you still see them. They're walking around, right?" said Marlow. "They're going and talking to their favorite vendors. It's a little way to draw people together."
Marlow has found customers like to know who their farmer is and where their food is grown.
And farmers markets as well his CSA have helped provide that community.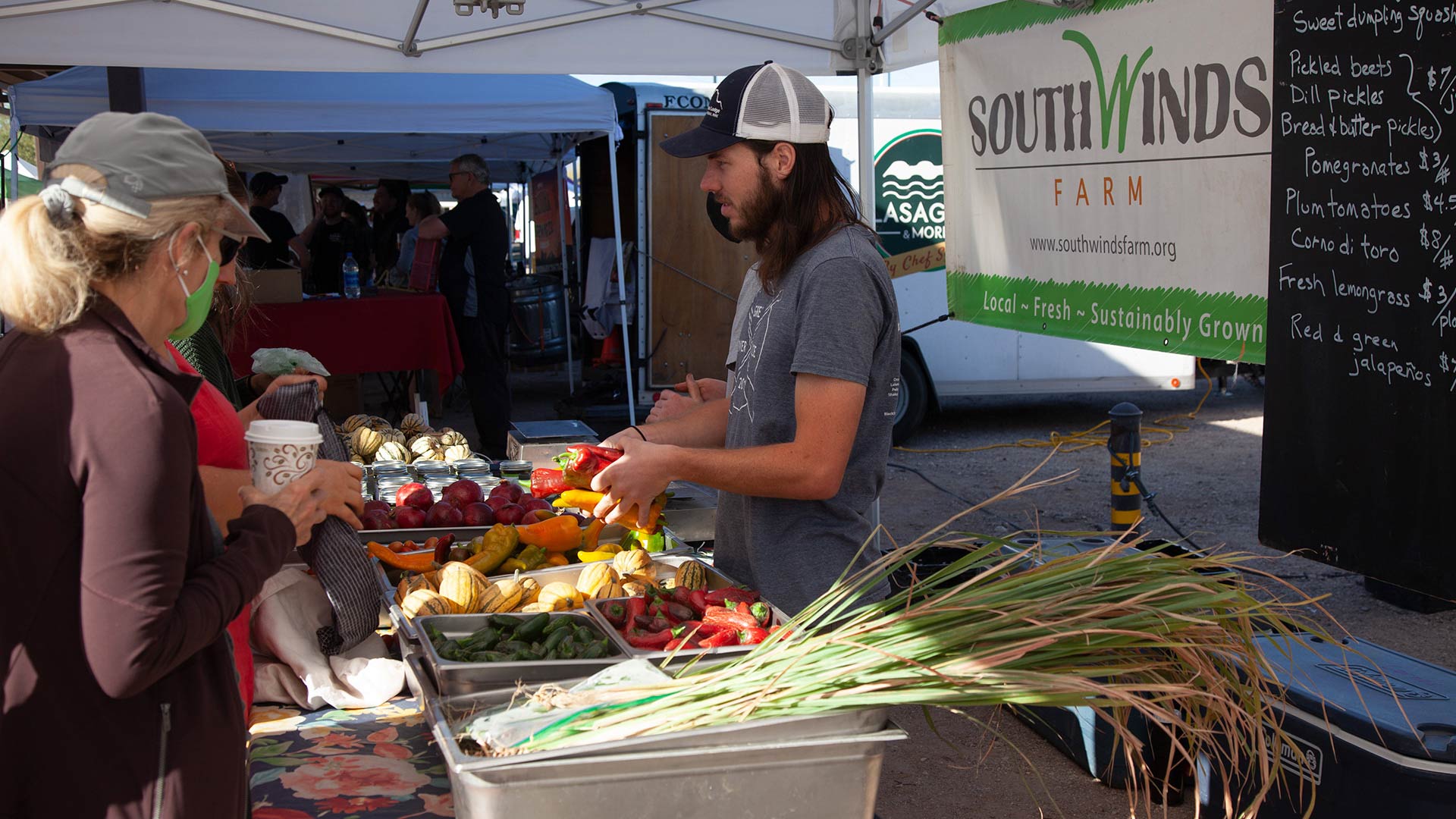 Southwinds Farm representatives selling their crop at the Nov. 14, 2021 Rillito Farmers Market.
Emma Gibson/AZPM
But food is part of a big economic system that has been thrown for a loop during the COVID-19 pandemic — a shock that is now showing up to some extent in prices shoppers see at the grocery store.
While demand for food at restaurants and schools plummeted, it rose at grocery stores, said George Frisvold, an economist at the University of Arizona College of Agriculture and Life Sciences.
"Huge shocks in prices in commodity markets for the raw commodities isn't that unusual. What's unusual now is it's filtering down to the retail level," he said.
According to the State of the Tucson Food System Report from the University of Arizona, found that 32% of households in the state were food insecure, as of August 2020. About 20% of people who identify as non-Hispanic white felt some insecurity, while 57% of Hispanic and 25% of what the report referred to as "others" experienced food insecurity.
Bridgette Nobbe at the UA's Campus Pantry said it serves about 3,000 people a year but that about 13,000 students could be considered food insecure.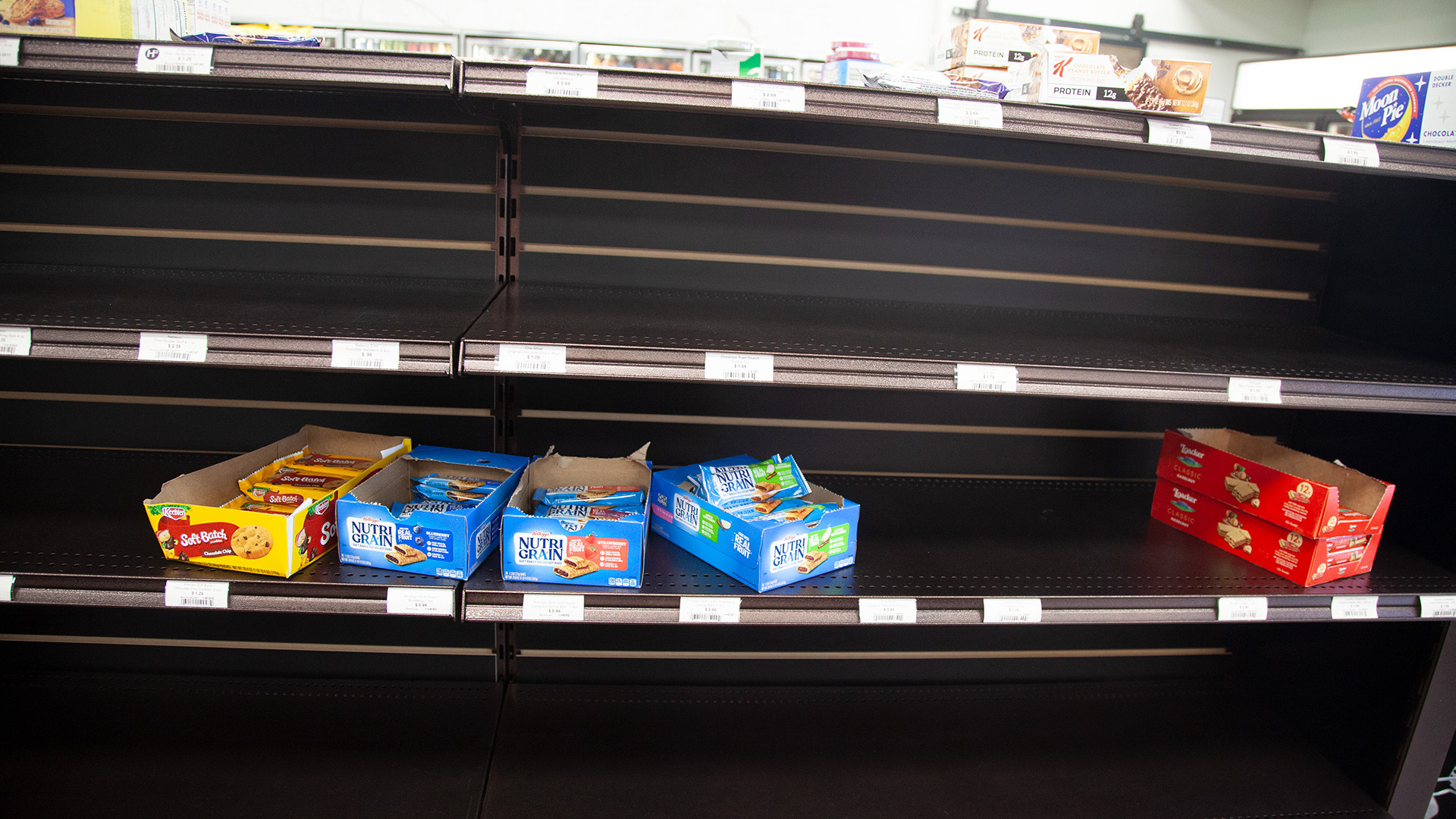 Sparse shelves at the University of Arizona's Arizona Market Nov. 17, 2021.
Samantha Larned/AZPM
Schools and traditional food banks are not the only groups working to end food insecurity in Southern Arizona. Adair "Egg" Steig is with Tucson Food Share. It's a mutual aid group with the purpose of sharing food with the community.
It sprung out of the needs of the 2020 pandemic lockdowns, and Steig said it gave groceries and other supplies to about 7,000 people over the last year.
"For us mutual aid means that we're working as neighbors, we're working as people to help people in similar circumstances or in circumstances that we can understand and imagine experiencing ourselves," Steig said.
Food Bank of Southern Arizona estimates that about 153,150 people in Pima County were food insecure.
Steig said government has failed these Arizonans, and the only option left is to care for each other.

The Buzz
airs Fridays at 8:30 a.m. and 6 p.m. and Saturdays at 3:30 p.m. on NPR 89.1. You can subscribe to our podcast on
iTunes
and NPR One. See more from
The Buzz
.