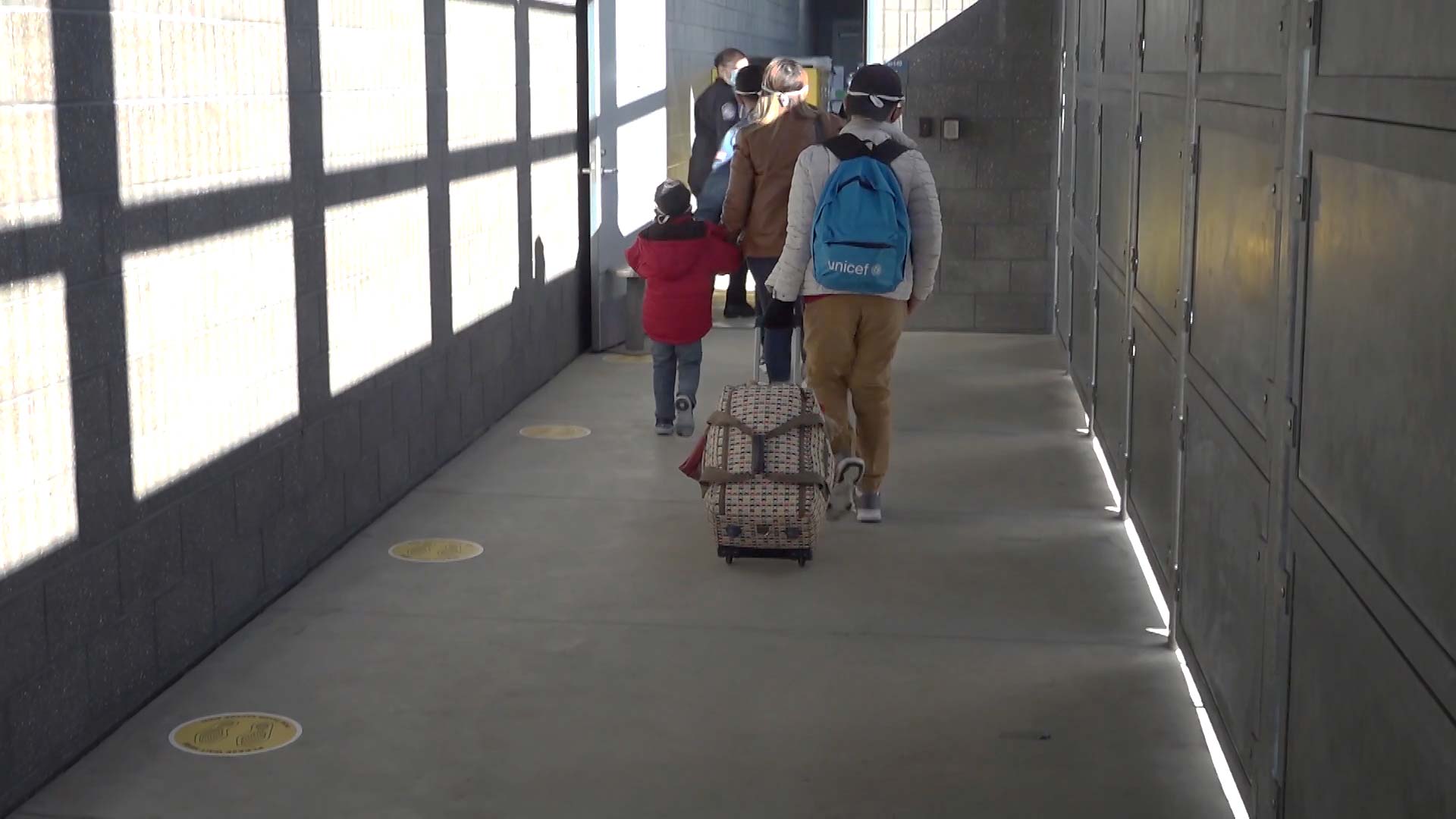 Immigrants with active cases under the Migrant Protection Protocols travel through the San Ysidro Port of Entry in San Diego as they are processed for entry into the United States. February 2021.
U.S. Customs and Border Protection
The Department of Homeland Security is reinstating the Migrant Protection Protocols, or MPP, at the U.S.-Mexico border. That's the controversial policy enacted by the Trump administration that forces asylum seekers to wait for their protection hearings across the border in Mexico.
The Biden administration has tried several times to terminate MPP, but a federal judge in Texas ordered it restored in August. In a memo released Thursday, DHS said it was reinstating it as required by that court order.
Michael Knowles is the president of Local 1924 of the American Federation of Government Employees, the union that represents asylum officers who work with U.S. Citizenship and Immigration Services.
"Policies like this place refugees in harm's way, and it's a source of shame, it's really a heavy burden for our members to carry," he said. "Because they're the ones who have to hear an individual literally begging for their life."
Knowles said under the revamped policy, asylum officers will be tasked with determining whether a migrant has credible fear of staying in Mexico to wait for their court date, a threshold he says can be impossibly high to meet. He said reinstating the policy will also strain resources and exacerbate an already years-long backlog for asylum cases.

A letter released by Local 1924 after the DHS memo Thursday said asking asylum officers to carry out MPP again was forcing them to be "complicit," in violating U.S. and international protection laws.
The policy is expected to begin again next week and comes as the Centers for Disease Control issued another continuation of Title 42 — the pandemic policy that allows Border Patrol agents to quickly turn most migrants back across the border to Mexico without processing, even many who want to claim asylum.

Fronteras Desk
is a
KJZZ
project covering important stories in an expanse stretching from Northern Arizona deep into northwestern Mexico.