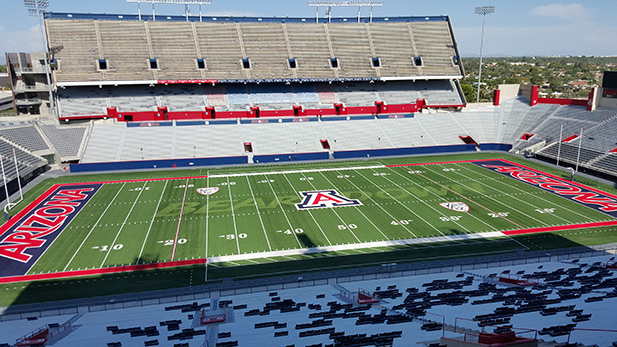 Arizona stadium, home field for the University of Arizona Wildcats football team.

AZPM Staff
Update 6:10 pm, December 27, 2021
Officials with the Arizona Bowl announced Monday evening that New Year's Eve bowl game in Tucson has been canceled.
Officials with the game had hoped to postpone the game or find another team to play after Boise State announced earlier in the day that it would not participate.
"This late development is disappointing on so many levels, but we certainly understand and agree that the health and safety of players, coaches, officials, university personnel, fans, vendors, and our community comes first," said Kym Adair, executive director of the Barstool Sports Arizona Bowl.
Original posting 3:10 pm, December 27, 2021
Boise State University officially withdrew from the Arizona Bowl on Monday.
A statement from the organizers said, "with the number of student athletes from Boise State University testing positive for COVID now exceeding the amount that would allow for safe travel and safety of players," the team withdrew.
Bowl organizers said they are working to determine if a bowl game can still be played in Tucson, possibly at a later date. In addition to changing the date, a football team from another university could be invited to play in place of Boise State.
Boise State was scheduled to arrive in Tucson for the game on Tuesday.

The game is currently scheduled for Friday at Arizona Stadium on the campus of the University of Arizona.