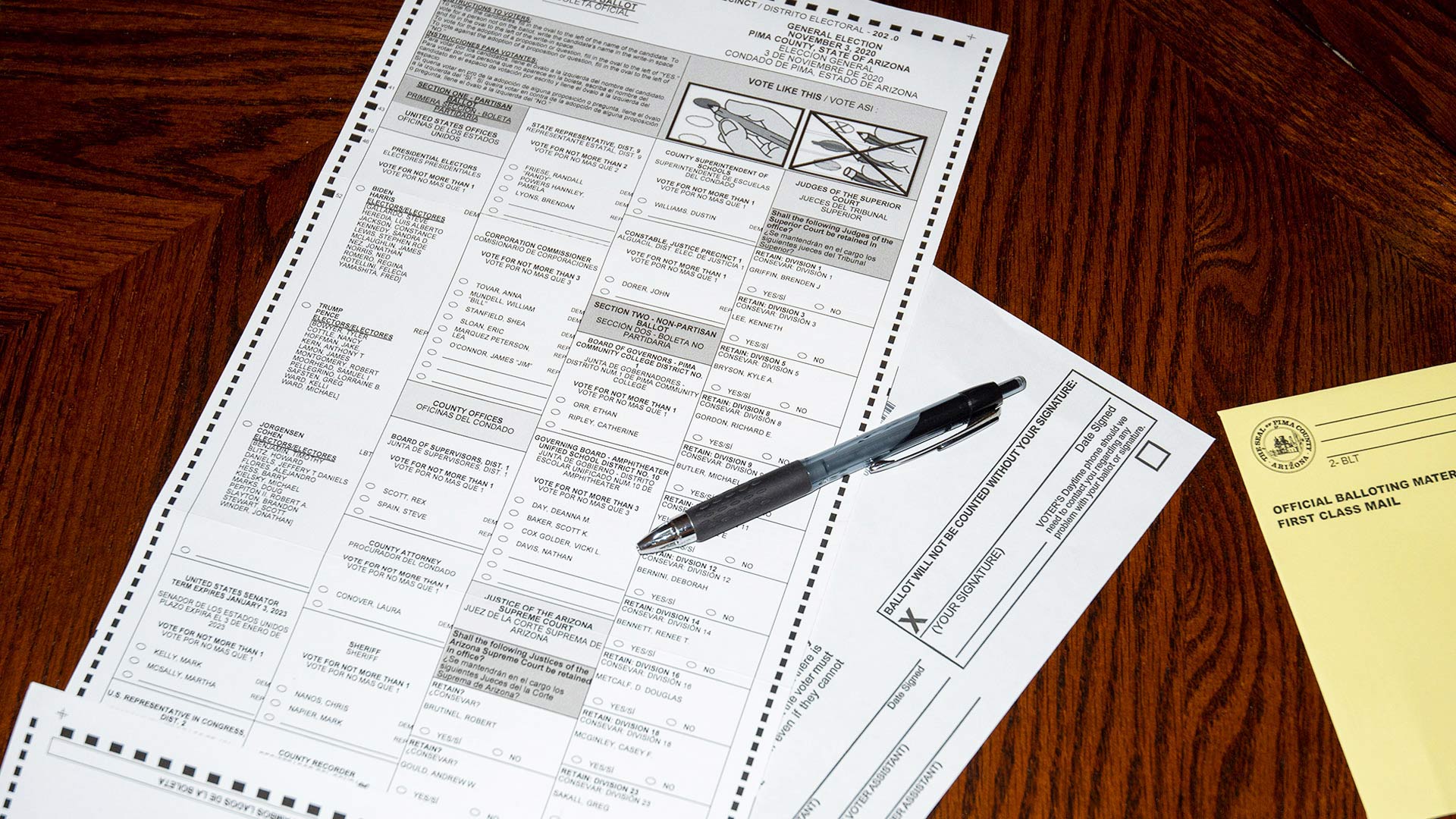 An Arizona mail-in ballot from the 2020 election.
CM Greer/AZPM
Pima County is looking at modernizing its election system, but the proposed change is facing some scrutiny.
The county is considering consolidating its 240 precinct polling places into 100 voting centers and switching to electronic instead of paper voter lists.

County Recorder Gabriella Cázares-Kelly says it would mean a voter could cast their ballot at any polling place in the county, but with greater security.
"The human error of marking the wrong line for a voter is eliminated. Ballots are only printed as someone checks in. Someone being able to print a stack of ballots and stuff the box is literally impossible," Cázares-Kelly said Friday.

Cázares-Kelly and interim elections director Mary Martinson presented a plan to the county's Election Integrity Commission.
Instead of printing hundreds of bulky lists of registered voters, the county would distribute digital tablets called e-books containing the voter rolls to each polling place. Unlike printed lists, the e-books could be updated instantly if a voter changes their address.

Republican Party representative Mary Preble was skeptical, especially when she heard the county's contractor hosts its data on Amazon Web Services, one of the country's largest web providers.
"I think nobody in this country will trust elections as long as Amazon is involved with it. We're supposed to have checks and balances at the polling places and it sounds like there won't be checks and balances anymore," Preble said.
Replacing precint-based polls with voting centers would mean fewer places to vote but more overall convenience, says Cázares-Kelly, because voters would not have to find the correct polling place. Instead, they could go any voting center to cast their ballot.
Some polling places sit virtually empty on election day now that vote-by-mail has become more common, especially during the COVID-19 pandemic.
Most Arizona counties including the largest, Maricopa, have already adopted voting centers and electronic voter rolls. They've had that option since 2011. County officials plan to present their proposal to Pima County supervisors in mid-February, in time to have the new system in place for this year's elections.