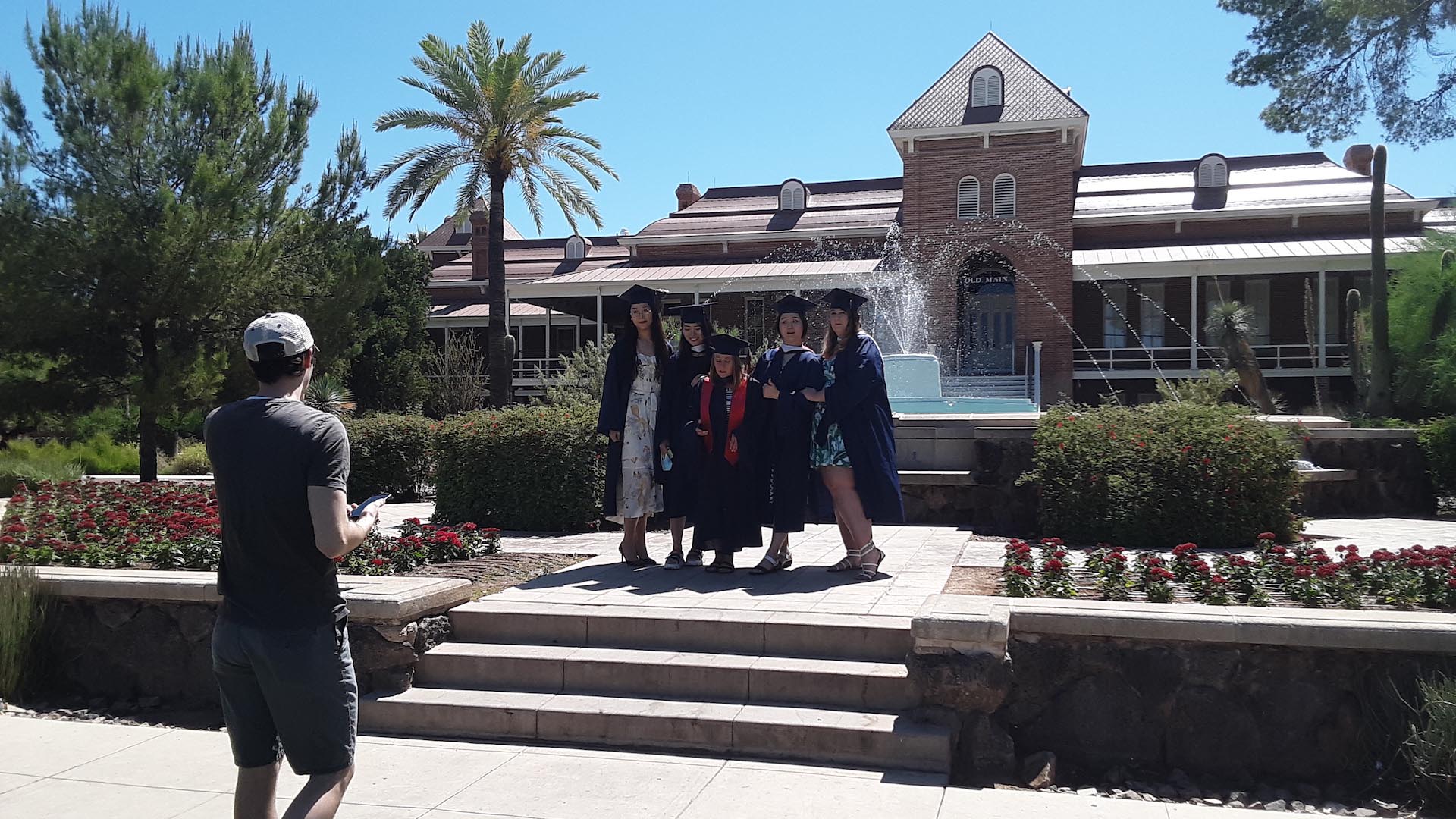 Spring 2020 University of Arizona graduates pose for photos at Old Main.
Tony Perkins/AZPM
This week, The Buzz examines the difficulty that employers are facing in hiring workers and talks to job seekers about their hunts for work.
"The surprising thing is how widespread the difficulty in hiring is. I think we're seeing it across most sectors," says George Hammond, with the University of Arizona's Economic and Business Research Center.
Hammond describes a collision of various factors.
Workers are re-evaluating the careers they want at the same time more people are retiring thanks to increases in the stock market as well as rising home prices.
And while some industries — like restaurants and food service — have a need for workers, some seeking employment in those industries have found it difficult to break in.
"It seems like there are a lot of opportunities out there, I just don't have the specific skills for them and so for a lot of places — specifically, I found with restaurant jobs — they wanted people who had serving or cooking experience before," said Clara Kuhn, a job seeker.
Meanwhile, many workers need childcare before they can go back to work.
But Kelley Murphy, with the Children's Action Alliance, says the industry lost about one-fifth of its workforce early on in the pandemic.
While federal relief funds can help childcare providers boost pay and offer bonuses to fill jobs, Murphy says the state will need long term solutions to boost a childcare workforce that was already shorthanded before the pandemic.
"The workforce shortage in childcare is sort of a linchpin to unclogging the workforce shortage elsewhere," she said.
Other job seekers have a lot of options, said Peter Corrigan, who works with University of Arizona seniors and alumni navigating the job market.
"A couple of months ago, we put together a Zoom meeting of our top employers, meaning employers that hire the most students and just are kind of a constant presence on campus, and the one thing that we did learn from them universally was that applications for their positions are down 30% to 40% over what they have been in past years," he said.

The Buzz
airs Fridays at 8:30 a.m. and 6 p.m. and Saturdays at 3:30 p.m. on NPR 89.1. You can subscribe to our podcast on
iTunes
and NPR One. See more from
The Buzz
.