Christopher Conover and Andrea Kelly bring us a pkg about the last week of campaigning for the special election in Congressional District 8 where Republican Jesse Kelly and Democrat Ron Barber are holding different events to try to get out the vote. Former congresswoman Gabrielle Giffords is expected at Barbers event. Also running is Green Party candidate Charlie Manolakis. (VIDEO: AZPM)
By Christopher Conover and Andrea Kelly Arizona Public Media
The final weekend for campaigning in the Congressional District 8 special election had both political parties trying to reach voters one last time.
Republican Jesse Kelly and Democrat Ron Barber each took time to thank their volunteers for the work they've done and for what they hope to accomplish in the final days of the race: enough votes to bring in a win on Tuesday night.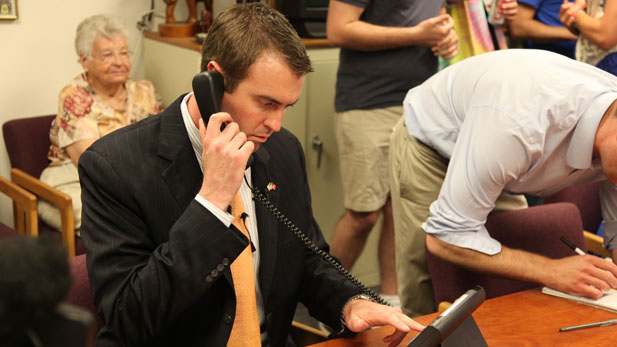 Republican Jesse Kelly makes phone calls to remind people to vote in the days leading up to the June 12 special election in Congressional District 8. (PHOTO: Christopher Conover)
Kelly spent time calling voters to remind them to go to the polls.
Barber took part in a concert Saturday night, dancing on the stage of the Rialto Theater in downtown Tucson.
Both candidates referenced how close the race is.
Kelly said he expects the margin to be "razor close."
"You thought the last one was close -- 4,000 votes? They say this one might be in the hundreds," Kelly told volunteers at Pima County Republican Party headquarters Saturday.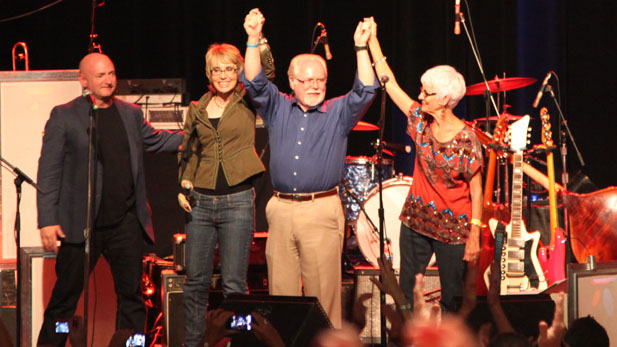 Ron Barber hosts a concert for his campaign volunteers in the days leading up to the June 12 special election in Congressional District 8. From left: Mark Kelly, Gabrielle Giffords, Ron Barber, Nancy Barber. (PHOTO: Andrea Kelly)
Barber took Saturday night off from campaigning to reward his volunteers with a concert, but while he wasn't campaigning, the tightness of the race was on his mind, too.
"People need to show up on Election Day to really help us make this a win. It's going to be a tight race," he said.
Kelly said President Obama will win the race for him, because people are tired of his policies and want a change.
"This next six months, it may be short but it is going to be critical to our nation. We have a debt ceiling vote coming up, we have extension of the Bush tax cuts," Kelly said to volunteers.
Meanwhile, at the Barber concert, the crowd went wild when Gabrielle Giffords joined Barber on stage to show her support for him.
"This is more than just an ordinary election. This is a little bit about closure. This is closure on Gabby's career in Congress," said Giffords' husband, Mark Kelly.
It's too late to mail in an early ballot to fill the vacancy from Giffords' resignation earlier this year. Voters who have an early ballot can take it to any polling place Tuesday or drop it off at their county recorder's office.
Polls will be open Tuesday from 6 a.m. to 7 p.m. Joining Kelly and Barber on the ballot is Green Party candidate Charlie Manolakis.