Hispanics have the greatest purchasing power of any US ethnic group and taken together will soon represent the world's ninth largest economy --this according to new a new Neilsen Report. Projections indicate that in 2015, the Hispanic community will be the world's ninth largest economy with $1.5 billion in purchasing power. The Nielsen study coincides with publication of new US census figures showing that births of non-Hispanic whites are in the minority for the first time.

Felipe Garcia - Vice President of community Affairs, Metropolitan Tucson Con Lea Marquez-Peterson - Tucson Hispanic Chamber of Commerce/President-CEO (VIDEO: AZPM)
Purchasing power of U.S. Latinos hit $1.04 trillion and will continue growing exponentially as the population booms, Census Bureau and economic forecasting models show.
In Arizona, Latino purchasing power was $40 billion in 2010, about 16 percent of the state's GDP.
The U.S. Latino population increased by 15.2 million between 2000 and 2010, accounting for more than half of the 27.3 million increase in the total population of the United States, the 2010 Census showed.
In Arizona, Latinos accounted for slightly less than half of the decade's population growth, going to 1.8 million or 29 percent of the overall population.
Population plus economic improvement among Latinos gives it a lot of power in the marketplace, says Felipe Garcia, vice president of strategic partnerships in Mexico marketing with the Metropolitan Tucson Convention and Visitors Bureau.
"The Hispanic population in the U.S. will be the 15th largest economy in the world," Garcia says. "Are companies ready, are they adapting? I think we need to change."
Garcia says success will come to those businesses that are nimble and able to adapt to the shifting demographics.
"It's not only about putting up a sign in Spanish that says 'hablamos español," he says. "That is not the miracle solution … you have to really understand that market and really understand the reasons why they are shopping."

Lea Marquez Peterson, president of the Tucson Hispanic Chamber of Commerce, says businesses have come to realize the importance of marketing to Latinos, and her organization already provides services to a broad range of members.
"There are a lot of cultural aspects to marketing to the Hispanic community," says Marquez-Peterson. "Certainly people do not have to be Hispanic or speak Spanish to participate. We have a lot of businesses, mainstream and working with the general Tucson market, that realize they need to be looking at their own business plans and marketing efforts on how to reach the fast-growing Hispanic market."
Garcia says that as demographics shift, it's important for businesses to also recognize the diversity of the market and resist the temptation to place all Latinos into one homogenized category.
"I think we're more like a salad in the sense that you have the tomatoes, the carrots, and the lettuce," he says. "It all mixes together and makes a salad, but every piece is different."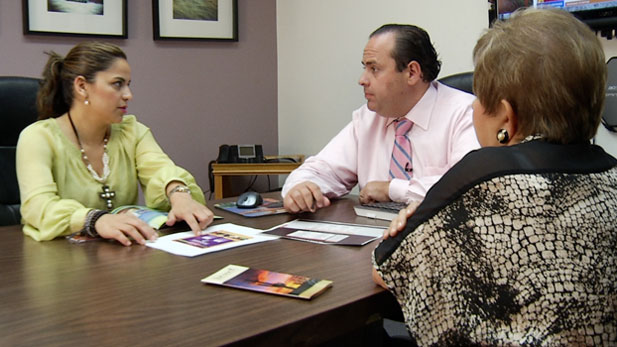 Vice President of Community Affairs Felipe Garcia, discusses the future of Arizona's Hispanic Community. (PHOTO: AZPM)