Rush Dougherty looks on as Leaf owner David Gebert checks out his electric car. Both men are members of TEVA, the Tucson Electric Vehicle Association.
Tony Paniagua / AZPM
While many drivers in Arizona and the rest of the world are paying much more for gasoline than they did a year ago, Tucson residents like David Gebert can just ignore the costs as they go about their business.
Fewer than 2% of the state's drivers are said to own an electric vehicle, but Gebert is one of them.
"I hardly even notice gas prices except when they're on the news, and then it sparks my interest and I notice as I drive by, " Gebert says.
Gebert owns a Nissan Leaf and a Tesla, and he's the president of TEVA, the Tucson Electric Vehicle Association which provides information about owning an electric car and advocates for their use in society.
"We try to show our cars and educate people to how easy it is to go electric. Basically we call it 'butts in seats.' A lot of people are converted by taking a ride," Gebert adds.
The group first formed in the 1990s and eventually disbanded, but it was re-established in the early 2000s when current member and past TEVA president Rush Dougherty co-founded the organization.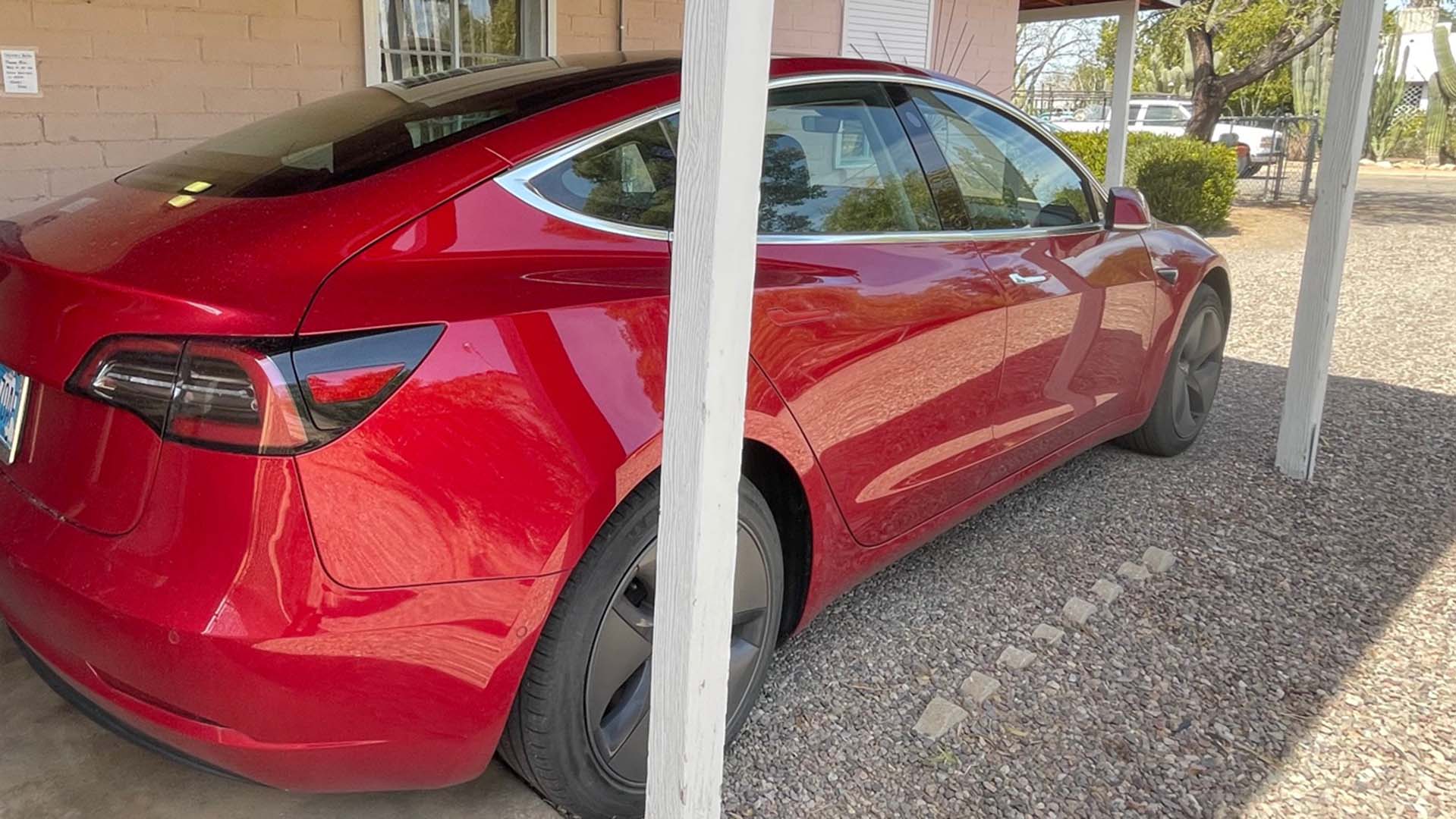 Rush Dougherty's 2019 Tesla allows him to travel for pennies per mile.
Tony Paniagua / AZPM
Dougherty remains active in the group, and owns a company that specializes in plugs and other items for electric cars.
In the early years he worked on converting gasoline-powered vehicles into electric cars, but in 2019 Dougherty spent about $49,000.00 to buy a Tesla.
"I love it, I think it's fantastic," he says.
After that initial cost, Dougherty estimates he pays pennies for every mile that he drives, but he also saves money in other areas.
"I haven't had an oil change, I haven't had the radiator replaced or repaired in any way. I haven't had any problems whatsoever," Dougherty points out.
"I had to replace a tire, I ran over a nail but that's obvious, anybody would have done that."
Dougherty and Gebert say electric vehicle opponents have given these cars a bad wrap by creating concerns about issues such as "range anxiety" - how far you'll be able to drive until you have to recharge the battery- but both men say modern technology and more charging locations around the country have made the experience much easier and convenient.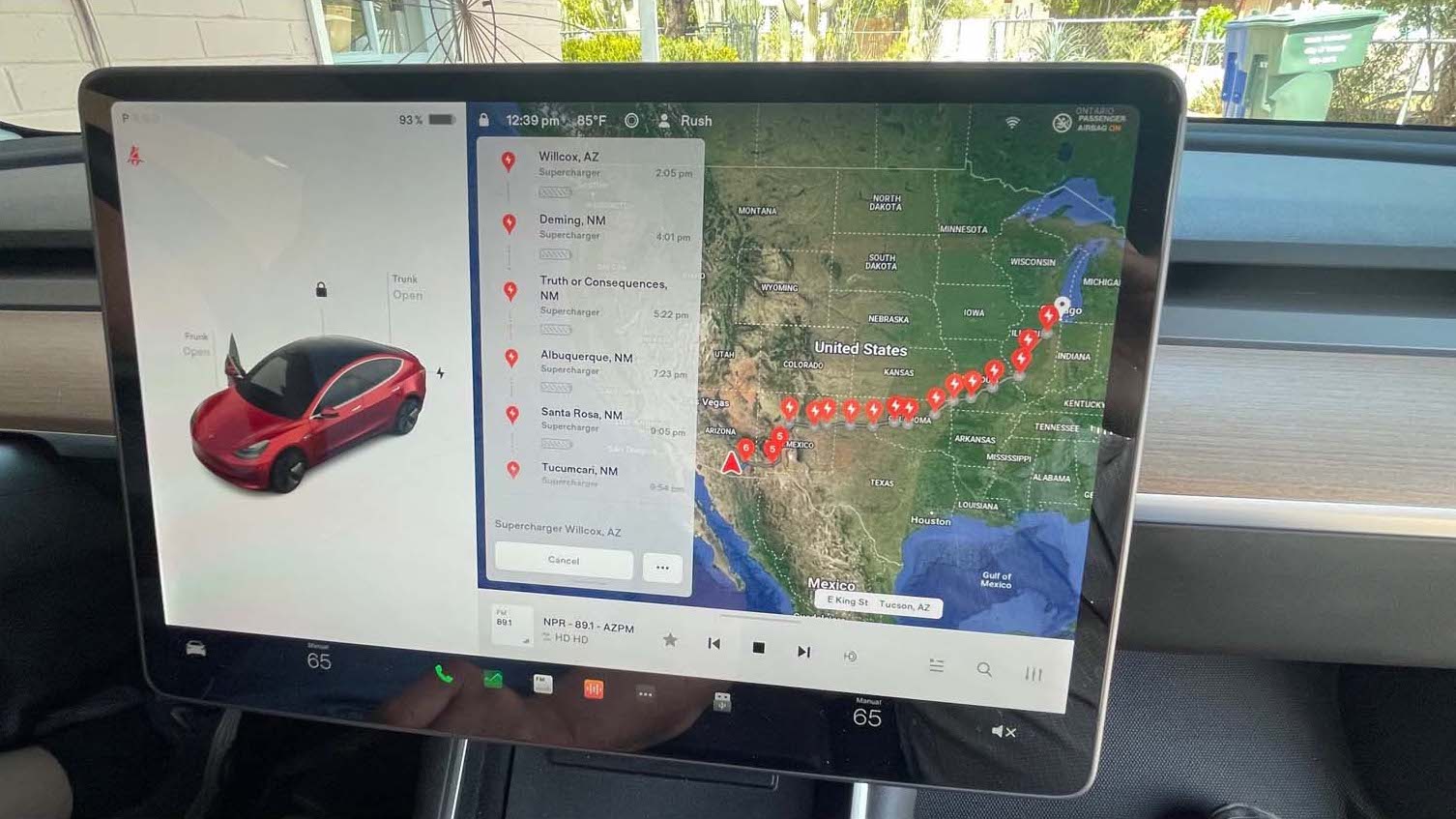 Rush Dougherty says if he's traveling to a faraway location such as Chicago, the Tesla's monitor will tell him where to stop to recharge the battery.
Tony Paniagua / AZPM
And in coming years, experts predict millions of new EVs will hit the streets, allowing a growing number of people to ignore the volatile prices at the pump.
---
This story first aired on The Buzz, an interview-focused show that gives listeners in Southern Arizona a deeper understanding of news, politics, science, current events and more. Listen to the entire episode here.