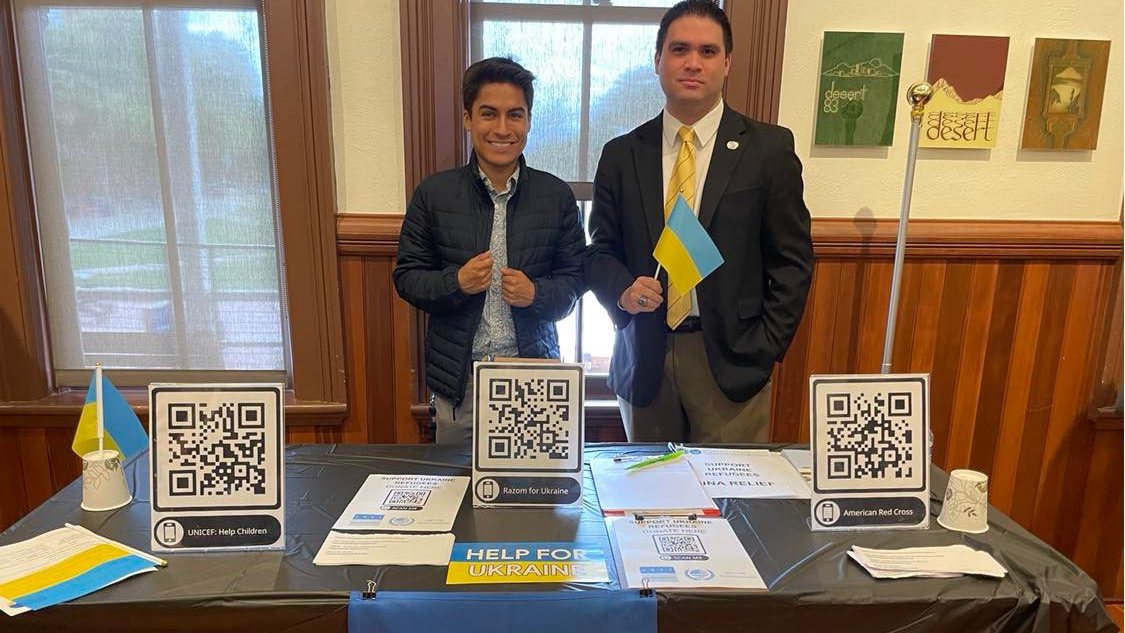 Ron DeSouza and United Nations Regional Representative John Dalton show support for Ukraine at a peace rally at The University of Arizona held on March 29, 2022
Ittai Sopher/AZPM
The University of Arizona Russian and Slavic Studies department held a demonstration on campus Tuesday celebrating Ukrainian culture and calling for Russia to end its ongoing invasion of the country.
The event, "Peace Rally: Stand With Ukraine," featured speakers including Tucson City Councilor Nikki Lee and Russian and Slavic department head John Leafgren.
"I heard about it through classes," said Gavin Sampson, a Russian and Slavic studies major at the event. "So, I just figured I'd come and support it. A lot of my teachers are Ukrainian."
For Caroline Lewis, however, attending the rally was personal. A graduate student, Lewis spent time in Lviv, Ukraine as a volunteer for the Peace Corps and is in touch with her host family in Ukraine.
"Overall, all of my family is safe, but it's just been a really hard time," Lewis said. "It's been like 35 days of war at this point. So, it's been scary but also very frustrating because people feel like the international community is forgetting and that we're not doing enough."