A recent announcement by the U.S. federal government has met with considerable controversy in Arizona.
But some Arizonans are expressing relief and hope in response to the decision, including Tucson resident Ana Victoria Valenzuela.
The 23-year-old native of Mexico is one of many children brought to the U.S. illegally by parents or other adults. Valenzuela graduated from high school, is attending the University of Arizona, and wants to stay in the country she considers home.
Under a new U.S. Department of Homeland Security policy, Valenzuela may be able to make her long-term wishes come true. She supports the DREAM (an acronym for Development, Relief and Education for Alien Minors) Act and considers the new policy a step in that direction.
The new policy may enable her to stay in the U.S. after graduation without facing the threat of deportation at any time. She plans to become an architect and eventually open her own company in Tucson.
"I don't agree with the people saying that I would be taking anything away from anyone, because I want to start my own business and create jobs," Valenzuela says.
Valenzuela is involved with ScholarshipsA-Z, where Matt Matera is the group's executive director.
The organization was established three years ago in Tucson to help young students in similar situations impacted by a voter-approved proposition that denied in-state tuition to undocumented residents.
"We're about 50 individuals--that's both parents, students, educators and community leaders--that come together to help students find those resources, teach them how to apply for scholarships and to know their rights as students because they demand and deserve access to higher education," Matera says.
Matera says the group has faced opposition from some community members, but he says he welcomes debates and differing opinions because these can expose people to new information and lead to comprehensive immigration reform.
ScholarshipsA-Z says it is continuing outreach campaigns. These include warnings about possible scams or fraud promising assistance with filling out the documentation for young residents who qualify.
Matera says those official papers are not even available yet and probably won't be for several more weeks.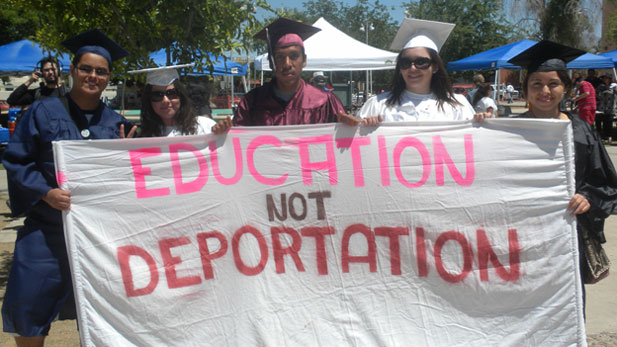 PHOTO: AZPM
DREAM students supporting education over deportation.