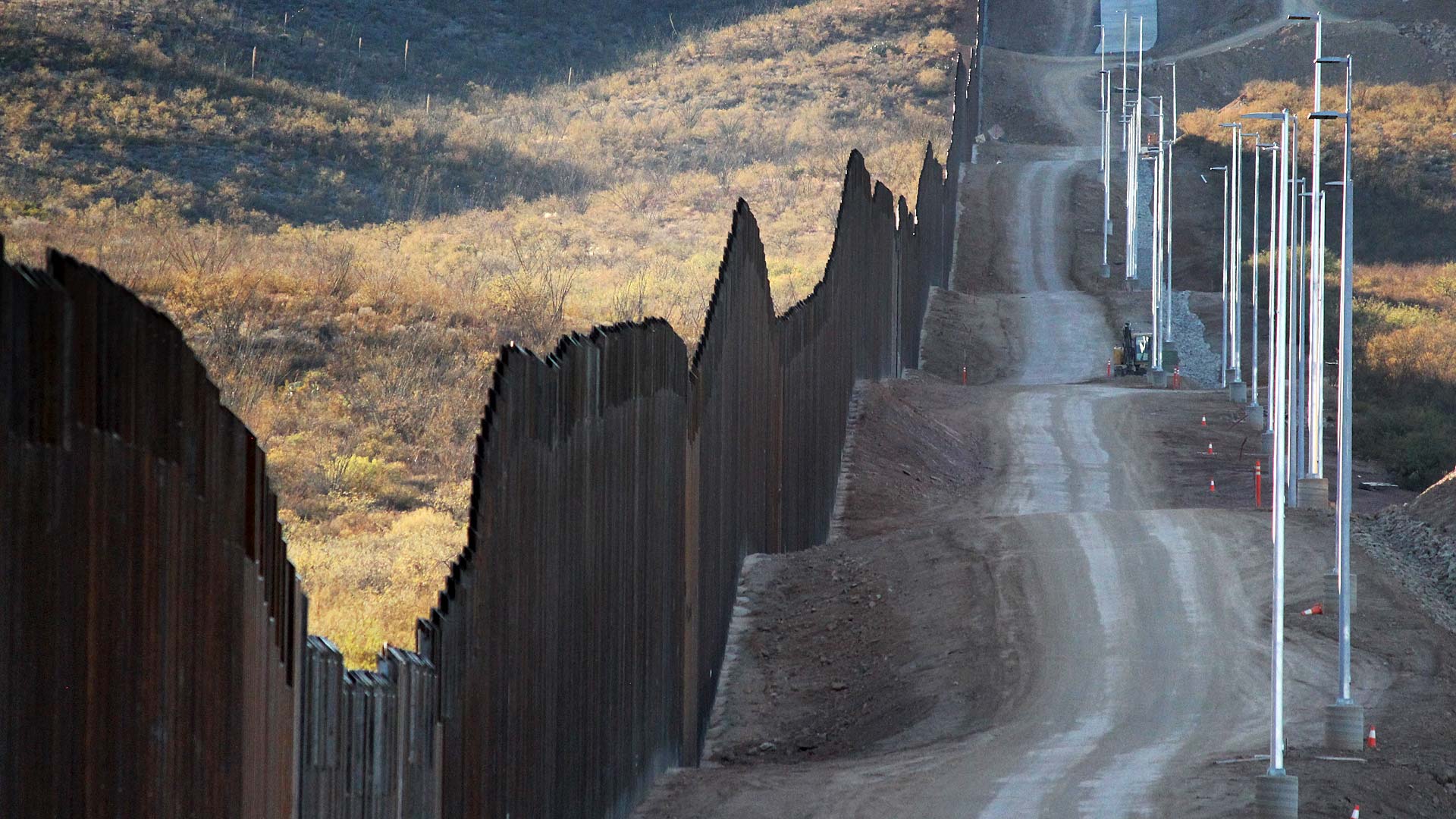 A stretch of border fencing east of Douglas constructed as part of President Trump's initiative to erect a taller wall along the southern border. November 2020.
Lorraine Rivera
Cochise County authorities say a Mexican woman died Monday night trying to climb the border fence outside Douglas.
Carol Capas with the Cochise County Sheriff's Office, which is investigating the death, says the woman was found Monday night along a stretch of 30-foot tall border fence some 10 miles west of Douglas. She says Border Patrol agents responded to the scene after receiving a call from Mexican emergency dispatchers about a woman was stuck on the fence.
"She had some type of harness on, similar to a repelling harness, it appears that was the intent to get her lowered down safety from the fence," she said. "It appears that she got her foot or leg stuck on the top of the fence, which caused her to become inverted, so she was hanging upside down and there was no one else on scene when agents arrived."
Capas' office was alerted of the incident by Border Patrol agents after the woman was pronounced deceased at a hospital in Bisbee. In a statement, Customs and Border Protection said the death is being investigated by CBP's Office of Professional Responsibility and the Cochise County Sheriff's Office.
The Pima County Medical Examiner's Office, which conducted the autopsy, ruled her death an accident and determined she died of traumatic asphyxia from hanging upside down. She has been identified as 31-year-old Griselda Verduzco Armenta from Sinaloa, Mexico, according to information the medical examiner received from the Mexican consulate and Verduzco's family.

A count by the International Organization for Migration found at least 650 died trying to cross the U.S.-Mexico border in 2021, marking the deadliest year since the agency began recording border deaths in 2014. Vickie Gaubeca with the Southern Border Communities Coalition has been tracking deaths related to the border wall.
"Ever since we've seen 30-foot walls built under the Trump administration, we've seen a huge increase in deaths," she said. "We used to see injuries like broken bones, but rarely did we see a death."
Gaubeca says Customs and Border Protection doesn't track deaths and injuries on the wall. Using CBP press releases and news reports, her group counted at least 13 border wall deaths last year.

Fronteras Desk
is a
KJZZ
project covering important stories in an expanse stretching from Northern Arizona deep into northwestern Mexico.