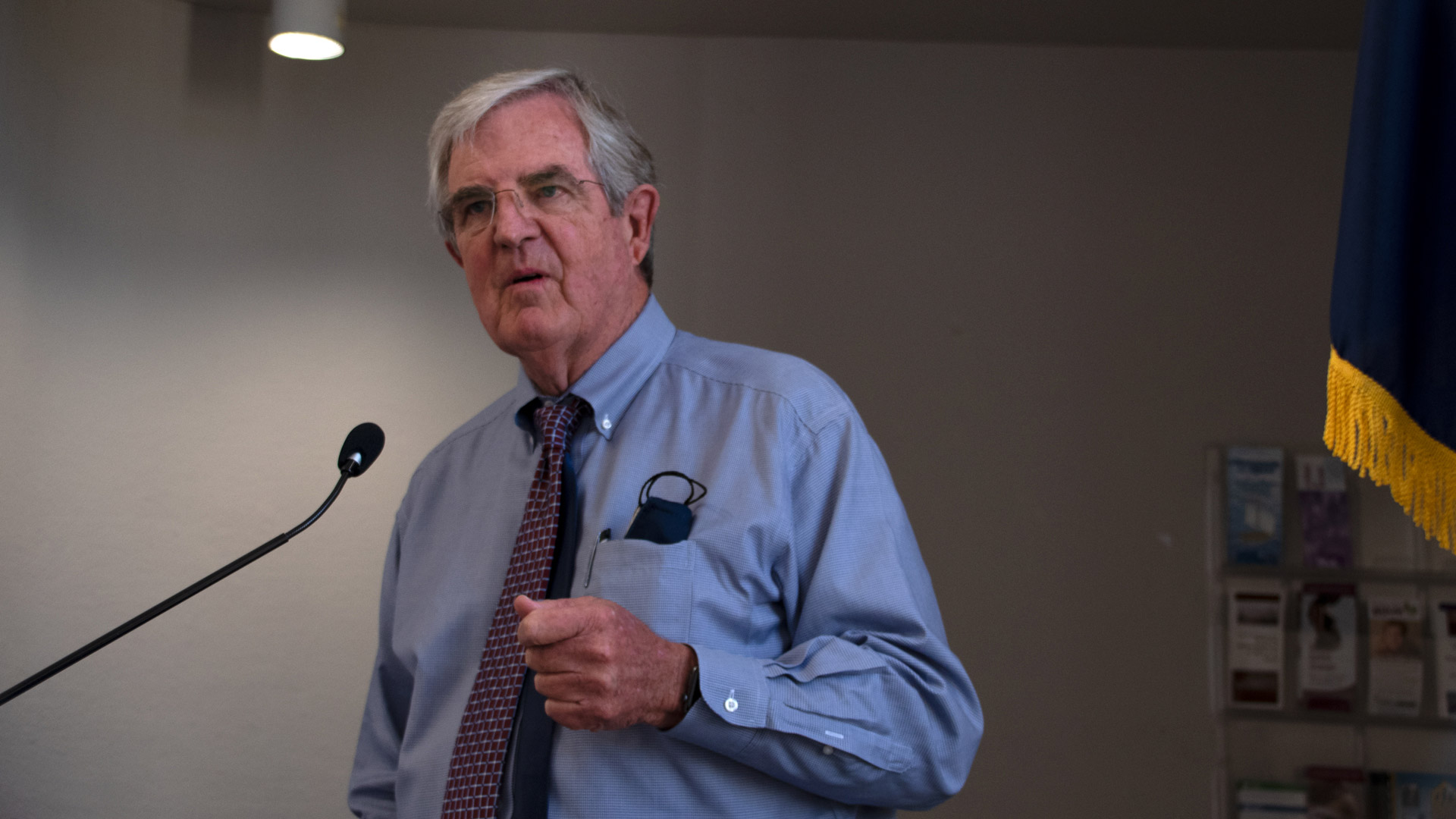 Pima County Administrator Chuck Huckelberry. August 2021.
Christopher Conover/AZPM
Former Pima County Administrator Chuck Huckelberry's departure will be one of the main issues the county board of supervisors will tackle Tuesday morning.
On Monday, April 4, just hours before the board was supposed to accept Huckelberry's formal resignation, the Tucson Sentinel reported that he had put in his retirement papers in July, nine months earlier, and had been working as a consultant for the county while collecting retirement benefits.

All this is legal. Arizona law allows so-called double-dipping, and Huckelberry's latest contract allowed it. Huckelberry's attorney Larry Hecker told the board chair, Supervisor Sharon Bronson in an email obtained by AZPM, "This is no different than a person who is employed full-time filing for social security benefits when they become eligible."
But the revelation proved a major political embarrassment for the supervisors, who were unaware of Huckelberry's change of status.
The provision was part of Huckelberry's contract that was approved by the current board in January of 2021. A review of previous contracts supplied to AZPM by the county did not show the same provision.
In an email chain, AZPM obtained through a public records request, David Higuera, Chief of Staff for Supervisor Matt Heinz, asked then-Acting County Administrator Jan Lesher, if the information about Huckelberry's retirement and continued employment was "true".
Lesher answered "Not to my knowledge. I am checking with HR."
Now two board members want to talk about it. Republican Steve Christy wants a thorough discussion of Huckelberry's contract, in public, with county officials and Huckelberry's personal lawyers.
Separately, Democrat Matt Heinz wants county staff to draft a new policy governing double-dipping and wants to require employees to provide at least 90 days' notice before any change of status.
The board is also set to review the contract for Jan Lesher who they appointed to become the new county administrator.
Huckelberry's Contract

View at Google Docs
|

Download File
Read email about Huckelberry's retirement

View at Google Docs
|

Download File