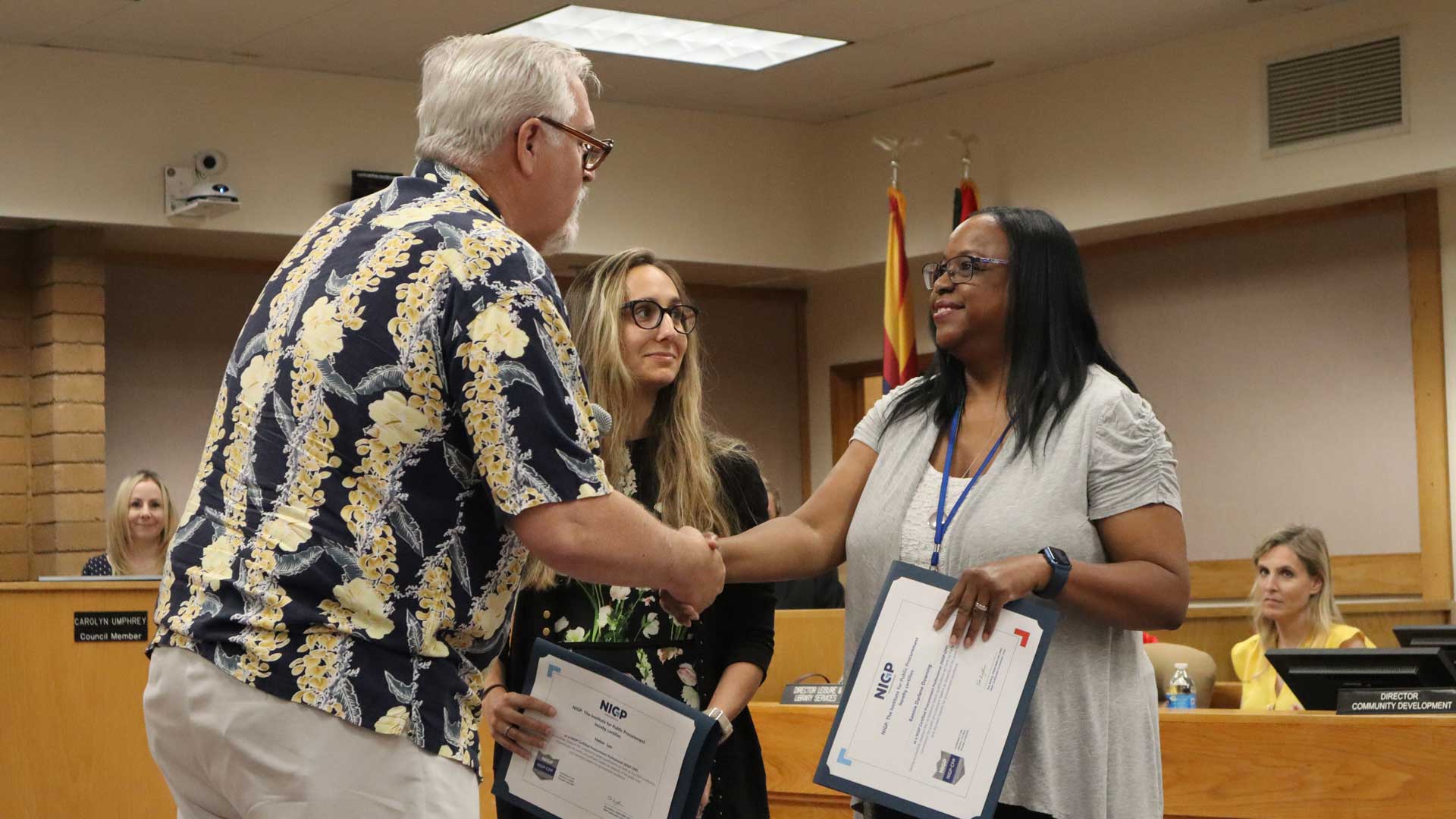 Sierra Vista Mayor Rick Mueller (left) awarded certificates to Chief Procurement Officer Kennie Downing (right) and Contracts Management Analyst Helen Lee (center) for achieving their Certified Procurement Professional Certification from the National Institute of Governmental Purchasing. June 2022
Summer Hom/AZPM
The Sierra Vista city council voted unanimously last week to approve a tentative budget for the next fiscal year, which includes an $88,682,116 increase from last year.
Assistant City Manager Victoria Yarbrough said that the sizable expansion of the budget is due primarily to the city's efforts in applying for grants. Last year's budget was $115,711,558, whereas the tentative budget for this year is $204,393,674.
"In this specific budget, there's 51 million additional dollars just in our HURF funds — which is Highway User Revenue Funds — that's where our street improvements are funded out of, and those are all due to potential grants for street projects," said Yarbrough. "The other big expenditure that is in the budget for next year is we're doing an energy savings project with Schneider Electric that is $26 million dollars … That is the majority of the reason our budget is the largest it's ever been at just over $204 million dollars."
Yarbrough also mentioned that the city has increased revenue in two areas, city sales tax and state-shared revenue.
"Our revenue, we were up by over 14% just last month in projected revenues," said Yarbrough, who added that the city projected revenue to be 7.5% above what the city earned last year. "So, seven-and-a-half percent was relatively conservative."
"Our state-shared revenue is also up significantly," she continued. "There's a couple reasons for that: one was in fiscal year 2020-2021, there was a delay in income tax filing. The state delayed income tax filing into July, which reduced the amount of income tax we received last year. So this year, the amount of income tax we received has normalized, so it looks like it's increased over last year but it's actually an artificial decrease last year."
Additionally, Yarbrough said that the city addressed an error made in the city's census count.
"The city found a discrepancy in its census numbers for 2019, and proved to the state that there was a discrepancy," said Yarbrough. "But because 2020 was a census year, the federal government did not accept any challenges to census numbers. And so, we were off by over 1,000 people, so that translated to more than a million dollars of lost revenues."
"The 2020 census corrected that issue plus the pandemic income tax normalization made it look like the state shared revenues is significantly up, when really it's just normalized," she said.
With the increases in revenue, Yarbrough assures that the city did not raise any taxes on residents.
"There are no tax increases for Sierra Vista with this," said Yarbrough. "So, the increase — again — is fully based on grants and revenue increases, no additional tax increases of any kind on our residents."
The revenue the city received from city sales tax increased by 20% — totaling $25,130,907 for the FY 23 budget. Previously, the city received $20,919,252 for FY 22 and 19,594,473 for FY 21 for city sales tax revenue.
Mayor Pro Tem Rachel Gray said in the June 23 meeting that the city plans to repave a portion of SR 90.
"There is some good news for our area in the transportation funding," said Gray in her update to the council. "With the 10.6 for State Route 90 and another 43-44 million that's in this year's budget, we're going to get State Route 90 from Moson all the way up and over — up to the Border Patrol station — will be rehabilitated and repaved."
The council voted unanimously to approve the tentative budget for FY 23 during the June 23 meeting.
The next steps from here will be to make a resolution to approve the final budget on July 28 and to hold a public hearing on property tax on August 11.
Sierra Vista Mayor Rick Mueller also acknowledged and awarded two certificates to Kennie Downing, Chief Procurement Officer, and Helen Lee, Contracts Management Analyst, for achieving their Certified Procurement Professional Certification from the National Institute of Governmental Purchasing.
Mueller also made a proclamation to make July Parks and Recreation Month.