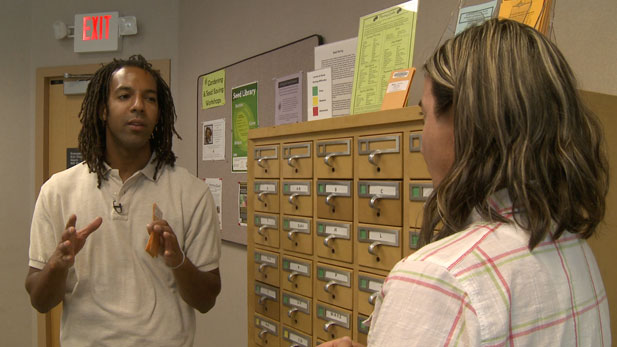 Imagine using the library to get information on growing a vegetable garden, and also checking out the seeds to plant it. Imagine librarians cultivating healthy minds and healthy appetites. How about saving seeds for others to use, keeping the cycle sustainable? Those are just some of the possibilities at the Pima County Public Library's Seed Lending Library.
Librarian Justine Hernandez started the Seed Library in January 2012. She says "It's not about the library trying to do everything, it's about partnering and being a larger part of something to help support our community". Bureau of Applied Research in Anthropology (BARA) interns are documenting the project and helping it reach a diverse audience. The University of Arizona Cooperative Extension's Master Gardeners are on hand to provide free gardening advice. The Community Food Bank and Native Seed/SEARCH are also partners.
Find out how the University of Arizona partners with Pima County Public Libraries to keep seed lending sustainable for years to come.
Producer: Heather Wodrich | Videographers: Santiago Bahti, Jon Dineyahze, Eric Rawdin | Editors: Yashmine Anderson, Lauren Bays