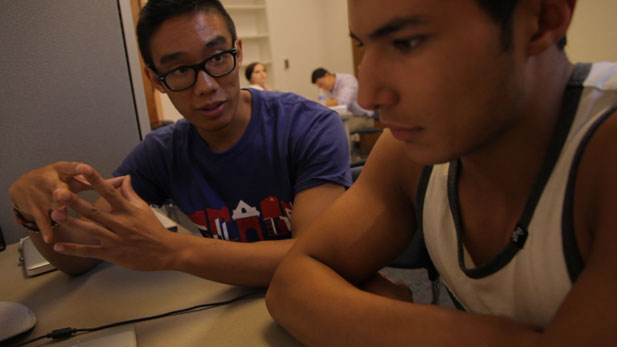 New Start participant Fernando Garcia (right), receives tutoring on writing papers for university classes.
The Office of Admissions at the University of Arizona welcomes a new freshman class every year. Up to 350 of those students take part in the UA's New Start summer program.
The New Start summer program accommodates students for the summer, giving them a chance to get acquainted with the University of Arizona at all different levels.
New Start Summer Program Director, Mary Frances Kuper, describes the program as beneficial to incoming freshman. "By the time they leave New Start," Kuper says, "they really understand across campus what the university has to offer"
Workshops in the six-week summer program include academic classes, college success workshops, tutoring and peer mentoring. The New Start summer program provides support and instills confidence in the incoming freshman.
Producer: Alexandra Salazar |Videographer: Cooper James | Editors: Yashmine Anderson, Matt Ehrichs