The Production Team
About Dustinn Craig: Dustinn Craig, Navajo/White Mountain Apache, is a multimedia producer and director. Craig grew up in Arizona, living in White River on the Fort Apache Reservation and later in Window Rock on the Navajo Reservation.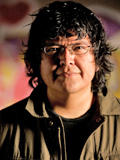 As a teenager, Craig began making skateboarding videos of himself and his friends. But with fatherhood arriving early, he decided to create "something I hoped my kids would see and watch some day." This led to his short film I Belong to This, a personal documentary in the 2003 PBS documentary series Matters of Race. In 2005, he was awarded the National Video Resources Media Artists Fellowship for a documentary on skateboarding at Fort Apache, Ride through Genocide (working title).
Craig has produced commissions from various cultural institutions and the 2009 PBS series We Shall Remain, working in high-definition format.
About Tom Kleespie: Tom Kleespie is the senior producer of special projects at Arizona Public Media. He traveled the deserts of the world for 19 seasons for his work on The Desert Speaks, airing on over 300 PBS stations nationally and the winner of multiple regional and national awards, including 24 Rocky Mountain Emmy® Awards.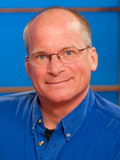 Kleespie also produced Together We Heal, Unforgettable: The Korean War, Barrios and Barriers, Phoenix Mars Mission: Ashes to Ice and the follow-up program, Phoenix Mars Mission: Onto to Ice, Southwestern Gems: Our Desert National Parks, and the Tucson Remembers series, which included Tucson Remembers: The War Years, Tucson Remembers: The Battle for Europe, and Tucson Remembers: War in the Pacific and A Show of Courage.
Kleespie, a Tucson native, joined KUAT-TV 35 years ago as a member of the student production crew. Four years later, he became a full-time studio supervisor. He also did a four-year stint directing Arizona Illustrated, was a KUAT membership pledge producer, and worked for two years producing and directing for South Dakota Public Television.
About Norman Patrick Brown: Originally from Chinle, Arizona on the Navajo Nation, Norman Patrick Brown is a professional filmmaker, producer, actor and writer. His film roles include principal roles as an actor in Raising Arizona (1987), as Sgt. Begaye in Black Day, Blue Night (1994), as Pvt. Henry in The Thin Red Line (1999) and as "Bear" in The Doe Boy (2003.) He has been a cultural consultant for Hollywood productions and projects.
His passion is creating films for his Navajo people in their own language. In 1998, he wrote, directed and produced Awakening, the first Navajo language film written and directed by a Navajo for Navajos, in conjunction with the docudrama The Beauty Way of Life.
His second critically acclaimed Navajo language film, Horse Song (2000), was followed by Rez Hope in 2005. The Rainbow Boy, which is currently in production and is written, directed and produced by Norman, is a film about the ancient Navajo Warrior, Eagle Catcher.
About Mary Redhouse: Mary Redhouse is member of the Dine' (Navajo tribe). She has a Native American Music Award and Grammy nomination for her work on the R. Carlos Nakai Quartet's Canyon Records release People of Peace.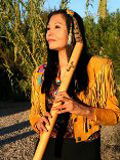 She works as a soloist or with the Canyon Records artists R. Carlos Nakai Quartet, the William Eaton Ensemble, the Redhouse Family Jazz Band, and Ananeah. She also works with the Larry Redhouse Trio and saxophonist Oliver Lake.
Mary is a versatile vocalist, Native flutist, electric bassist, guitarist and keyboardist. She calls her vocal style "eco-spiritual" because it blends native chants, bird and animal calls, and multi-octave scat lines. Her guitar playing is influenced by Latin jazz, bluegrass and folk.