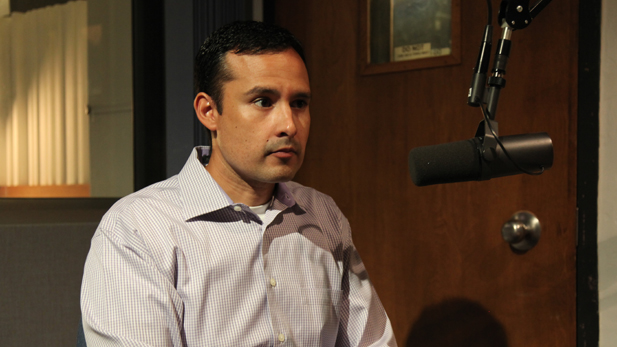 H.T. Sanchez, TUSD's new superintendent inside the Arizona Public Media radio studios.

Andrea Kelly
Tucson Unified School District's new superintendent has been on the job for less than two weeks. H.T. Sanchez is a 38-year-old Texas native with more than a decade of experience in public education. His previous job was as interim superintendent of Ector County in Odessa Texas.
Listen here
Midway through his second week and after his first public meeting he shared his impressions and expectations of the district so far.
On his eventful first board meeting where board members argued and the public demanded change:
"You can always look at things through a different lenses and I chose to look at things through this lens: When you have a boardroom full of people it means you have a community that is interested in what's going on in the school district If you have an empty board room it tells you that you have a community that is disinterested in what's going on in education," he said. "It's great when you have a myriad of perspectives and that allow for somebody in my position coming in new to really get at full understanding of the diversity and the rich fabric that makes up the community."
On how to unite a divided board and a divided community especially over the Mexican American Studies issues:

"The thing that I feel very good about in terms of being an American is choice, you have all different brands of vehicles you have trucks, you have cars, sports cars, people can chose what they want to dive and I think what will make TUSD excellent will be the choices that we offer… with specific regard to the Mexican American curriculum, African American curriculum, or the culturally relevant courses it's choice, if students and parents chose those courses it should be open to them I don't think that our work in education is to deny people opportunities it's to open up opportunities, it's not to deny perspective it's to provide them that."
On his first two weeks:
"The first thing that a new leader has to do is sit down and talk with the people who are going to work over the major functions of the district, finance being one of them." Sanchez said. "It's about beginning to discuss what are the next steps to continue to move the district forward."
On his future at TUSD:
"I'm looking at a five year plan, a comprehensive five year plan, by that I mean it covers all areas and involves all parties that as many parties as want to come to the table," he said.
"With a city that is as international and sophisticated and holds education so highly, I want the school district to be a greater partner in that, and I believe we can be a valued partner in building a better Tucson."