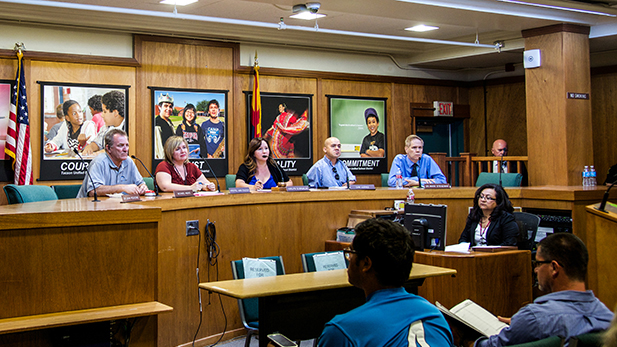 Tucson Unified School District's Governing Board. From left to right, Michael Hicks, Kristel Ann Foster, President Adelita Grijalva, Cam Juárez, Dr. Mark Stegeman.

Yoohyun Natividad
The Tucson Unified School District governing board voted 4 to 1 in favor of hiring H.T. Sanchez as the new superintendent Tuesday night.
Sanchez will be the sixth superintendent for Tucson's largest school district in 10 years.
Mark Stegeman had the dissenting vote saying he would have wanted TUSD to select more than one finalist for the job.
"He comes with positive and negative points, I think the negative points mostly have to do with the number of job changes and the level of experience, but there are also encouraging points," Stegeman said. "My responsibility was to vote how I truly felt, in disappointment, but now that the decision is made my responsibility is to do everything in my power to help him achieve his potential."
Adelita Grijalva, TUSD's board president, told audience members Sanchez was the right choice for the district.
"He really pushes communication, he has a lot of energy, a lot of enthusiasm and has a lot of ideas that I think are going to invigorate our district," she said.
The board has not finalized Sanchez's contract, Grijalva said.
Sanchez will lead a school district with more than 50,000 students. TUSD is currently under a decades-long desegregation order and is shutting down 10 schools because of budget cuts.
Last week, during his first public appearance in Tucson, Sanchez said he thought TUSD was "not a troubled district."
Sanchez will replace John Pedicone, who announced in March that he would resign at the end of June. Pedicone has been superintendent at TUSD since January 2011.
The search for superintendent began in April using an outside firm. The district said that 67 applications were received and, after an initial screening, the list was narrowed to 21. All were interviewed by the search firm, and 10 were presented to the board for consideration. Four were interviewed on June 8. The names of the other finalists were not released by TUSD.
Sanchez, 38, has worked in public education for 15 years, first as an English teacher and then as a principal at elementary, middle and high school levels. He served as bilingual and English as a Second Language services director at Tyler, Texas, public schools.
Sanchez's resumé says he earned a bachelor's degree in English at Angelo State University in Texas in 1997, a master's of education and school administration from SUL Ross State University, also in Texas, in 2002, and a doctorate in educational administration from Texas A&M University-Commerce in 2006.