AZPM
U.S. Rep. Ron Barber says he is at the forefront of veteran affairs. The Arizona Democrat has been an advocate for ending veteran homelessness, and has co-sponsored numerous bills, including one that recently passed the House, which aims to prevent fraudulent attacks against veterans.
During the Friday broadcast of Arizona Week, Barber spoke about the legislation, the chronic homelessness among veterans and cracks he sees in the U.S. Department of Veterans Affairs.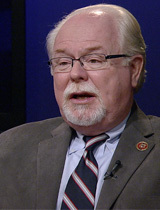 U.S. Rep. Ron Barber.
There are about 70,000 homeless veterans in the country, he said.
"It is a real disgrace that we should have any veteran that is homeless," Barber said. "But, I am very pleased that we have legislation that has expanded funding for homeless veterans to increase the number of vouchers available. The city of Tucson and the Red Cross are very much involved in carrying out these programs."
Many of those veterans fought in the Vietnam War. When they came back to U.S. soil, a big number of them did not receive the support or treatment to reintegrate to civilian life, so they ended up in the homeless population.
Barber said the same mistakes cannot happen with Iraq and Afghanistan veterans.
"They have returned with traumatic brain injury and post traumatic stress issues," he said. "If we are not going to help them and be committed to their well being, they could well end up in the homeless population too."
Barber is also concerned with the way the VA handles disbursement of veterans' benefits.
He said it takes about 350 days for benefits to be processed. And, after the 16-day government shutdown, this procedure was delayed even more. However, he said there is legislation in play that would require VA to improve staffing effectiveness to cut down on that time.
"It is a systemic issue," he said. "The medical records that (veterans have) when they are in the military does not transfer over to the VA. There is no reason why we cannot transfer medical records from the Department of Defense to the VA..(and) get rid of tons of paperwork to be able to speed up the process."
Another bill recently passed the House, which involves companies that "poach the pensions of veterans."
To know what benefits some veterans qualify for, they need to take a test of assets, Barber said.
"These companies come in and offer the veterans the opportunity to hide the assets, but it means that the company gets the benefits from some of those assets. It is wrong...not really legal, and now we have a bill that has now passed the House, hopefully it will be taken up by the Senate, which will stop this fraudulent practice."