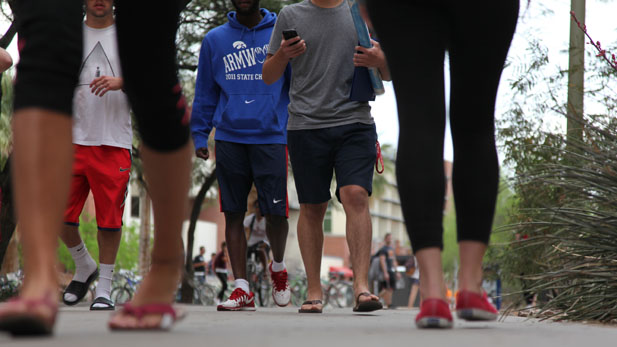 On the University of Arizona campus.

Andrea Kelly, AZPM
Story by Alison Dorf
Arizona Public Media

Listen:
The University of Arizona is rapidly expanding racial and ethnic diversity in its student body, but diversity on the faculty isn't keeping up.
More than 7,800 freshmen enrolled this year, and university officials say minority students make up more than 40 percent of them.
Yet, according to the most recent statistics compiled by the UA's Department of Analytic and Institutional Research, the majority of tenure-track faculty members and professors last year were white males. Women made up less than half of the faculty, and minorities less than 20 percent of professors and tenure-track faculty.
UA Chief Diversity Officer Raji Rhys said the lack of faculty diversity on the Tucson campus isn't unique.
"Unfortunately, the UA is among its peers in that all across the nation, faculty diversity is a challenge in academia," she said.
It's a challenge that, if met, can benefit students. University research showed students thrive from diversity among their peers. Also, learning from an equally diverse faculty can have a longer-lasting impact.

"We believe strongly that a student's education is going to be much better if they have the opportunity to work with more diverse people and people of all different backgrounds," said Kasey Urquidez, the university's dean of undergraduate admissions.
Vice Provost for Faculty Affairs Tom Miller agreed, saying faculty from differing backgrounds bring fresh perspectives to research.
"It also fuels student achievement by creating a supportive environment in which the faculty are aware of and engage with students' backgrounds," he said. "...also, where the faculty are presenting students with a range of viewpoints...that challenges some of their assumptions and helps them to understand broader issues in new ways."
But recruiting a diverse faculty can be difficult. One problem is lack of diversity among Ph.D. candidates nationwide. Miller said unconscious bias is another challenge.
In a study from Princeton University, science faculty members were asked to rate applications of a qualified student for a lab management position.
The names on the applications were randomly assigned as either "John" or "Jennifer." The study concluded that the faculty rated the male applicant, John, significantly more competent and hirable, and offered more mentoring and a higher salary compared to the female applicant, Jennifer.
The university runs workshops to teach hiring committees how to recruit a diverse candidate pool, and how to recognize and prevent their own unconscious bias.
At least one minority faculty member said the UA is not doing enough.
Celeste Gonzalez de Bustamante, a tenure-track associate professor in the UA School of Journalism, said while she believes the university would like to increase diversity, not enough minorities are being recruited.
"If I were a candidate… and I looked up the diversity figures for the University of Arizona in terms of minority women faculty, and then I looked up the diversity figures for UCLA or Berkeley, I would notice a big difference," Bustamante said. "By that, I guess you could gather that the climate is more inclusive in other places," she said.
As a minority woman, Bustamante said she does not feel she is treated differently. However, she said it would be nice to have a more representative faculty.
Alison Dorf is a UA senior majoring in journalism and an Arizona Public Media intern.