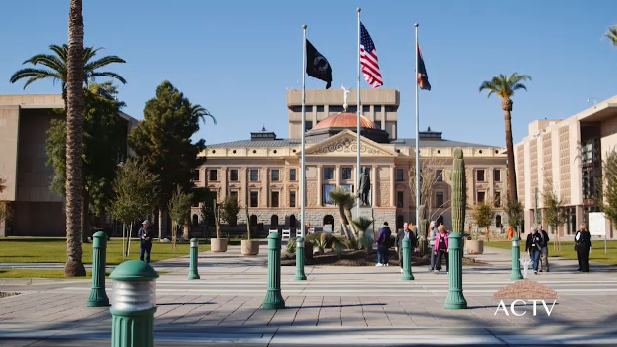 The Arizona Legislature passed a $9.1 billion state budget Saturday morning after nearly 24 hours of discussion, debate and deal-cutting to win enough votes.
Republican Gov. Doug Ducey praised the budget as "fiscally responsible." He and Republican legislative leaders agreed earlier this week on a spending package for the fiscal year starting in July, but some Republicans would not approve the cuts to education, including those to universities and community colleges.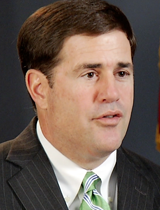 Gov. Doug Ducey. (PHOTO: AZPM)
That's where the debate and deal-cutting came in, with pieces of Ducey's proposals and those of legislative leaders being altered to gain votes.
House Democrats opposed the spending plan, saying Republicans were rushing the budget through to prevent transparency and oversight. They said they opposed cuts of more than $100 million from higher education and a shifting of money for K-12.
House Democratic Leader Eric Meyer of Paradise Valley said the budget perpetuates "the education funding shell game which prioritizes special interest tax cuts and corporate giveaways over the needs of middle-class families."
The vote in the Senate was 16-13. Fifteen Republicans and Democrat Carlyle Begay of Ganado voted for the budget. Twelve Democrats and Republican Jeff Dial of Chandler voted against it. Republican Steve Pierce of Prescott boycotted the session over the cuts to higher education.
The House vote was 32-27. All yes votes came from Republicans. All 24 Democrats voted no, as did Republicans Christopher Ackerley of Sahuarita and Kate Brophy McGee of Phoenix. Republican Bob Robson of Chandler did not vote.
The budget is about $200 million smaller than the current spending package. It cuts state funding of the three public universities by $99 million, and it cuts all state funding for Maricopa and Pima community college systems.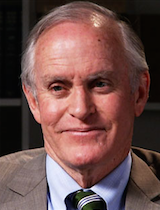 State Sen. Steve Pierce, R-Prescott. (PHOTO: AZPM)
Ducey had asked for an increase in the state vehicle license fee that would bring in $30 million, but Republican legislators rejected it, saying they had promised no tax or fee increases.
The budget cuts $20 million from the Department of Child Safety, and it cuts the Medicaid reimbursement fees to hospitals and other providers.
It drops Ducey's proposal that K-12 schools shift 5 percent of their funding from non-classroom expenses to classrooms.
The budget accounts only partly for what the state owes to public schools under a court order for not increasing spending to match the rate of inflation. That bill was put at $330 million in Maricopa County Superior Court, a ruling that was upheld by the state Supreme Court. Implementation of that court order is pending.
Ducey issued a statement following the budget's passage, saying it "solves the state's structural deficit."
"The people elected us to get the job done and that's what we've done," Ducey's prepared statement said. "We've passed a balanced, bipartisan budget that prioritizes wisely, protects our most vulnerable and restores Arizona to a structurally balanced budget by fiscal 2017."
Going into the legislative session, estimates were that the state faced a current fiscal year deficit of $500 million and a deficit of $1 billion or more in the fiscal year beginning in July.
That was driven, analysts and some politicians said, by slowness in the state's economic recovery. Democrats said it was from too much tax cutting, including hundreds of millions in corporate and other business tax cuts without any benefit in the way of economic growth.