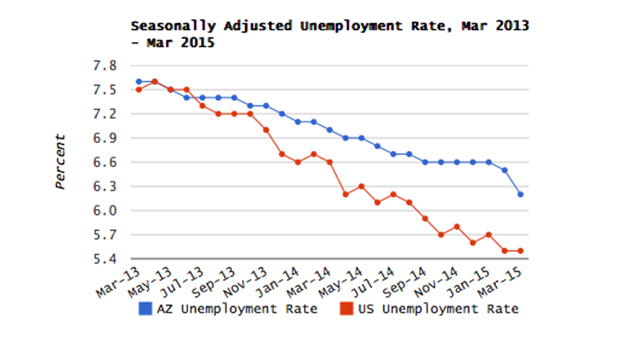 Listen:
On the surface, Arizona's job market showed strong growth last month.
The state Office of Employment and Population Statistics' survey of households showed the state added 12,633 jobs, and 2,367 Arizonans were added to the labor force. It also showed a drop in the unemployment rate from 6.5% in February to 6.2% in March.
But a separate survey that asks establishments including businesses and government offices how many people were hired showed more modest growth, 5,600 jobs.
While some variation between those two numbers is routine, state economist Aruna Murthy, who heads the team that compiles the monthly jobs report, said it normally doesn't vary that much.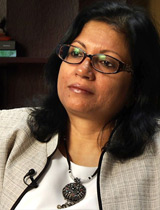 Aruna Murthy, economist with AZ Office of Employment and Population Statistics. (PHOTO: AZPM Staff)
And it's tough to know which number is more accurate at this time.
"I think we'll need to wait a few months to see what the general trend is. One month is not a trend" Murthy said.
She added that either number is not too bad.
"I would take both numbers," Murthy said. "There's good news in one number, there's not as good news in the other number."
Murthy said the survey of hiring establishments has a larger sample size, so she thinks it will prove to be more accurate.
The monthly report showed growth in seven of the 11 sectors, with strong growth in the Leisure and Hospitality sector (+5,400 jobs) and continued growth in Education and Health Services (+1,000 jobs).
The largest losses were in Professional and Business Services (-2,600 jobs) and Government (-500 jobs).
Over-the-year job growth remains strong in Arizona. The state has added 66,700 jobs since March 2014. The private sector has grown by three percent in that time.
The sectors that account for most of Arizona's job growth in the past year are Education and Health Services (15,100 jobs), Professional and Business Services (13,700), Trade, Transportation and Utilities (11,800), and Leisure and Hospitality (9,700).