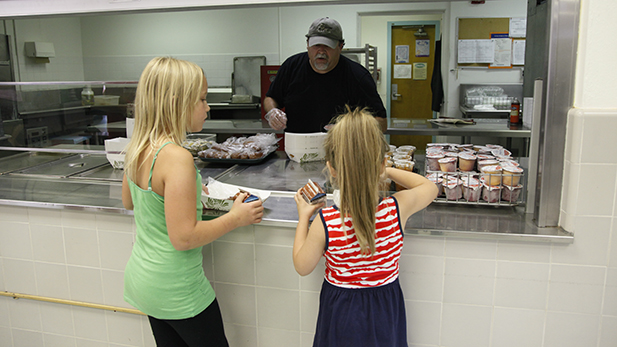 TUSD serves lunches at Annie Kellond Elementary School in 2015.

Mariana Dale, AZPM
Listen:
The playground at Annie Kellond Elementary School is empty in June. Buzzing cicadas replace the squeaking of swings.
The front office is locked and most classrooms are, too, but inside the cafeteria it's a different story.
Kellond Elementary is one of almost 70 sites where the Tucson Unified School District distributes free summer meals to children. The district dished out more than 190,000 meals last summer and the demand is growing.
In the last five years, 29 percent more meals have been served, district totals show.
Stephanie Collins' 8-year-old son, Johnny is in summer school at Kellond and she brings his brothers to the school for lunch, too.
"It helps the budget when I don't have to pay for one meal every week," Collins said.
On a recent weekday Johnny slathered ketchup on a whole grain corndog. He declined a cup of ranch beans from the meal line.
"I don't really like ranch beans," he said.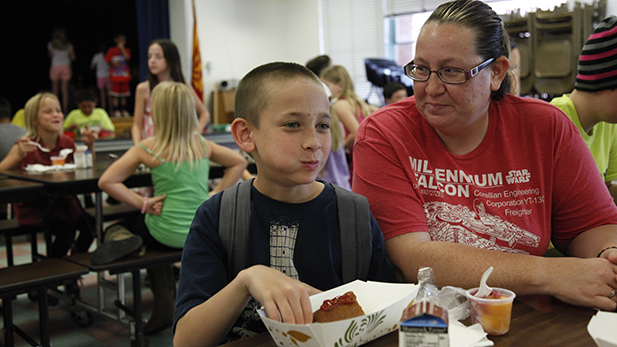 Johnny Collins, 8, is attending summer school at Kellond. His mom, Stephanie Collins, said the free meals ease the strain on the family's budget.

Mariana Dale, AZPM
All under 18 are eligible for free meals, whether they go to the school or not. Adults can also eat at the cafeteria– for a price. Breakfast is $2 and lunch $3.
Ana Cervantes came to lunch with her two nephews and niece. She found out about the program when one of the kids brought a flyer home from school.
"It especially gets them out of the house," Cervantes said. "They get to see their old friends and not to mention we don't have to make food at home because sometimes it's hard with three boys, because my son's at home and two babies."
At Kellond almost 60 percent of students qualify for free or reduced price lunches.
"We have a lot of people utilizing the program so it makes all the difference in their day," said Principal Harris-Quinnan.
Though there were dozens of kids filling the lunchroom at Kellond, national studies show summer meal programs don't reach every student who needs a meal.
The Food and Research Action Center found 15 of every 100 students who get a free or reduced-priced lunch during the school year use the summer program.
"It is unfortunately quite a drastic decrease from the school year to summer," said Lindsay Aguilar, a dietitian for the Tucson Unified School District.
The district has tried to get the word out about the summer program with flyers, social media and partnerships with organizations including the Salvation Army and the Parks and Recreation Department, she said.
A breakfast zumba event is in the works to pique interest.

"We're coming up with some fun things to try and promote the program and draw in kids to get them moving as well." Aguilar said.
For a list of open sites and more information on the program go to the Summer Food Service's website