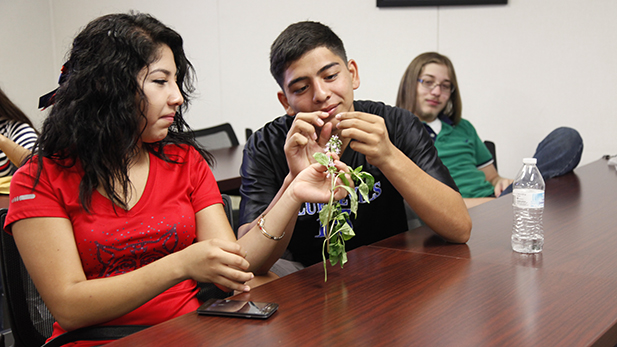 Jacqueline Avila Robledo,18, and Fernando Mancilla,17, sample basil flowers in their Agri-SURF class. At the end of the program they will have earned three college credits for free.

Mariana Dale, AZPM
Listen:
Fernando Mancilla, 17, didn't know what aquaponics was five weeks ago. Now the recent Sunnyside High School graduate has his own system at home where he planted mint.
"I asked my neighbors if they knew what it was," Mancilla said. "They didn't know and I told it about it and they thought it was really neat."
Mancilla is part of the Agriculture Sustainability and Universal Renewable Farming summer program, known as Agri-SURF . When students complete the free program they can earn three college credits.
"A lot of people when they talk about agriculture they immediately just think of tractors, pitchforks, plows and we're trying to show students you can get so many different careers and there's so much technology out there," said Program Coordinator Ely Esparza.
Teacher Giovanna Hesley said even if students don't pursue careers in agriculture, she wants them to leave with "an understanding of where our food comes from and their responsibility as consumers to pay attention to the world around them."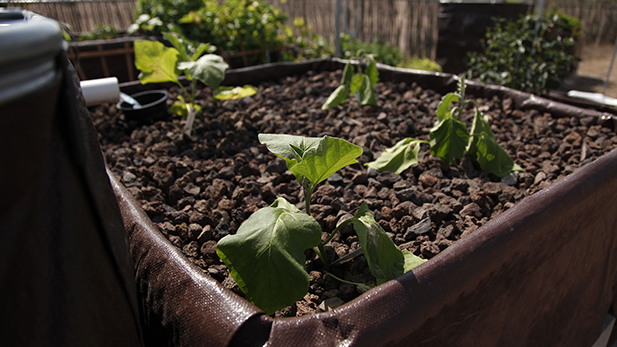 Aquaponics combines the raising of fish and growing of vegetables and uses much less water than conventional farming . The system installed by Agri-Surf students is 330 gallons and has about 30 fish.

Mariana Dale, AZPM
Agri-SURF is in it's second year and has taught more than 160 students about agriculture and how to prepare for college. The U.S. Department of Agriculture funds the program through the end of the summer. Esparza hopes it will continue with the support of Pima College.
In addition to their classroom work, students visited Biosphere 2, a pecan grove and built an aquaponics system at the college's Desert Vista Campus garden.
Nutrient-rich water flows from a shaded pond of tilapia fish down to other bins that hold plants including watermelon and roses. The system is self-contained and doesn't use any soil.
Tesla Chapa, 18, is an Amphitheater High School graduate who was attracted to the class by the promise of free college credit. She plans to study at Pima in the fall.
"I'm going into business, so I might go into agricultural business and maybe develop large-scale farms for this," Chapa said.
"I hope the students take away that excitement of producing their own crops and get excited about how to make our earth green again."