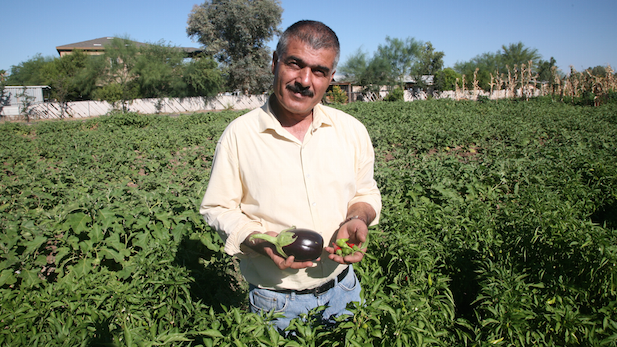 Iraqi refugee Hussein Alhamka, who with his wife Shreena and their 12 children, grow more than 20 types of fruits and vegetables for sale.

Stina Sieg, Fronteras Desk
Listen:
By Stina Sieg, Fronteras Desk
Koffi Ogou is hunched over rows of leafy greens, snipping with his scissors as he goes.
"Harvesting is something you need to do by yourself," Ogou says. "No machine can do that."
He says he doesn't mind, because this is his crop of molokia, a vegetable eaten in parts of Africa, including his native Togo.
Ogou is in West Phoenix, on a plot of land leased through a program called New Roots, created by the nonprofit International Rescue Committee, which works with refugees, recognizing that when they flee their home countries, they leave everything – friends, jobs and, often, the foods they eat.
New Roots works for them, literally from the ground up.
"This program help us rebuild our new life," Ogou says.
The program connects about 100 Phoenix area refugees with land, seeds and education on farming in Arizona's desert sun. The weather doesn't bother Ogou, who spends every day he can at his garden.
"Oh, I'm like in paradise," he says. "I feel happy, especially when the crops are well."
He sells his molokia, mostly to other Africans, nostalgic for home. But this isn't so much about money, he says, as it is about the kind of life he wishes for him, his wife and their seven children.
The same goes for Hussein Alhamka, an Iraqi military veteran who with his wife Shreena and 12 children, is growing eggplant and other crops.
"My kids will live better than me," Alhamka says. "It is future for me kids, this country. I like this country, yes."
One can often see his family at the Phoenix Public Market, where they sell more than 20 types of fruits and vegetables, some uncommon in this country. Hussein says they have never experienced prejudice at the market, where people know them for their produce more than anything else.
"It blocked the name of the Iraq," he says. "It's just people look at what we have in front of us, on the tables."
At another plot in central Phoenix, farmer Tareque Tesfamaecel jokes with Anna Chotzen over how many bags of okra he should give her as a gift. He's from Eritrea. She's from Minnesota and is a local foods coordinator with the program.
"The farmers are really excited to tell their story, for the most part, and very excited to show off their produce and sell it and have people know them for their produce," Chotzen says.
In fact, the biggest hurdle for New Roots isn't culture shock or funding. It's sliding scale for farmers. It's land. New Roots technically only has ground Chotzen and Tesfamaecel are standing on for another year, though it's possible the lease could be extended.
But even a few more years isn't enough, not to ready the soil and build infrastructure, and that worries Tesfamaecel, speaking through an interpreter.
"Yeah, he's saying it should it should continue," the interpreter says. "If you stopped this program for especially people like me, we're going to die."
Maybe not literally, but at 63, Tesfamaecel is convinced that if he didn't work here, he would waste away. No, he doesn't sell that much, he says.
"But the fact that I'm coming to the garden, every day, to work in it. That makes me really happy," he says.