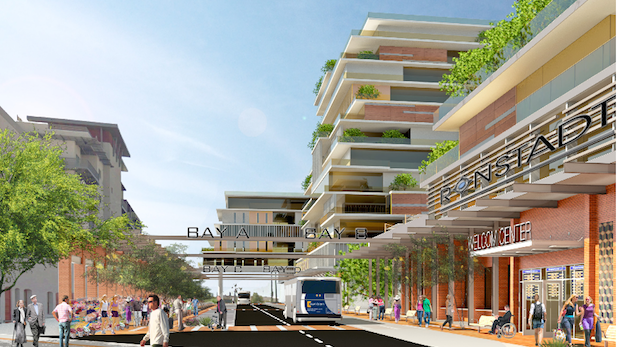 Design drawing for Peach Properties' proposed development of downtown Tucson's Ronstadt Transit Center.

Courtesy Peach Properties
Two Tucson companies have won development rights for the Ronstadt Transit Center, one of the largest city-owned parcels still undeveloped in a revived downtown.
The City Council Tuesday voted to approve the development plan for the 4.7-acre site proposed by Peach Properties Inc., a developer, and Swaim Associates Ltd., an architectural firm.
The plan calls for three multi-use buildings, the tallest 11 stories, and an eight-story parking garage, all at an estimated cost of $126.8 million. Completion goal is mid-2019.
The city-block-sized site, at Congress Street and North Sixth Avenue, will incorporate the Sun Tran bus station and include a 128-room hotel, nearly 300 residential apartments and condos and ample office and retail space.
"The concept includes an open-air public market located adjacent to a newly built transit mall and a Marriott boutique concept hotel on the corner of Sixth Avenue and Congress Street," a city of Tucson press release said.
Peach-Swaim and one other developer competed over the last two years to build on the space.