Pima County residents want to increase the health care system's focus on mental health, addiction and diabetes.
The information came from a year-long study many health providers collaborated on to evaluate the needs, and the resources, available here.
"In many areas, Pima County is actually doing pretty darn well," said Francisco Garcia, Pima County Health Department's chief medical officer and director.
The report makes comparisons between Pima County and the rest of Arizona.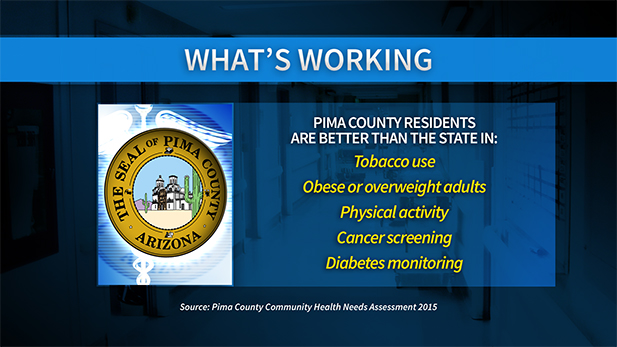 Robert Jaime, AZPM
There are also a number of areas in which the Tucson-area population lags the rest of the state.
The committee that wrote the community needs assessment sought feedback from health care agencies, focus groups and public meetings to come up with the four areas of health care to prioritize:
- anxiety and depression spectrum disorders
- substance abuse and dependency
- injuries and accidents
- diabetes
"The community's perception of need doesn't match, always, the resources that are available in that locality," Garcia said.
Each health organization, from hospitals, to El Rio Community Centers, to the native tribes in the area, will make a specific plan to meet the community's needs, said Julia Strange, Tucson Medical Center's vice president of community benefit.
"On an individual hospital level, this work informs our strategic plan, informs where we put our dollars in terms of recruiting physicians, in terms of building programs, expanding services," Strange said.
One issue the report notes is the shortage of doctors in Pima County. Garcia said it will take a coordinated effort to turn around the shortage.
"Part of it is engaging our educational institutions and our hospital partners and helping enhance their ability to recruit providers," Garcia said.
Previous reports on the state of health care in Pima County showed a need for more recreation, and afterwards the Pima County Transportation Department made an effort to finish the interconnecting trails that border the rivers in the area. The walking and bicycling path called The Loop is an outcome of community demand, Garcia said.
In this report, county residents are better at getting physical activity into their days than many other counties in the state.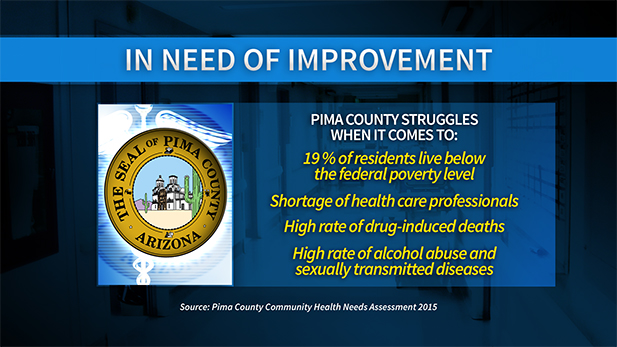 Robert Jaime, AZPM

See more from Andrea Kelly and
Metro Week
on our
show page
.