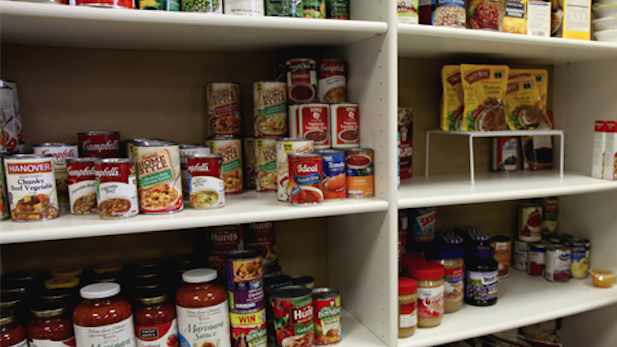 AZPM
By Amanda Martinez, AZPM intern
Listen:
While many people on campus don't worry about having enough groceries, some do and the University of Arizona Campus Pantry hopes reduce that stress by providing free food to students and staff.
The UA Campus Pantry distributes food biweekly at Babcock Hall, a dorm located across the street from main campus on East Speedway Boulevard.
This is how it works: UA students and staff show their campus I.D., but no identifying information is recorded. The pantry provides paper bags, but if you bring your own you usually get to take an extra food item. Then, you're ready to shop.
The pantry is stocked with items like canned vegetables, peanut butter, boxes of pasta, spaghetti sauce and dried beans. In the corner of the room is a trashcan full of Ramen and you can take as many as you need.
Anywhere from 30 to 50 people come to each distribution. A different club provides a free hot lunch for everyone who visits.
"The environment that we try to create at the pantry is very welcoming, very open. We try to make it as easy as possible for people to use our services," Executive Director Michelle Sun said.
While the pantry doesn't track individual users, it provided more than 500 students more than 4400 pounds of food last school year. Different campus clubs, sororities, fraternities and individuals donate food and the pantry usually gets big donations from the dorms at the end of the school year when students move out. The pantry also receives money through grants.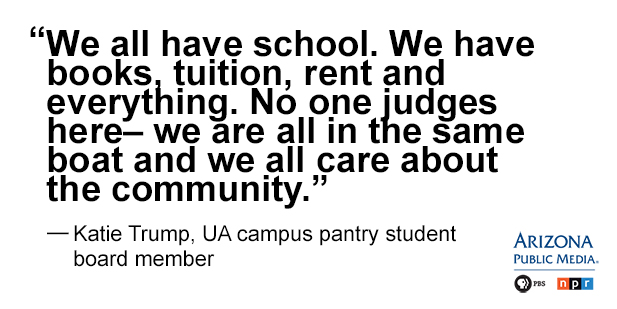 The idea for the club came in 2011 when a group of student leaders, professional staff and representatives from student life identified the growing trend of food insecurity for students and staff on campus. The pantry officially opened in February 2013 and is registered as a nonprofit in the state and at the federal level.
UA campus pantry student board member Katie Trump says people should not be embarrassed to ask for help.
"You could be having a tough time just for the month, this one month you don't have enough money to make ends meet. Or it could just be a continuous struggle. We all have school, we have books, tuition, rent and everything. No one judges here, we are all in the same boat and we all care about the community."
For more information find the UA Campus Pantry on Facebook or visit its website
Amanda Martinez is an AZPM intern and University of Arizona journalism student.