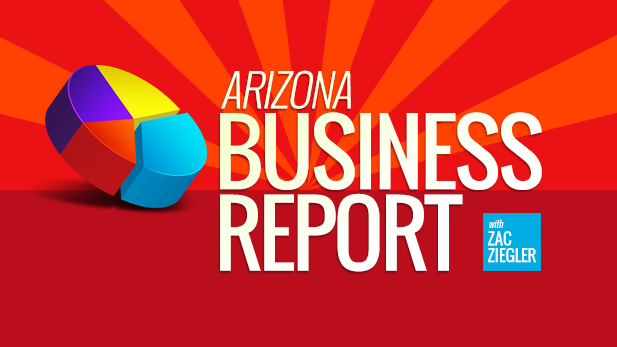 Stay on top of the latest business headlines in Tucson and southern Arizona. Reporter Zac Ziegler brings you in-depth news and analysis.
4D Technology has been in Tucson for 14 years.
"We started the company in California, in the year 2000. We quickly burned through our initial funding, and we found an angel investor here who happened to be the dean of the Optical Sciences College," said Neal Brock, a co-founder of the company and its director of new technology development.
4D builds devices that measure miniscule distances using light beams.
The technology is most often used to check for defects on mirrors and glass for telescopes and is used for cell phone and TV screens.
Put your fingertip in front of one of the devices, and it sees a mountain range.
"We're all together about 40 to 45 people, and that includes a few interns," said Brock.
4D is looking to add to its staff, and it is not the only local optics company recruiting.
"There are a number of companies that are still hiring, including my own," said Nasser Peyghambarian, a professor at the University of Arizona's College of Optical Science and CEO of NP Photonics.
NP Photonics produces lasers that have a variety of uses.
Optics used to be much bigger business in Tucson, but the industry has shrunk in the last decade.
The industry was, in part, a victim of its own success. It proved too enticing for outside investors.
"Some companies that were initiated and started here, they were sold to bigger companies, and then the bigger companies closed the shop here and went back east," said Peyghambarian, who came to Tucson as a postdoctoral fellow in 1982.
A big driver of the optics industry had been easy access to talent. The College of Optical Science is among the best in the nation, and that national renown has led to widespread recruiting of graduates.
"It's getting harder and harder to attract good talent," said 4D's Brock. "I think all technology companies are finding that."
The recruiting battle is something 4D has kept in mind as it grows. It is renovating the suite next to its current office.
The new space will include inventory storage, work stations and an unusual perk.
"We asked people what else can we do to retain people, to make people happy here, and one of them was to have a workout room," said Brock.
Benefits such as an onsite gym are now a norm for many tech companies, especially in the place that Brock sees as the biggest competition.
"We don't have the offerings and the breadth of technology that other states have, like California," he said. "But it's pretty strong here, and I think that people are surprised that a company like 4D Technology can be here."
Keeping UA grads in town has been a problem for Tucson's optics industry.
"Some of our own students, we can keep them for a while here, and then, a lot of them, they find other jobs and go elsewhere afterwards," Peyghambarian said.
4D has had luck when it comes to getting UA grads to stay in Tucson.
All but one of its optics engineers are College of Optics alumni, and many other engineers went through other UA colleges.
"It'd be very difficult if we were in a town that did not have a major university like this," said 4D Technology President and Co-founder James Millerd. "It's certainly a great pipeline for getting talent."
Convincing students to stay could be a key to bringing Tucson's optics industry back to its heyday.
"We just have to bring good talent to town, let them loose, let them start businesses and have them keep competing until it changes the situation back to what it used to be 10, 20 years ago," said NP Photonics CEO Peyghambarian.
Many in the industry say they would welcome the company in the industry. More businesses means a larger talent pool, which would benefit all, regardless of what niche they take up in the field.
"A lot of the principals are very transferable, and it's reasonably applicable to learn something in one company and move to another," 4D President Millerd said.
"There's a lot of engineers that come to Tucson, that go to the university," 4D co-founder Neal Brock said. "The first year they're kicking and screaming, 'I can't wait to get out of this heat.' By the time they graduate, there's certainly a lot of them that fall in love with Tucson."
The real task is making sure those who have fallen for Southern Arizona have jobs waiting for them upon graduation.