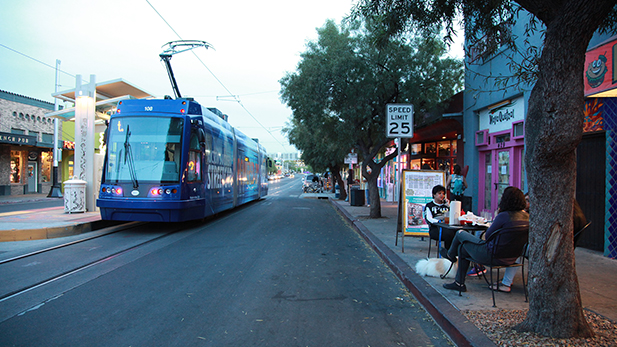 The streetcar passes people eating dinner on 4th Avenue on April 5, 2015.

Tess Salmon, AZPM
Monday marks two years since the streetcar began transporting people between downtown Tucson and the University of Arizona campus. City officials said it has carried 2.05 million passengers.
It took 10 months for the streetcar to attract 1 million riders, and 14 months to reach the second million. Trends in use are emerging, said Shellie Ginn, Tucson transportation planning administrator.
"We do see that the fall and the spring have higher ridership. This time of year is pretty much our lowest time of ridership," Ginn said.
That's because 50 percent of the riders are students at the University of Arizona, on the move in spring and fall for classes and night life, Ginn said.
"So we definitely see an increase when they come into town."
The city has attributed much economic development downtown to the new transit system, Ginn said.
"We've seen a lot of change along the four-mile route in the last two years. We've seen an increase in construction happening along the line," she said. "We have hotels going in, specifically the AC Marriott along Fifth Avenue. We are also seeing a lot of planned market-rate housing that's being proposed along the four-mile line."
Economic development was one of the city's goals with the streetcar route, in addition to moving people through a part of town where many work or live.
The streetcar schedule is under constant evaluation according to the times most people are riding, Ginn said.