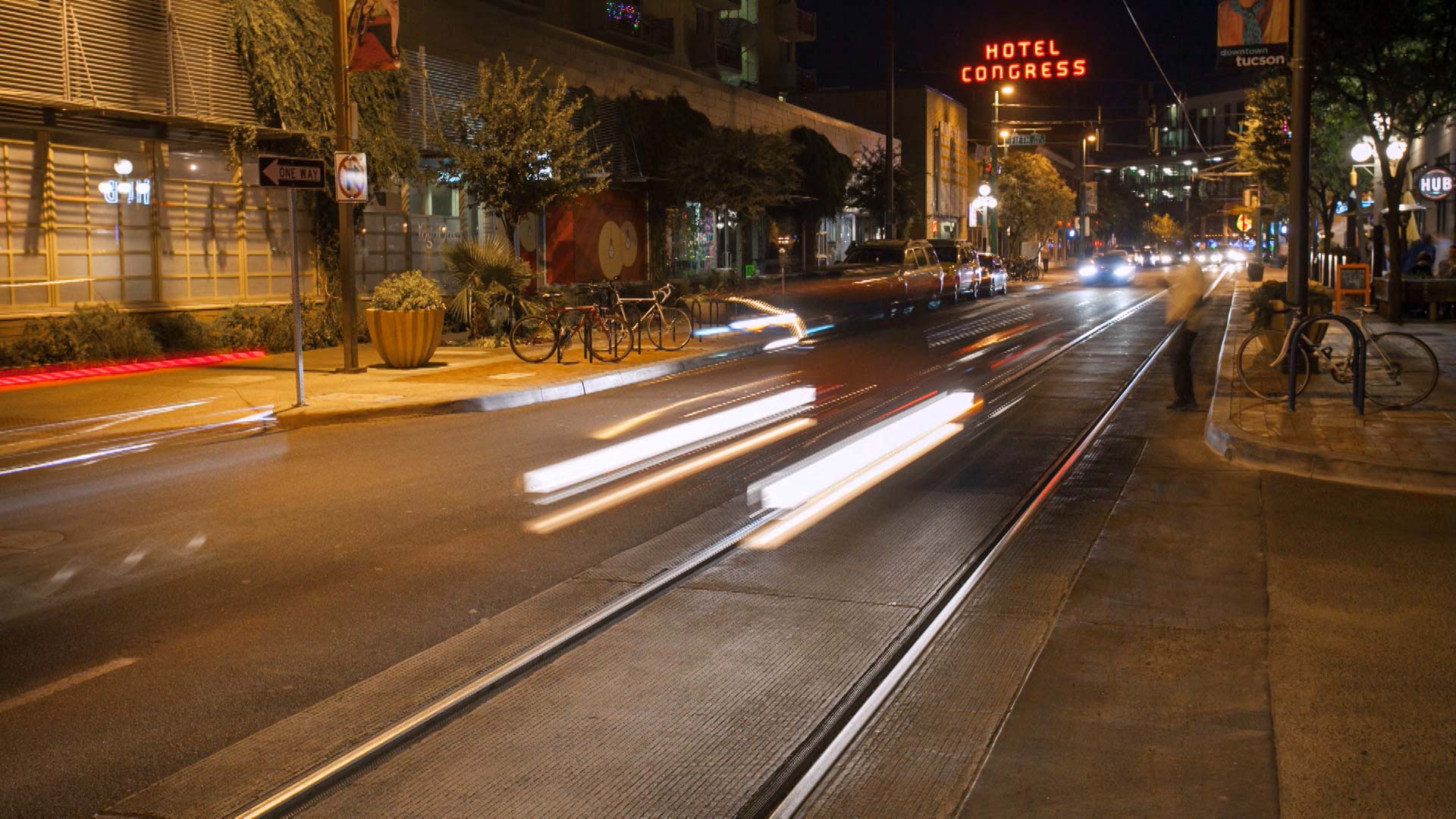 Andrew Brown
It is Friday night and the patio at downtown Tucson's Hotel Congress is packed with people of all ages, drinking, flirting and dancing to DJ Dirty Verbs' cumbia beats.
These days, downtown really is the gravitational center of nightlife in Tucson. Of course, that wasn't always the case. For many years, after offices cleared out and the sun disappeared behind the Tucson Mountains, the area was dead.
"It was kind of no man's land in downtown," said Kathy Rivers, who runs KXCI radio.
Rivers moved into an apartment above the Rialto in 1993 and was in a small cadre of artists and musicians that populated the area when, as she said, tumbleweeds rolled down Congress.
Those days, downtown had a certain kind of appeal.
"I paid $275 for rent, including my utilities, so I could afford to be a musician and be able to concentrate on the arts," Rivers said.
So, in the long road to revitalization, first came the artists.
Rivers said she and her friends would go to North Fourth Avenue to listen to music. Within the borders of downtown, Hotel Congress was really the only spot for nightlife.
"All the downtown hipsters loved it," said Dave Slutes, entertainment director at Hotel Congress. "You thought your music was authentic. You thought your music was going to be interesting."
Slutes has worked at Congress for two decades and hung out at the club before he was on the payroll.
"Twenty years ago when there were tumbleweeds down here, I thought it was exciting," he said.
Exciting, but also a lonely beacon on the edge of the city's depressed historical center.
There were attempts to breathe life into downtown - Downtown Saturday Night, the '90s precursor to Second Saturdays - but mostly they failed.
Michael Keith, CEO of the Downtown Tucson Partnership, said things started to turn around, slowly, when Rio Nuevo began pumping money into the Rialto and Fox theaters in the mid-2000s
"I think that was the moment for arts and culture. It bookended downtown," Keith said.
"Theaters like the Rialto, they used to be super abundant," said Curtis McCrary, director of the Rialto Theatre Foundation. "Hundreds of thousands of them across the country. And most of those are gone - lost to history, lost to disuse, disrepair."
But Tucson salvaged two of its downtown theaters and as the 2000s went on, Slutes said, there were more shows, bigger acts.
"You had this entertainment district emerge, then you had other businesses (and) restaurants feel they could get popular."
The District, a bar, moved in, Susana Davila moved her Café Poca Cosa into the Pennington Street Garage, Janos Wilder opened Downtown Kitchen+Cocktails, and others established their own beachheads.
Rialto's McCrary said together, the businesses weathered the difficult days of the recession and critics who doubted revitalization would ever materialize.
"Those of us that were involved knew that it was coming," he said.
Then came two major infrastructure projects that helped prove them right. First, Keith said, was the completion of the 4th Avenue underpass in 2009.
"That changed downtown overnight. The foot traffic from the day before to after was dramatic. All of a sudden people were able to bike into downtown," he said.
And two years ago came the streetcar, which Slutes and McCrary agree gave an immediate boost to business.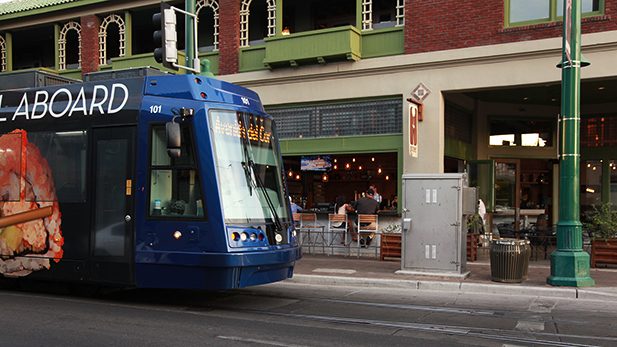 The streetcar passes Proper restaurant on Congress Street on April 5, 2016.

Tess Salmon, AZPM
There's another big project in the works that many businesses are excited about - the eight-story hotel being built on the corner of East Broadway and 5th Avenue.
"I think the hotel is going to be huge," Slutes said. "It's going to be such a piece of the puzzle."
But there are still two pieces missing from that puzzle: First is housing. With numerous projects in the works though, that's coming, which is great, Cathy Rivers said.
"So now you're going to have places to stay in as far as visitors, and you're going to have renters, and I think that's really going to beef up the scene even more," she said.
And last, said Curtis McCrary: "What robust downtowns have is retail. A key aspect working is critical mass. You need to have enough of a reason for people to come to shop. There are plans for more retail in the coming years. And I think that will continue the rise of downtown."
But, Dave Slutes said, there's one more thing, though it that is less tangible.
"I think there's a lot of people passionate about how you keep Tucson's soul. That is always on our minds and something we pay very close attention too."