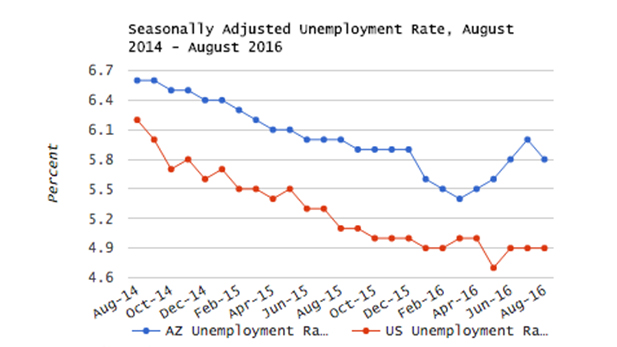 Arizona Office of Economic Opportunity
Arizona's unemployment rate dropped 0.2 percentage points in August, putting it at 5.8 percent.
Statewide joblessness had been on the rise since March.
The rise in jobs around the state is due to the public sector, where schools are rehiring staff for the academic year.
Drops in education and industries that are affected by warm weather often mean summer employment reports are not strong.
"During the summer months, we do normally see a slowdown in employment due to the summer weather. We see a lot of decline in summer employment in local and state education, leisure and hospitality," said Doug Walls, a research analyst who oversees the monthly employment report.
While new jobs from the public sector boosted August's report, the private sector did the opposite.
Nongovernment jobs dropped by 1,500 last month. Walls said such a drop in August is atypical.