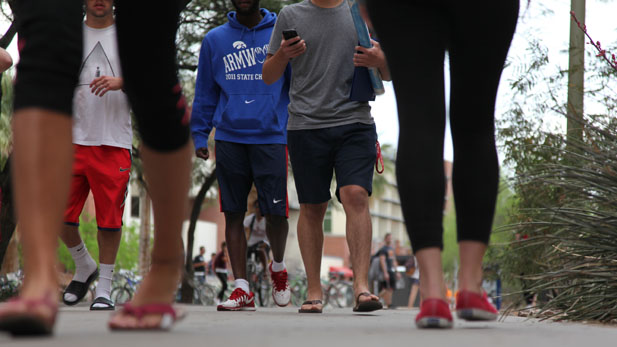 On the University of Arizona campus.

Andrea Kelly, AZPM
About 300 students from several Tucson high schools will be on the University of Arizona campus tomorrow to attend the "Man Up and Go to College!" conference.
Coordinator Bryant Valencia said it's one part of a multi-year initiative to address how gender identity notions of masculinity impact college going.
"This conference is focused on providing college messages to young men who may not think about pursuing a college education," said Valencia. "[We'll be] just providing that option for them as well as talking about some expectations about gender and masculinity that could potentially interfere with their plans."
Valencia said those expectations, for example, could stop young men from asking for help in class when they need it, harming their academic progress.
He said the conference is geared for Latinos, blacks and Native Americans, but it is open to all students, including women.
It runs Tuesday from 9 a.m. to 1:30 p.m. in the UA Student Union South Ballroom.