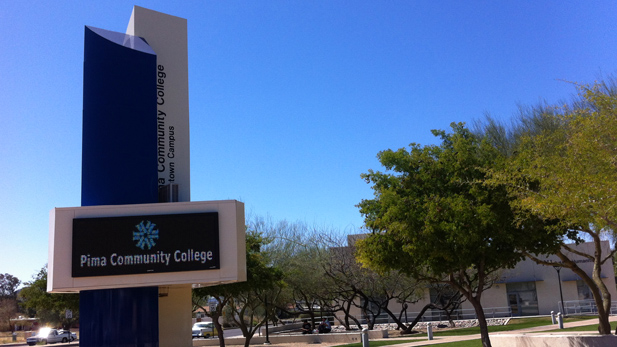 Pima Community College Downtown Campus.

Fernanda Echavarri, AZPM
Listen:
Today is World AIDS Day, and special events are planned to raise awareness about the illness, but there's also an ongoing effort to prevent AIDS and other diseases in Tucson.
Pima Community College has a federal-grant funded program aimed at minority students ages 18 to 24.
"The objective is to prevent and reduce the transmission of HIV and AIDS as well as viral hepatitis and substance abuse. So it's a prevention and education program," said Elva de la Torre, the grant program manager at Pima Community College.
The program is at the Desert Vista campus of Pima Community College, and next semester it will expand to West and Downtown campuses.
The grant is specifically meant to target Hispanic-serving institutions, like PCC, where almost 70 percent of the students are minorities.
"As we know Hispanics and Latinos are disproportionately affected by HIV," de la Torre said.
In Pima County, minorities make up 43 percent of all HIV and AIDS cases. Other institutions have similar federal funding.
The program is a partnership with the Southern Arizona AIDS Foundation, and in addition to testing, it will offer peer-to-peer support.