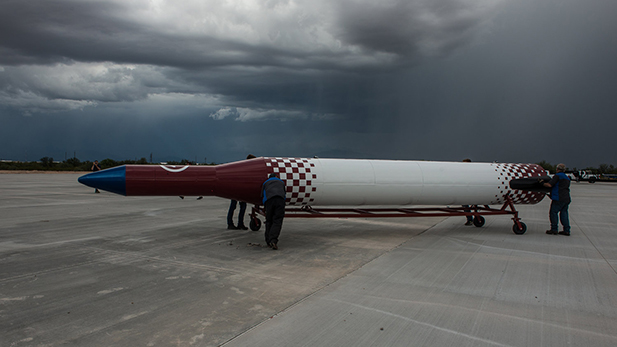 Company CEO Jim Cantrell said a Vector rocket is small enough to fit on the back of a commercial truck.

Vector Space Systems website
Rocket manufacturer Vector Space Systems has announced its plan for business in Tucson now that its land lease with Pima County has been approved.
A company executive said Vector is looking for contractors to build its facility, with the goal of completing construction in 2017.
The next phase will be to start hiring staff for the manufacturing department.
Vector Chief Financial Officer Ken Sunshine said the company chose Tucson in part because of its aerospace manufacturing industry.
"It's always nice to, first of all, be able to work with people eye-to-eye, and secondly know that things are not that far away if you actually had to go and meet with somebody and work through an issue," he said. "It's nice to have suppliers be local."
The company has plans to hire 200 staffers in total, most of which will build the company's small-scale rockets. Sunshine said Vector plans to have the facility fully staffed and operational in five years.