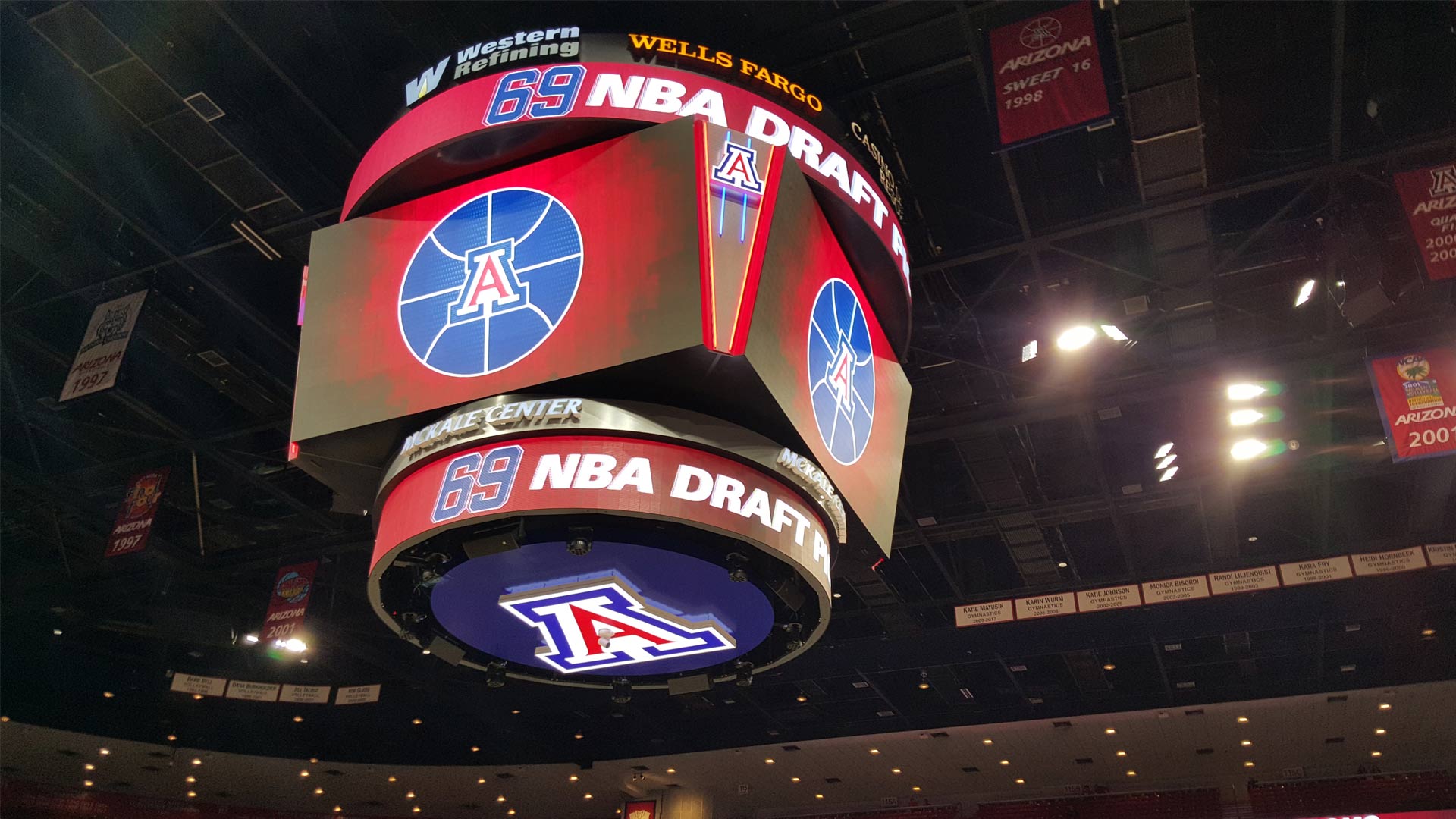 The scoreboard inside McKale Center.
AZPM Staff
Bar and restaurant owner Dennis Arnold has spent the last few days preparing for the University of Arizona men's basketball's Sweet 16 game against Xavier Thursday.
Extra staff at Arnold's Gentle Ben's, a block from the UA, is set, and he is stocked up on provisions, both the typical and the unusual.
"I just bought four new 65-inch TVs to go outside," he said.
Preparations included a Monday meeting with the Tucson Police Department and other groups so they can plan for the possibility of fans getting rowdy.
Present at that meeting was Tucson Police Capt. Mark Timpf.
"We basically expressed what our objectives were, how we're going to go about to accomplish those, and they were very responsive," Timpf said. "It's been a very collaborative relationship that we've had with them."
Tucson police and the UA are being proactive because of their experiences from previous years. Notable in many people's minds are what happened after the Wildcats won the national championship in 1997, a title game loss in 2001 and more trouble after an early-round exit three years ago.
"You have to be aware of that excitement that's building up, and the excitement leads to crowds wanting to celebrate together, and that means we're going to need to be out with those folks as they're celebrating," said UA Police Assistant Chief Jason Brei.
The university has done more than ask its police to be prepared for large groups that could range from student revelers to student rioters.
The school created a campaign encouraging students to stay responsible, coining the phrase "Bear Down With Pride."
An A-frame sign reminding UA students to celebrate responsibly sits outside businesses on University Avenue. The sign is part of the University's Bear Down With Pride campaign.

Zac Ziegler
The slogan has been posted on signs in the University area and was a part of a video featuring members of the community.
"This is all part of that overall messaging and overall program to get out, and spread the message," said Brei.
Timpf would like to avoid the ruckus reoccurrences of previous years, events of which he has first-hand experience.
"Back in '97 when they won it all, I was a sergeant in midtown and was involved in a lot of the activities," he said. "Also, in 2001 I was the SWAT commander. They had riotous conditions that year."
Gentle Ben's owner Arnold also remembers the 1997 game well. Those memories play a part in why he puts effort in ensuring things do not get out of hand.
The game was nearing its end, and fans began to see hope that the UA may beat the University of Kentucky in an overtime battle.
Arnold was watching the game while bartending in the restaurant's upstairs bar.
"And this idiot kid turns around and throws a glass over the rail and just misses a cop in the streets," Arnold said.
Instead of watching his team win its lone national basketball championship, he was dealing with a rowdy patron.
"I spent the last 40 seconds of that game taking that little miscreant down the stairs and handing him off to the officers, and then telling the officers that we are officially closing after the game."
Arnold is taking extra precautions tonight. Gentle Ben's will open later than normal in an effort to curb overconsumption of alcohol, drinks will be served in plastic cups, not pint glasses, and it will limit the number of people inside to less than capacity.
The move is being done in part for public safety, and in part for the sanity of a fan.
"I'm not going to miss the last 45 seconds of another basketball game because of somebody like that," Arnold said.
He hopes all the preparation will mean he gets to watch the game until the very end, and with a little good fortune, he will get to do it again a few more times this year.