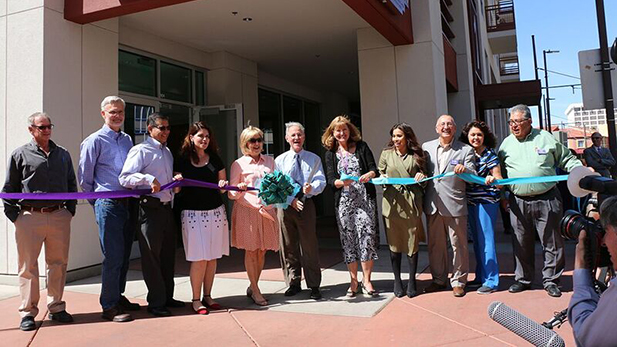 From left, Hal Strich, Kirk Saunders, Ramon Valdez, Regina Romero, Judy Rich, Jonathan Rothschild, Nancy Johnson, Cassandra Becerra, Raul Aguirre, Rocio Galvez-Martinez and Frank Valenzuela.

Courtesy of El Rio Health
El Rio Health and Tucson Medical Center have opened their first joint venture - a health and primary care center in the heart of downtown Tucson.
Located at Congress and Stone, HealthOn Broadway provides integrated wellness and primary care services, said El Rio CEO Nancy Johnson.
"So when you establish care here, you're going to be assigned a health coach, just helping you be as healthy as you can be, and to avoid unnecessary illness and health care expenditure," said Johnson.
Patients check in at digital kiosks and can manage and look at medical records, make appointments and even consult their doctors online. Johnson said it's all about making medical care easy and accessible.
Other than primary care, HealthOn Broadway's services include X-rays, free wellness classes, physical therapy and health education talks.
It's open Monday through Friday from 7 a.m. until 9 p.m. and Saturdays from 8 a.m. until 5 p.m. Johnson said all forms of medical insurance are accepted and fees are assessed on a sliding scale for people without health insurance.
To register as a patient call 520-309-4200 or just walk in at 1 W. Broadway Blvd.