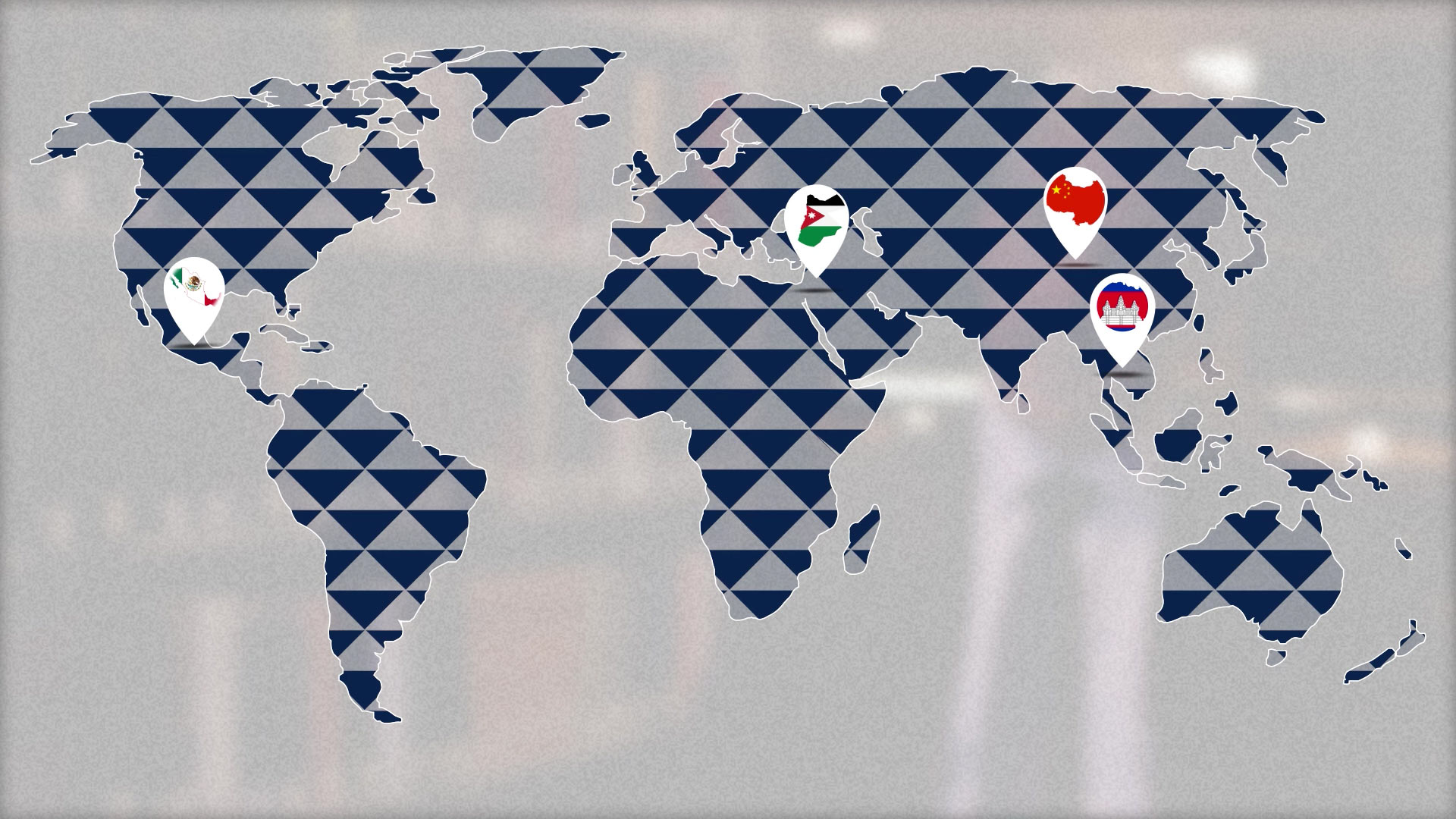 A few locations of the University of Arizona's planned micro-campuses.
Courtesy of the University of Arizona
The University of Arizona is partnering with 13 universities abroad to launch what it is calling "micro-campuses."
"A micro-campus is a space on the campus of a partner university at which the University of Arizona offers dual degree programs and promotes collaborative research between our faculty and our partner-university faculty," said Brent White, who heads international education at the UA.
Two of the school's micro-campuses are already running, in China and Cambodia. Eleven more programs will open in the next year throughout the Middle East, Asia and North America.
The UA currently offers degrees in business administration, civil engineering and law at its two existing micro-campuses. Degree programs at new UA micro-campuses will include degrees across the health sciences, social sciences, humanities, physical sciences, engineering and education. The programs are contingent on approval from the UA's accreditor and local regulatory bodies.
White said the UA is expanding access to higher education through its micro-campuses
"The reality is that a year's tuition at the University of Arizona exceeds by many multiples the global per capita income, meaning that it's just not in reach for most of the world," said White. "So the idea is to price the program at local market rates and therefore increase accessibility."
Many American universities run branch campuses around the world, White said, but the UA micro-campus network will be the first of its kind.
The network will include:
UA Amman at Princess Sumaya University of Technology (Amman, Jordan)
UA Bandung at Telkom University (Bandung, Indonesia)
UA Beirut at Lebanese International University (Beirut, Lebanon)
UA Hanoi at Vietnam National University (Hanoi, Vietnam)
UA Hualien City at Tzu Chi University of Science and Technology (Hualien, Taiwan)
UA Manila at De La Salle University (Manila, Philippines)
UA Puebla at Universidad Popular Autónoma del Estado de Puebla (Puebla, Mexico)
UA Shanghai at Shanghai University of Politics and Law (Shanghai, China)
UA Sharjah at the University of Sharjah (Sharjah, United Arab Emirates)
UA Shenzhen at the Harbin Institute of Technology (Shenzen, China)
UA Taipei at Soochow University (Taipei, Taiwan)
Joining two existing micro-campuses:
UA Qingdao at Ocean University of China (Qingdao, China)
UA Phnom Penh at the American University of Phnom Penh (Phnom Pehn, Cambodia)
Learn more at the program's website.