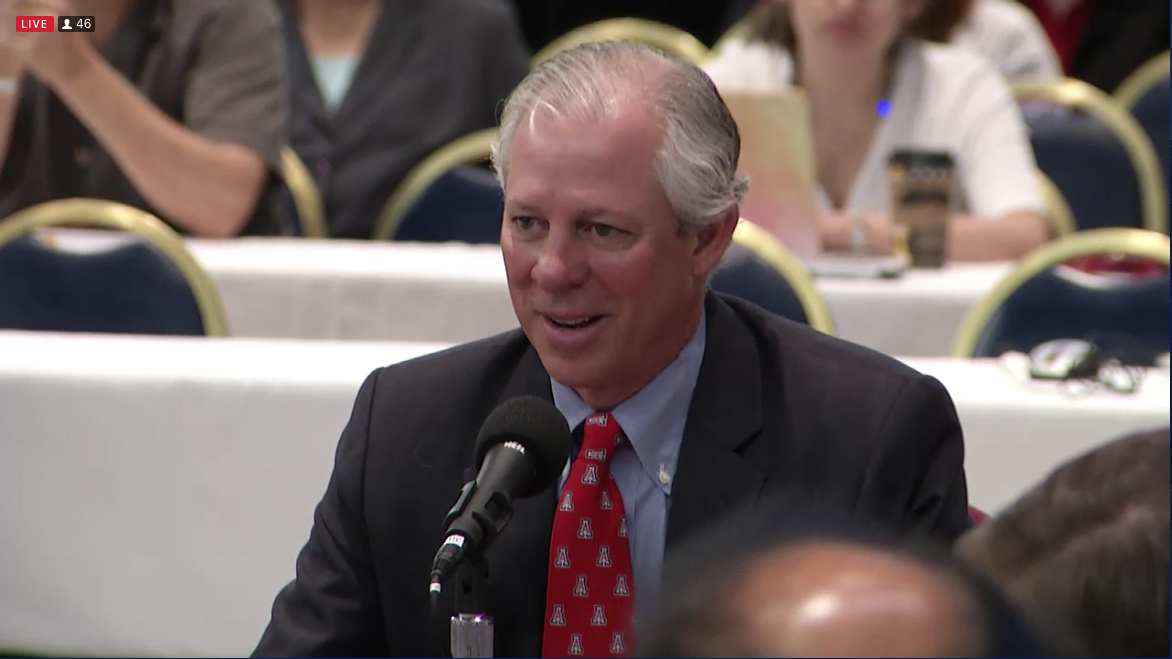 Robert Robbins at the Arizona Board of Regents meeting where his contract was approved, April 7, 2017.
University of Arizona president Robert Robbins announced plans to "fully integrate" the former for-profit Ashford University into the University.

Currently the school, now called University of Arizona Global Campus, is only affiliated with the U of A.

The Global Campus with approximately 28,000 enrolees, is separate from the UA's own online presence, which enrolls about 6,500 students.
Robbins made the announcement in an address to the state Board of Regents on Thursday.

"Our affiliation with UAGC has allowed the University of Arizona to help 28,000 more students on a flexible high-quality online platform designed for growth and scalability," he said.
The on-line institution is in trouble with accreditors because of its low graduation rate.

Less than a quarter of its enrollees graduate after eight years, according to a report by the U.S. Department of Education.

University of Arizona associate professor Leila Hudson says faculty members want answers about what the move means for the university.

"It's going to be difficult, it's going to be thorny, it's going to be expensive to integrate, I believe, 28,000 new students from the University of Arizona Global Campus," Hudson said.
Hudson is a member of the UA Faculty Senate, which has scheduled a ninety minute discussion with Robbins and the university provost for Monday.

Hudson says the university is required to involve faculty in the decision-making process, and that requirement wasn't followed when it affiliated with Ashford in 2020.