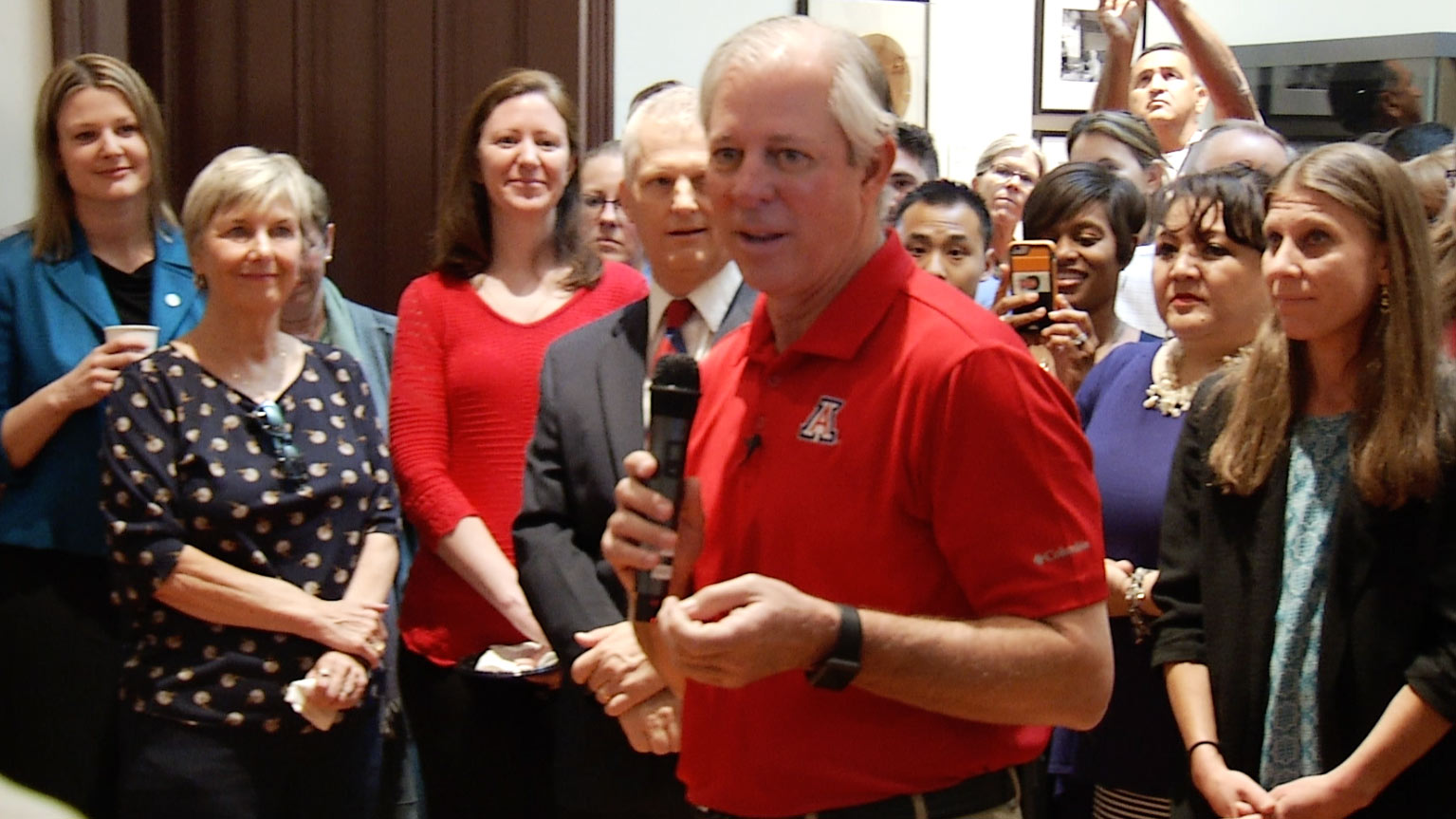 UA President Robert C. Robbins greets faculty and staff June 1, 2017.
Steve Riggs, AZPM
On his first day Thursday as president of the University of Arizona, Robert Robbins held his inaugural press conference.
Before looking forward to what's to come at the U of A, Robbins was asked to look back at why he thought he got the school's top job.
"Well, I think it was a deliberative process that was long. It was difficult," Robbins said. "I think that the university is at a point in time where I think they were looking to someone who had administrative experience and leadership experience of bringing a lot of diverse, very strong, very accomplished groups together for a common purpose.
"And I think the previous job I was in in Texas, that was my job."
Robbins was CEO of the Texas Medical Center, which according to its website is the largest medical center in the world, based in Houston.
"I had 57 different institutions, many of which are household names, who were very strong," he said, "and trying to herd those cats to get them to focus around some common purposes, I think that helped me."
Robbins is a cardiac surgeon who spent nearly two decades at Stanford. That background helps him at the UA, he said.
"I ran a huge research lab, so I can identify with the researchers," he said. "I've been a committed educator. So I think I had a lot of the attributes of things that I think this university needs."
Robbins was asked to list his priorities in his new job.
"The issues that I think are highest on my priority list is, there are a couple of positions that need to be filled that I think are going to be really important," he said. "Having someone to run the Health Sciences Center is a big issue."
UA Health Sciences has an interim leader, Leigh Neumayer, who took over from Joe "Skip" Garcia when he stepped down last year.
Robbins also said hiring a vice president for marketing and communications will be a top priority.
"Every day with every encounter, I'm amazed with how many people are doing phenomenal things here, and I think we need someone who helps me craft the message of the university," he said.
Hiring for those positions is not all, he said. He will also focus developing a strategic plan and on upgrading campus buildings after the Legislature approved a funding mechanism for building maintenance at the state's three universities.
Robbins also said he plans to have some fun with UA sports teams.
"I'm really eager to see how the baseball team's going to do, how the softball team's going to do," he said. "I'll be involved with that, getting ready for football season."
Robbins said he plans not to spend much time behind a desk.
"I think as the sort of coach, cheerleader, storyteller for the university, it's my job to get out and tell the incredible story that makes this university so great," he said. "And I can't learn that unless I'm out meeting with people and learning. And I think it's better to do it on the campus in a more informal (way).
"I can't tell you how many people have come up to me and stopped me and said hello. And I hope it's because they've heard me say directly I'm going to be accessible. I'm going to be wandering the campus, I'm going to be at sporting events, I'm going to be in classes. And I want people to come tell me the good, the bad and the ugly. And it's amazing. People are not shy. They tell me exactly how the university should be run."
He said he will take that all into account when developing his plan for university.
"My sense is, my popularity is as high as it's ever going to be, right now," he said. "And I think that people are welcoming and engaging, and I think they sense that I'm optimistic and enthusiastic, and so I think that positive energy between the people that I'm interacting with feeds me to want to do the best I can to help bring people together for common purposes."
Robbins is the UA's 22nd president. He succeeds Ann Weaver Hart, who spent five years in the job before stepping down a year ahead of the expiration of her contract.
Watch Metro Week at 6:30 p.m. Friday and 10:30 a.m. Sunday on PBS 6 for an AZPM sitdown interview with Robbins.