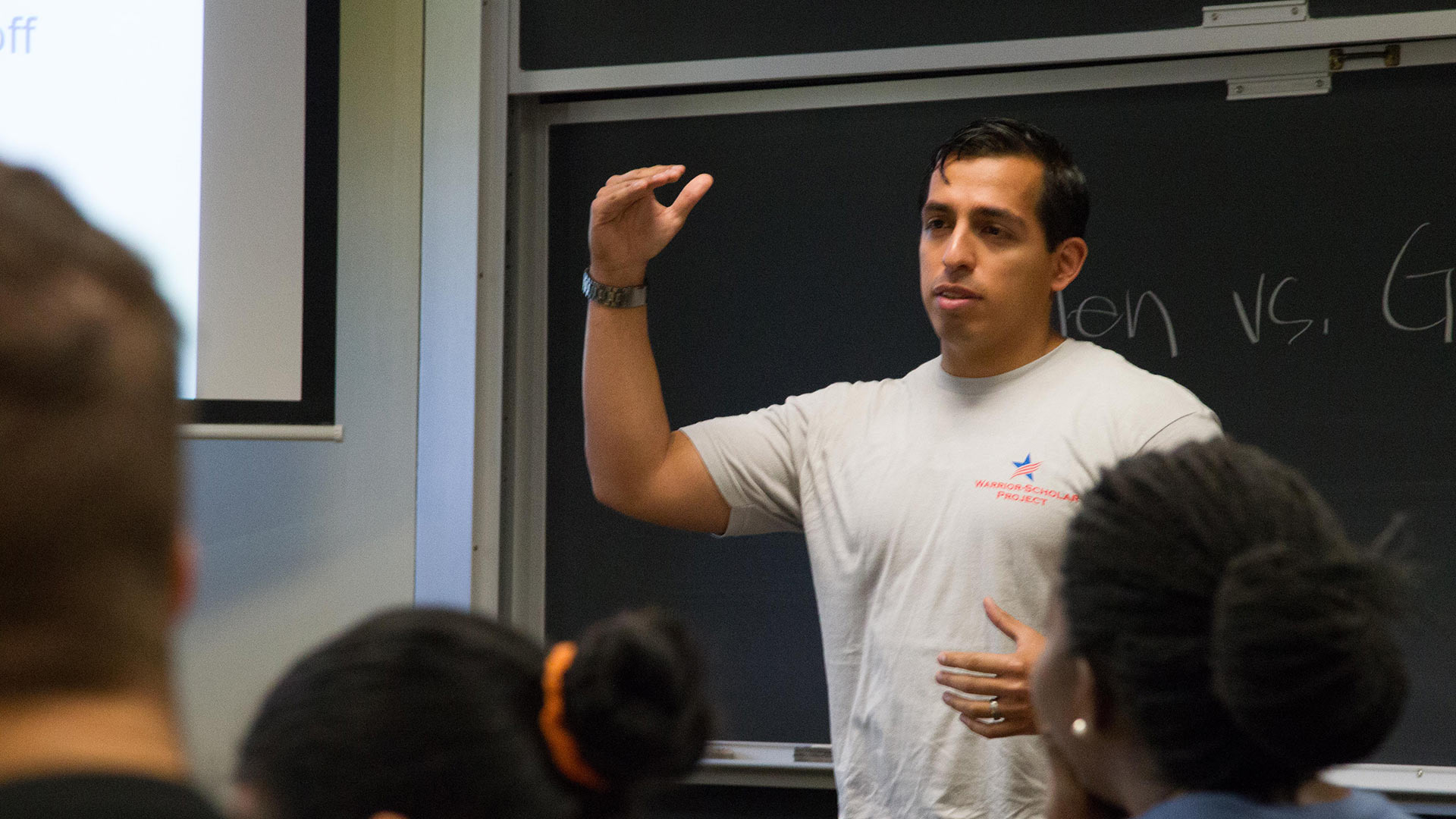 Frankie Burgos, staff member of the Warrior-Scholar Project, teaches a class.
Warrior-Scholar Project
Rachel Wakefield, a 20-year-old, active-duty Marine, will be discharged from the military this summer, just in time to enroll as a freshman at the University of Arizona. The prospect of college has her nervous.
Wakefield said she wanted to go to university straight out of high school, but couldn't afford it. Now she can, thanks to the G.I. Bill benefits she will receive upon finishing her military service.
"It was either leave high school and go to a regular job and try to make enough money to go to college, or, you know, join the military," Wakefield said. "And they would give me enough benefits to go to college. So that's what I did."
Wakefield will be on a full scholarship for wheelchair basketball. She said college life makes her somewhat uneasy because it is the polar opposite of military life.
"Going from someone telling me what to do on an hourly — and sometimes minutely — basis, to, you know, the professors don't care if I come to class. They don't care if I don't turn in assignments," she said. "The only person that will really care is me."
Wakefield is on campus this week to mitigate some of her insecurities. She's participating in a two-week college-preparation crash course called the Warrior-Scholar Project.
In its second year, the program is aimed at helping veterans who have been out of the academic realm for years get back into the swing of school and civilian life.
Warrior-Scholar Project curriculum manager Amy Page said the program started at Yale University in 2012 and gradually expanded to other universities.
"Our three primary goals are to build a skill bridge between enlisted military service and the academic world, to increase academic confidence among our program participants and to create more informed consumers of higher education," she said. "And the way we do that is through the academic boot camp."
Project staff member and Marine Corps veteran Frankie Burgos attended the program at the University of North Carolina, Chapel Hill, in 2016. He said the project eased many of his college-related fears.
"[School] was very different from what I was used to," Burgos said. "And the main thing that I remember, even just walking off the campus, is realizing that I can do this. And that's what I want to see these men and women walk away with from here at the University of Arizona."
Another program participant, Marine Corps veteran Ruben Cruz, said learning to overcome the insecurity of failing at school is stressful. And having no higher-up telling him what to do next hasn't mitigated that fear.
"I'm so used to being told what to do, I was hoping someone would come out of the sidelines and be like, 'Oh! You need to do this, this, this, this, this and this,'" Cruz said. "For us, it's like: 'I don't know what to do. What am I supposed to do? I'm lost.'"
Cruz said that in a way, though, the veterans stress about the same things any person about to start college would. They don't want to fail or disappoint themselves or others. They fear becoming overwhelmed.
"Trying to do everything by yourself — it gets tough," he said.
Insecurities aside, the veterans are excited about starting college. They're motivated and ready to take on a new challenge. And that is the fulfilment of the program's founding philosophy – to help veterans better acclimate to post-military life.
"I know that I am going to take a lot away from this program," Wakefield said. "It's just a matter of how much my brain will allow me to take away from this program."
Learn more about the Warrior-Scholar Project on Arizona Illustrated.
The Warrior-Scholar Project partners with universities across the U.S. to help veterans take on the transition from the battlefield to the classroom. To apply or find out more, visit http://warrior-scholar.org.