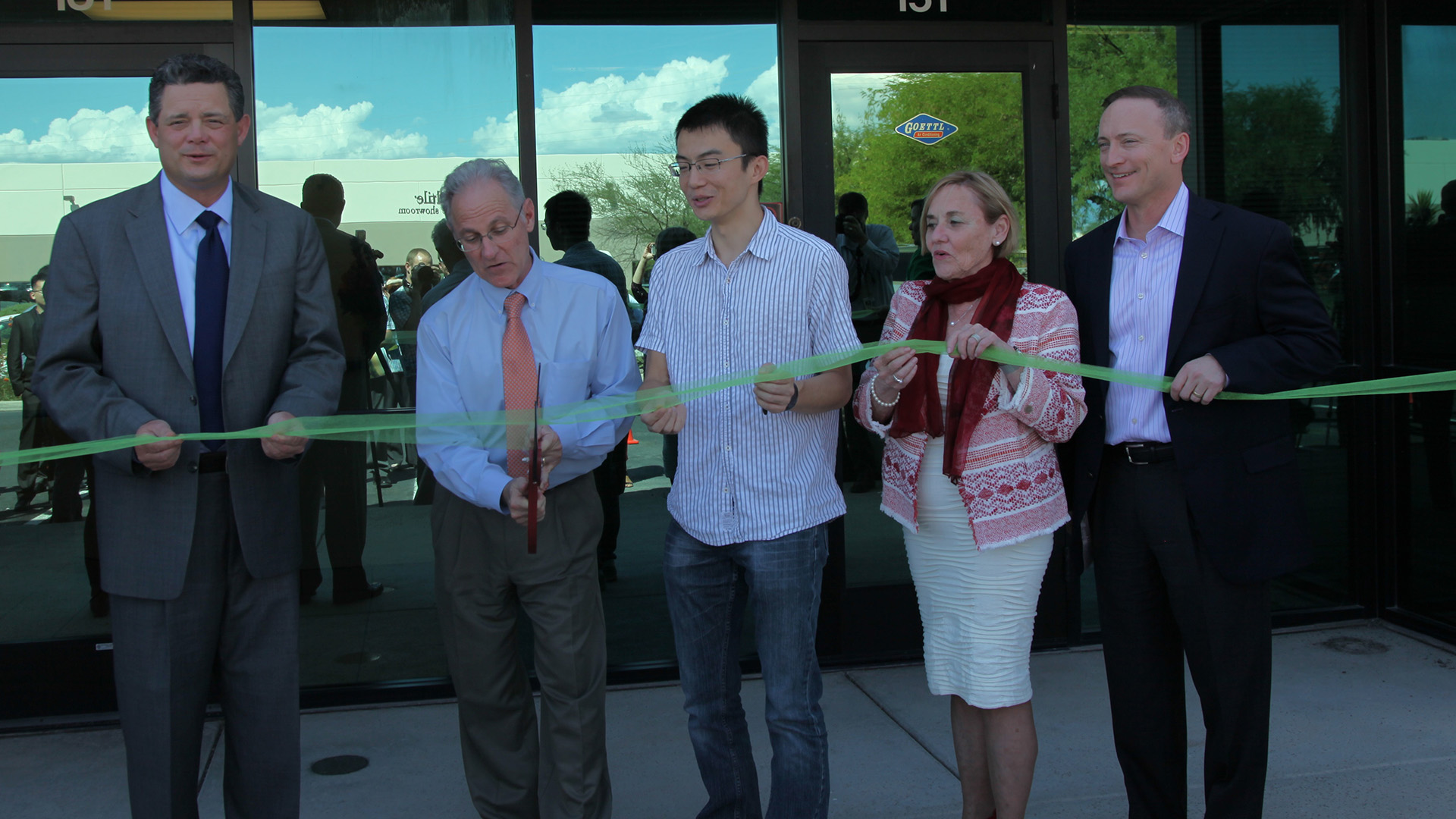 From left, Sun Corridor CEO Joe Snell, Tucson Mayor Jonathan Rothschild, TuSimple CTO Xiaodi Hou, Pima County Supervisor Sharon Bronson and Sun Corridor Board Chair and UNS Energy CEO Dave Hutchens cut the ribbon at a media event introducing TuSimple's Tucson office.
Zac Ziegler
A China-based company developing driverless commercial trucks announced on Monday that it has opened a Tucson office.
TuSimple will test and demonstrate its vehicles out of a new facility near Interstate 10 and Grant Road.
The company is interested in creating trucks that can handle long-haul drives between warehouses, and not what is known as last-mile trucking, which is deliveries to individual companies and customers.
The company will start with a Tucson workforce of between 10 and 30 workers, with plans to hire 100 people in the next five years.
Regional economic development group Sun Corridor estimates the company's economic impact in the area over that time to be $81.7 million.
"We believe that by leveraging the autonomous truck technology, we can help local economic growth," said company co-founder and Chief Technology Officer Xiaodi Hou, "by making Tucson the new nexus for [transportation logistics], and also sprout new job opportunities."
The company initially started investigating Tucson due to a linguistic coincidence, according to Xiaodi. He said TuSimple and Tucson are written with the same two characters in Chinese.
But when the company started to research the area, he said it found laws friendly to driverless car testing, inexpensive rent and a university with strong engineering programs.
"Tucson's workforce, specifically our engineering and technical workforce, is the under-reported strength in our community," said Mayor Jonathan Rothschild. "And in this case, not only is it an under-reported strength, but it's probably the deciding factor that got this company here."
Rothschild and Pima County Administrator Chuck Huckelberry both said their municipal governments did not have to offer TuSimple any tax incentives to bring the company to Tucson.
Company executives plan to run a pilot test of five fully loaded autonomous trucks on I-10 by the end of next year.
The Tucson location is TuSimple's second U.S. office. The first is in San Diego.