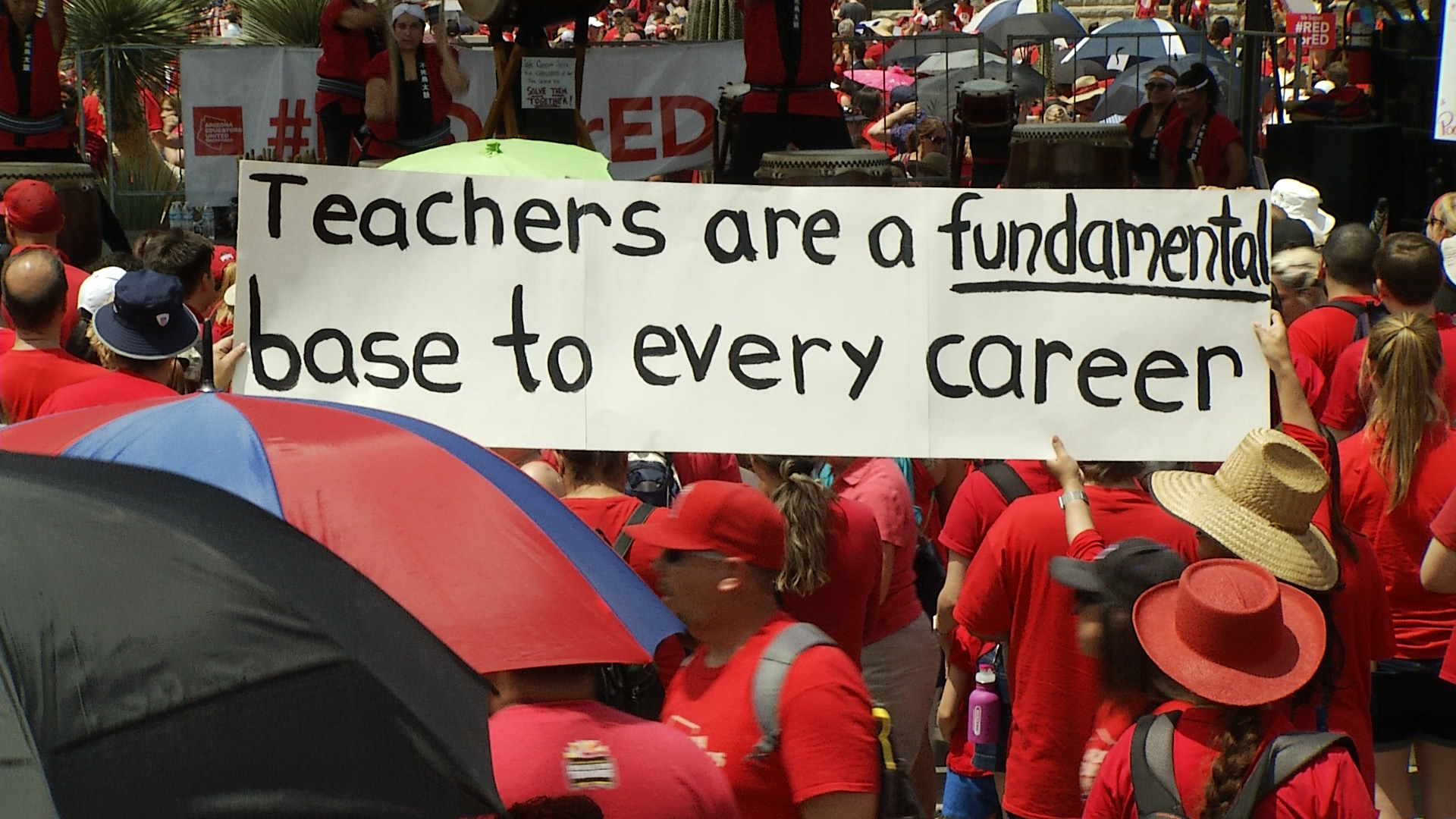 Demonstrators with the Red for Ed movement hold a banner supporting educators outside of the Capitol in Phoenix.
AZPM Staff
Campaign finance filings for those running for governor in Arizona show those employed by school districts are not donating money to incumbent Republican Doug Ducey.
People who list their employer as a school district or k-12 school in Arizona contributed $13,500 to gubernatorial candidates in the first quarter of 2018.
The majority of that money ($11,700) went to David Garcia, who was endorsed by the Arizona Education Association in March.
The two other Democrats who have raised more than $100,000 in total campaign contributions also received money from educators: State Sen. Steve Farley received $1,500 and YWCA of Southern Arizona CEO Kelly Fryer received $300.
None of Ducey's contributors listed their employer as a school district or k-12 school.
In the previous quarter, educators donated $20,000. Again, most of the money went to Garcia.
Looking at the big picture. Ducey still leads the other candidates in overall fundraising. Between Jan. 1 and March 30, he raised $550,000.
In comparison, he raised $2.6 million in the last quarter of 2017. He has more than $3 million in his campaign bank account.
Last week, Former Sec. of State Ken Bennett announced a challenge to Ducey in the Republican primary. That means, Ducey will have to spend some of that money before the fall election season.
Sen. Farley has the most money in the bank on the Democratic side of the field. He now has $309,000 in his campaign account.
Among the Democratic candidates, Farley raised the most in the first quarter, bringing in $265,192. In the last quarter of 2017, he raised $513,000.
Garcia kept steady with his fundraising in the start of 2018. He brought in $239,000 during the first three months of the year. During the last quarter of 2017, he raised $297,000.
Garcia has $185,000 in his campaign account.
Fryer's fundraising reflects only her first quarter in the campaign. She raised $88,000 and has $48,000 in her account.
All of these totals reflect only campaign contributions from individuals or PACS. They do not include in-kind contributions or "dark money."