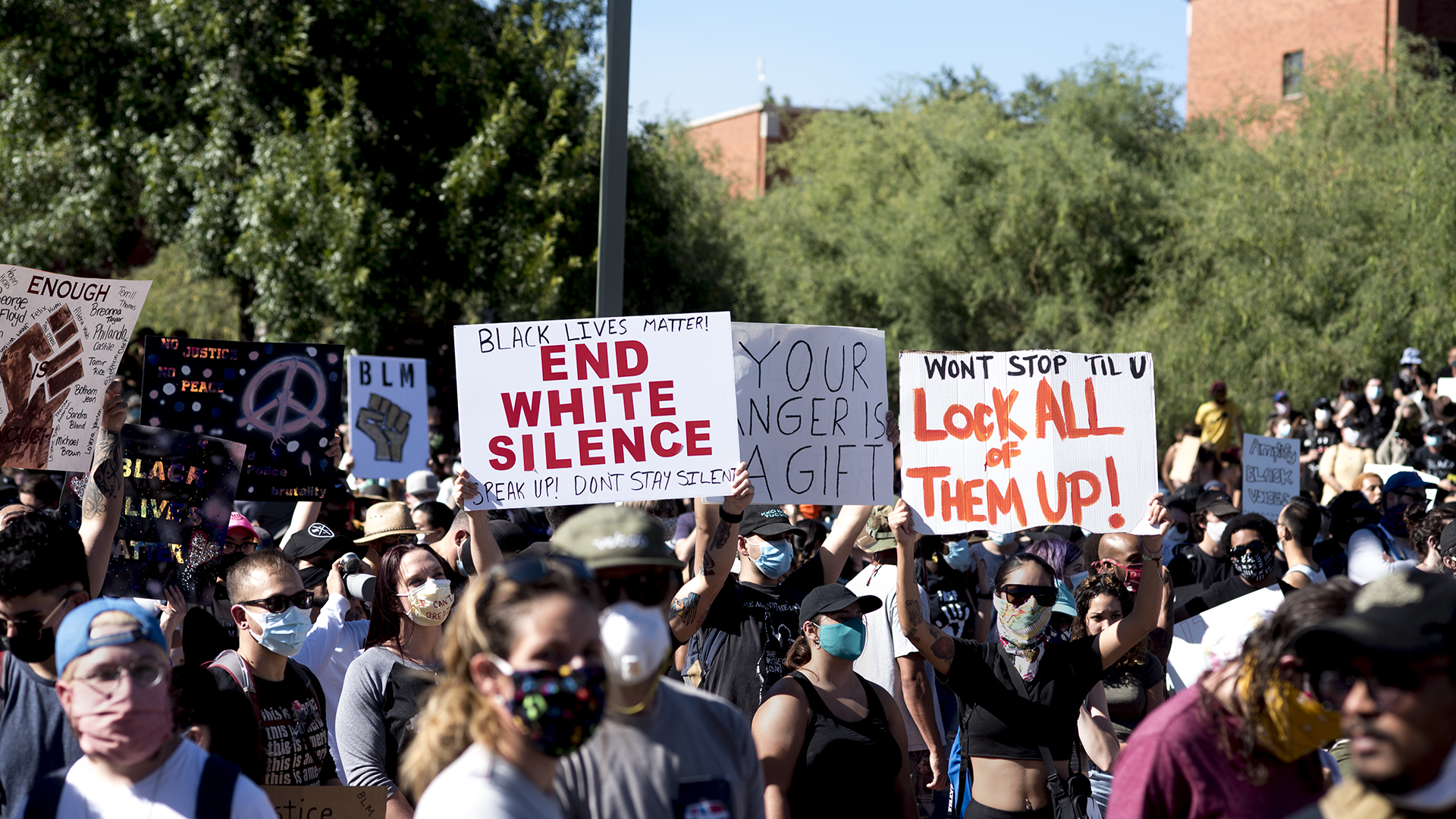 Demonstrators hold up signs recognizing George Floyd and condemning police brutality during and Black Lives Matter Tucson event on June 6, 2020.

Alisa Reznick / AZPM
In the last couple weeks, protests sparked by the death of George Floyd have captured the nation's attention.
The protests are about more than one man's wrongful death — they are challenging the nation's deep history of racism and the police's disproportionate violence toward people of color.
The National Association for the Advancement of Colored People has been around for 120 years, with the mission to ensure educational, social, economic and political equality and rights of all people. Cheree Meeks is the vice president of the organization's Tucson branch. She spoke about the events of the last couple weeks and the larger discussion at play about racism and police violence.
She said that the protests were a way for people to come together in solidarity about issues that have been with the country for a long time. She also noted that these protests have spread beyond the United States.
"When people walk around on a daily basis with pain and grief and anger and the weight of systemic oppression, the weight of racism, the weight of police brutality, the weight of violence — when we walk around with that daily, it's no surprise that there's an uprising," Meeks told The Buzz.
Though some of the attention has been taken away from the protests and given to "agitators," Meeks said she believes that positive change will ultimately come from these protests.
In order for change to happen, people will need to remain committed to working toward equality even after protests leave the news cycle. Meeks said that such work comes in many forms, from protesting to voting, from reflecting on systemic racism to checking in on others.
For its part, the Tucson branch of the NAACP maintains a working relationship with the Tucson Police Department and continues to push for officer accountability, according to Meeks.
"We have their ear," Meeks said. "They are willing to listen. And that is not something that just happened last week. We have developed that relationship and there are people who have been here in Tucson, long before I have that have worked and developed those relationships and maintained those relationships."
---
The moment the nation is in now does not exist in a temporal bubble. We are the inheritors of history — a lot of history, much of it unrecorded and unseen. Aengus Anderson has been recording some of that lost history through Archive Tucson, an oral history project from Special Collections at the University of Arizona Libraries. The project includes the perspectives of some black Tucsonans on racism they experienced first-hand.
Sadie Shaw's Sugar Hill Oral History Project also works to document black life in Tucson.
---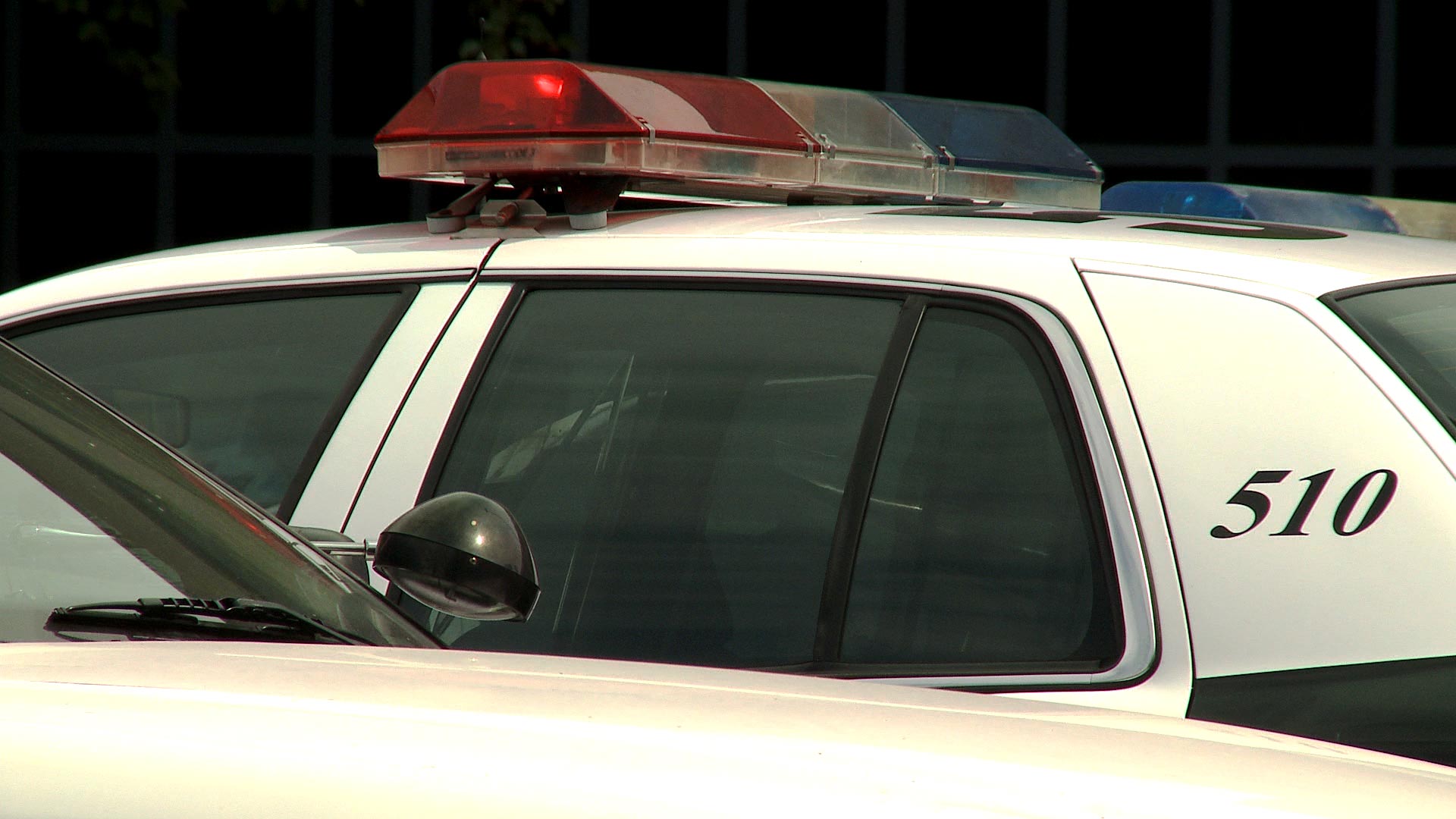 Lights mounted on the tops of Tucson Police cruisers in a parking lot outside of the department's headquarters.
AZPM Staff
During the first weekend that protests erupted around the country in response to George Floyd's death, Arizona's governor instituted a week-long statewide curfew. Tucson's police chief Chris Magnus said the curfew helped, even though Tucson's protest activity has been relatively calm compared to other places.
Chief Magnus attended a Black Lives Matter vigil held last week at the Dunbar Pavilion. "My primary purpose at the vigil was to listen," Magnus told The Buzz. "It was to make connections wherever I could." During the vigil, community members shared their experiences with police violence.
Magnus said that within Tucson, his department does not receive many complaints about police brutality and that when complaints do come in they are taken seriously.
Protests across the country have brought the concept of qualified immunity for police officers, which protects them from being held personally liable for most actions performed on the job.
"I think there are some reasons for qualified immunity that are more complex than sometimes the public understands but I think that immunity and the use of that may have gone too far at this point," Magnus said.
Magnus also said that he feels TPD has a relatively good relationship with the community and that community members can always share their feedback with the department.
---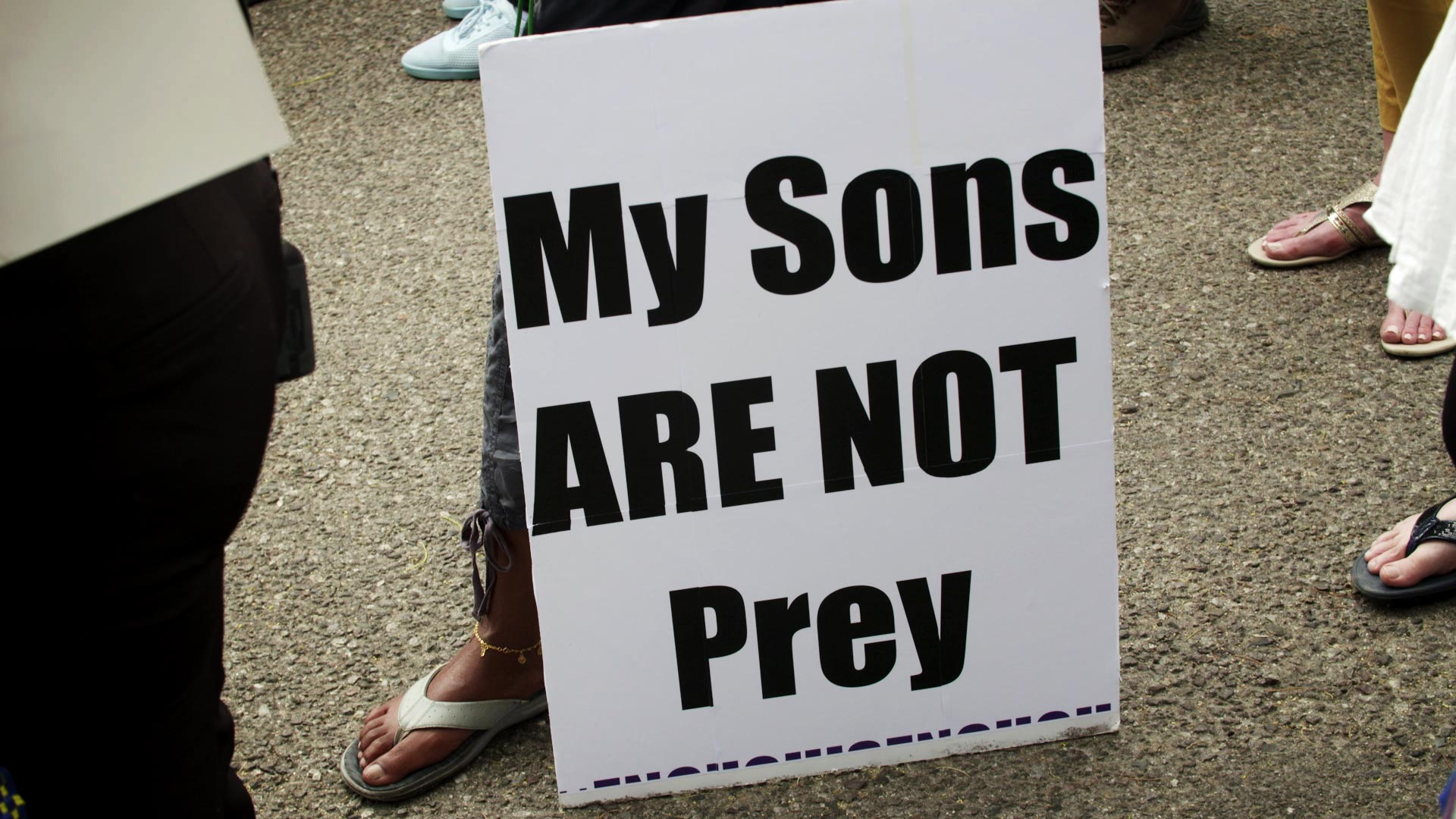 A sign protesting racial injustice at a candlelight vigil held in memory of George Floyd at the Dunbar Pavilion in Tucson on June 1, 2020.
Gage Judd/AZPM Staff
An online petition to defund and disband TPD recently garnered over 10,000 signatures, and advocates made their case to the mayor and city council at a public hearing Tuesday.
The debate centers around whether reforms TPD has already made go far enough. Even in a city with a self-styled "progressive police department," officers are still routinely dispatched to respond to issues that arise from mental health emergencies, drug addiction and homelessness.
Magnus has defended TPD's culture and reforms made over his tenure. Tucson is now one of two departments in America's one hundred largest cities to fully adopt "8 Can't Wait" — a set of policies aimed at reducing police violence, including a duty to intervene if officers use excessive force and requiring a verbal warning before shooting.
But groups advocating for defunding TPD argue the department's reforms are, at best, damage reduction.
TPD data from 2015 through 2019 reveal black people in Tucson are still disproportionately arrested and shot by police. Despite making up about five percent of Tucson's population, black people were nearly thirteen percent of those arrested and twelve percent of those shot by TPD.
TPD established a Force Review Board in 2017 in part to increase public oversight of the department. The board includes officers and six community members who have voting power to recommend policy changes or discipline.
More often than not, the board finds officers' use of force justified. They only consider what an officer knew in the moment when faced with a split-second decision.
Critics say people still need to address the more fundamental question of whether police should be there to begin with.