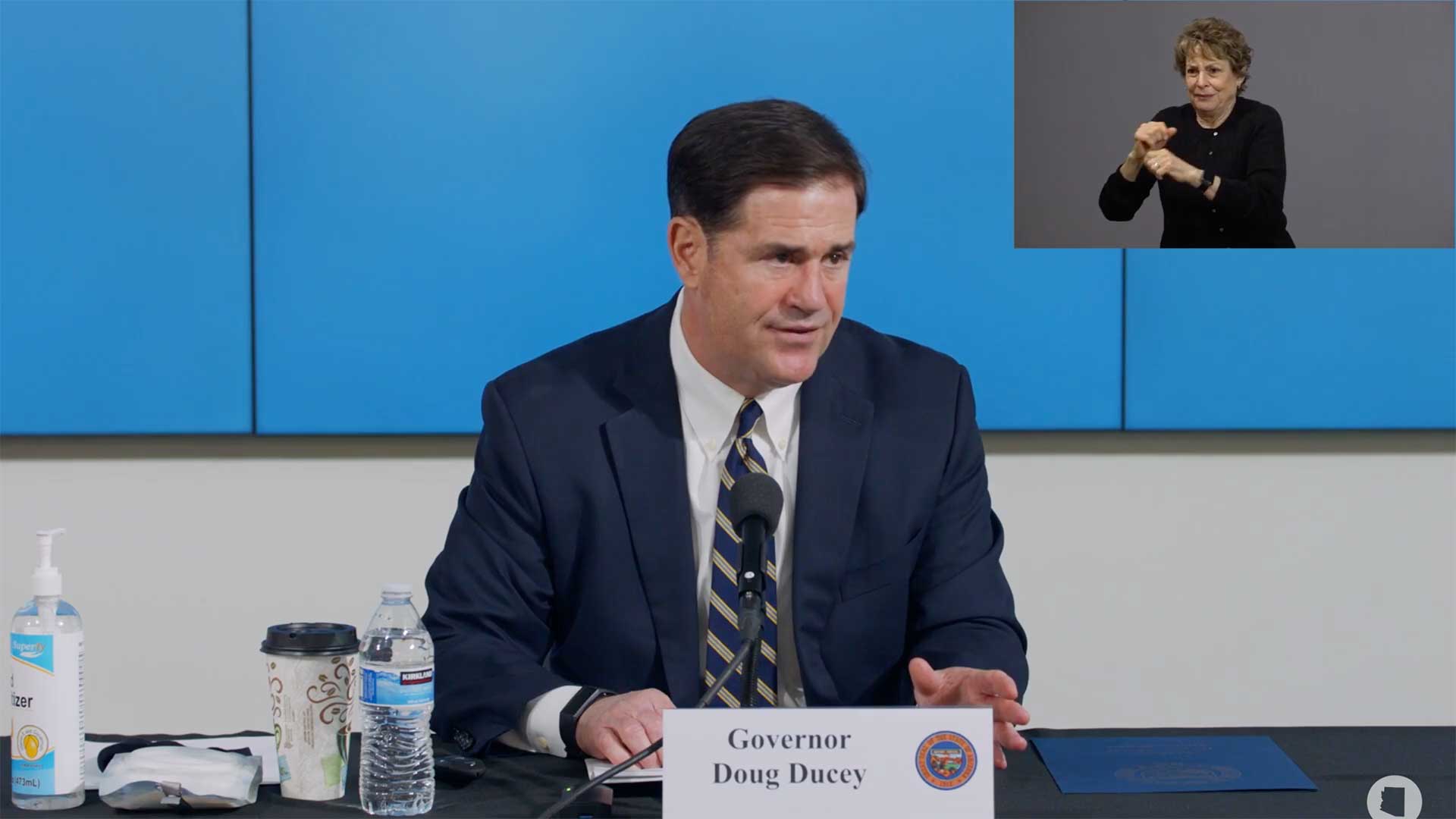 Arizona Gov. Doug Ducey delivers an address on the state's COVID-19 response, June 29.
Office of the Arizona Governor/YouTube
This story may be updated.
Arizona Gov. Doug Ducey on Monday announced an executive order temporarily stopping the operation of bars, gyms and movie theaters, banning certain mass gatherings and delaying the start date for the state's schools in an effort to rein in the state's rapidly increasing number of COVID-19 cases.
The order goes into effect at 8 p.m. Monday, June 29. It says businesses that are ordered to be closed — which also include waterparks — will need to show they're following public health regulations if they are to reopen after a target of 30 days. Schools are now set to reopen Aug. 17, for now.
Indoor or outdoor events of 50 or more people are prohibited under the order, with leeway for municipalities to issue permits, and groups of 10 or more people are no longer allowed to gather at pools. However, the governor's order says freedom of speech and religion are constitutionally protected, suggesting church and political events are exempt.
Last week, Ducey wore a mask to a Phoenix rally for President Trump, with thousands in attendance, many of them without masks.
In Monday's briefing, Ducey again focused on the growing number of cases among younger people, pointing to state data showing the 20-44 age group account for 22% of hospitalizations. He stressed the objective is to slow the spread of the virus, pointing to data of significantly lower daily case counts during the stay-at-home order. "We've done that before and we need to do that again," he said.
In the briefing, the governor did not issue a stay-at-home order, nor did he order the closure of restaurants. He continued to implore Arizonans to wear masks, but made no statewide requirement to that effect. He said a plan is in place for every staffer and inmate at state correctional facilities to have a mask.
Ducey continued his progression toward a darker tone in the Monday briefing, citing what he called a "brutal situation" with infection numbers and hospitalizations "going in the wrong direction." Ducey was no longer able to point to downward trends in any of the COVID-19 metrics, including the oft-repeated the measure of rate of positive tests. He dug in on the importance of safe practices and personal responsibility, underlining masks and staying home as the most important practices Arizonans can take.
The number of in-patient beds and ICU beds in use for COVID-19 continues to climb. Ducey said the rate of occupancy did not include extra beds enabled by surge capacity.
Arizona Department of Health Services Director Cara Christ said her agency is activating "crisis standards of care," asking hospitals to do things like get staffing ready for surges and prepare to stop nonessential procedures. She said the standards give a framework to hospitals for when they are short on resources and offer protections from liability for health care professionals. On Friday, Banner Health, the state's largest hospital group, said some facilities have activated their "surge plans" as many intensive care units fill nearly to capacity with COVID-19 patients.
Asked by a reporter if he had any regrets on his response to the pandemic, he said, "None of the decisions have been easy," reiterating his oft-repeated phrase that he's thinking about protecting both lives and livelihoods. He also said he has listened to public health the whole way, despite those who say the need for faster action was predictable.
The governor said the state is continuing to increase testing and building capacity for more, and encouraged people to sign up to get tested.
The governor's briefing last week also started with a markedly less optimistic tone, noting that the situation in the state was on track to get much worse before it improves. He said he was "enlisting" Arizonans to stay home and wear masks, directing the message in particular to younger groups said to be a significant driver in the surge, though he did not announce any requirements then.