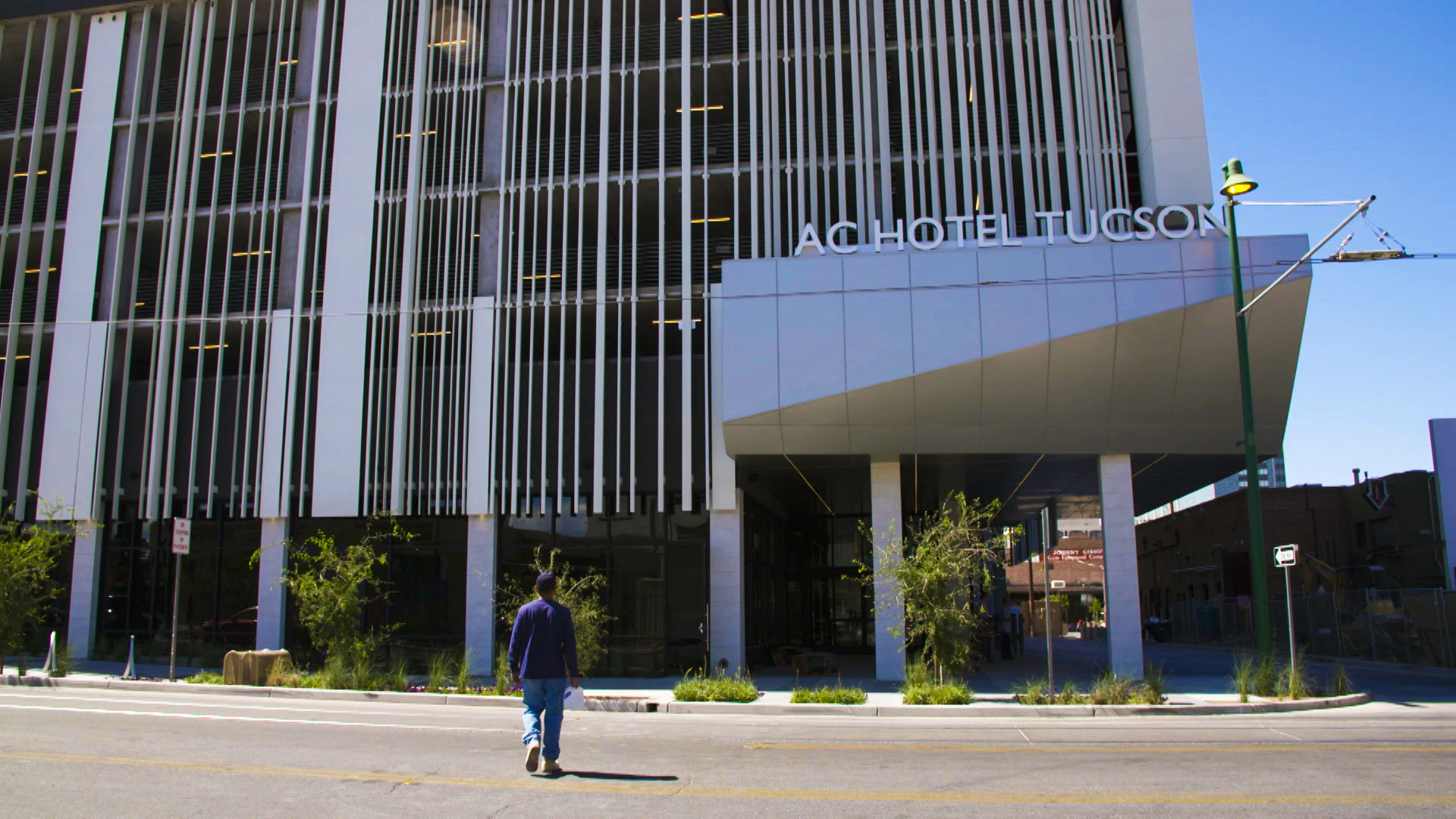 The exterior of the AC Marriott Hotel in downtown Tucson. The hotel is one of many downtown that have taken advantage of the GPLET tax incentive.
AZPM
A tax incentive popular with developers is getting a second look from the Tucson City Council.
The Tucson mayor and council voted Wednesday to delay the renewal of the city's central business district, in which developers can take advantage of the government property lease excise tax, or GPLET. The incentive introduced in 2012 has come under scrutiny in recent years for a perceived connection to gentrification and a process that some on the council say doesn't hold developers accountable.
The current central business district encompasses downtown Tucson and its surroundings, West Saint Marys Road, North Stone Avenue, North Oracle Road and West Grant Road. Tucson Mayor Regina Romero questioned whether the current boundaries make sense given downtown's development boom over the past decade.
"Where are the areas of our city that actually need investment?" she said. "If we are going to keep the GPLET as an economic development tool, what is the benefit for the community?"
The city introduced the GPLET to spur development in the aftermath of the Great Recession. The incentive lets the developer off the hook for up to eight years of property tax payments. In exchange, the development must improve the property value by at least 100% — not a difficult feat when most GPLET projects are aimed at vacant lots and derelict buildings.
Romero advocated for additional requirements of developers who want to take advantage of a GPLET, such as reduced rent for local businesses or transit passes for residents. She said the program should be targeted at dense developments that emphasize walking, biking and public transportation.
State law bars the city from entering into a GPLET agreement unless an economic analysis determines it would make more in sales taxes in the eight years than it would lose in property taxes.
Ward 6 council member Steve Kozachik said he isn't willing to support another GPLET agreement that doesn't entail a process for ensuring those economic promises materialize.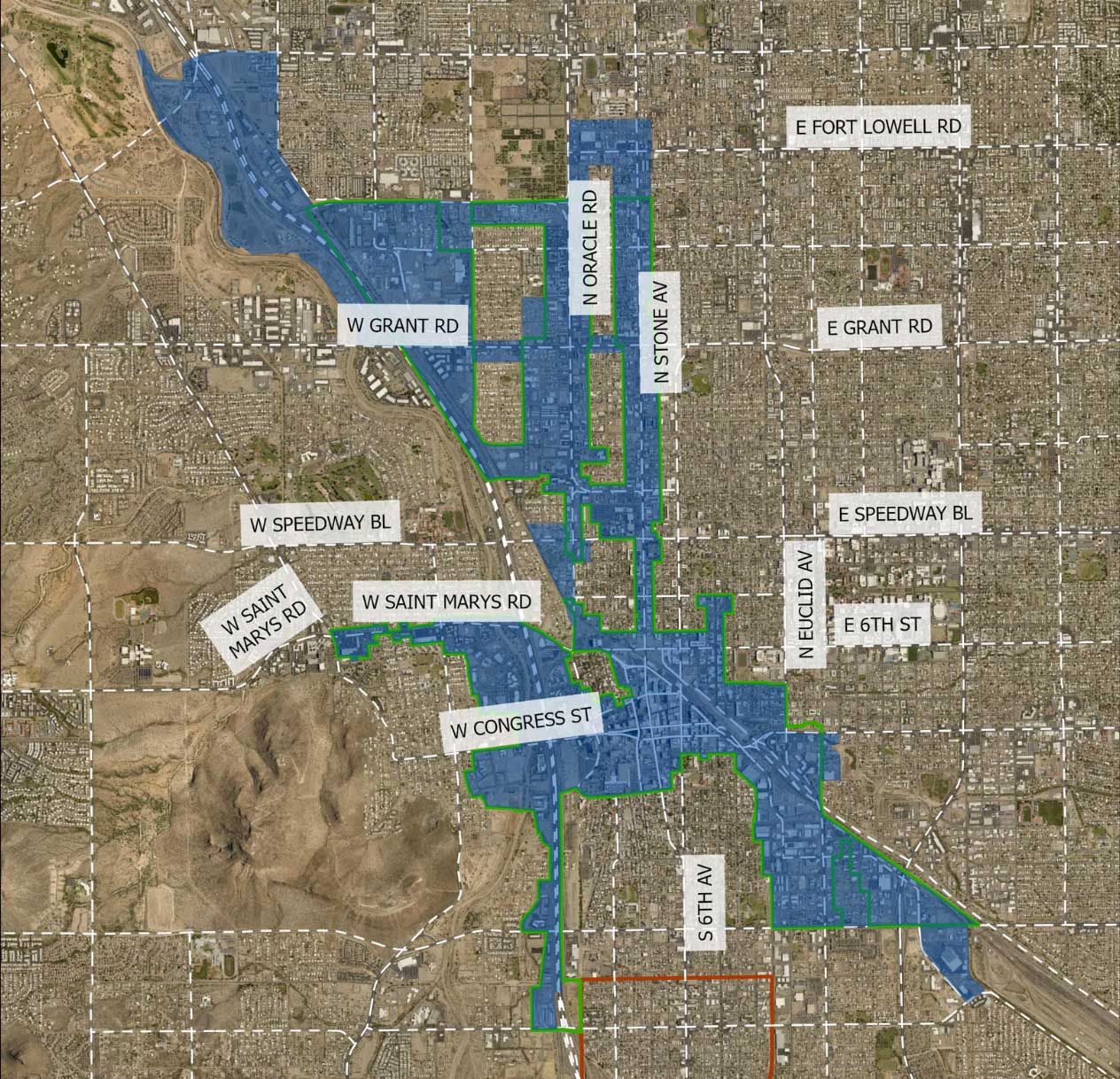 VIEW LARGER The proposed central business district in blue with the current district boundaries in green.

City of Tucson
The council is considering an expansion of the central business district further into southern Tucson and Amphi. Some of those living in the proposed boundaries have raised concerns that increased development could drive up housing costs and gentrify neighborhoods home to primarily people of color.
South Park resident Roxanna Valenzuela has been saving up to remodel her home, but said she doesn't think it's fair she won't get her property taxes abated because her improvements wouldn't improve the value of her property by 100%. "Our community is in desperate need of resources and we're always being ignored," she said.
The South Park neighborhood is no longer being considered for the central business district, according to a city report. South Sixth Street and West 22nd Street are also no longer under consideration.
Vice Mayor Paul Cunningham said it might not be wise to eliminate the incentive while the city is facing an economic crisis brought about by the coronavirus pandemic.
Cunningham said the incentive was instrumental in revitalizing downtown, but pointed out that not all GPLET agreements are going to deep-pocketed developers. "GPLET does, to some extent, contribute to gentrification. But it's also a red herring," he said.
GPLET projects include the The Cadence, a 196-unit apartment building at 350 E. Congress Street, completed in 2014; Brother John's BBQ at 1801 N. Stone Avenue, completed in 2016; and the 136-room AC Marriott hotel at 151 E. Broadway Boulevard, completed in 2017.
Some residents have also taken issue with the state requirement that the city designate GPLET-eligible areas as "slums." The terminology doesn't sit well with Ward 1 council member Lane Santa Cruz.
"When areas hear their neighborhoods talked about as blighted and slums, that's really cringe-worthy," she said, noting that many of those areas have historically lacked government investment. "Growing up in South Tucson, I always wondered, why we didn't have trees? Why didn't we have sidewalks? Why didn't we have bus shelters?"
The council plans to discuss changes to the GPLET program at its Sept. 22 meeting. The city faces an Oct. 1 deadline to renew the existing central business district.