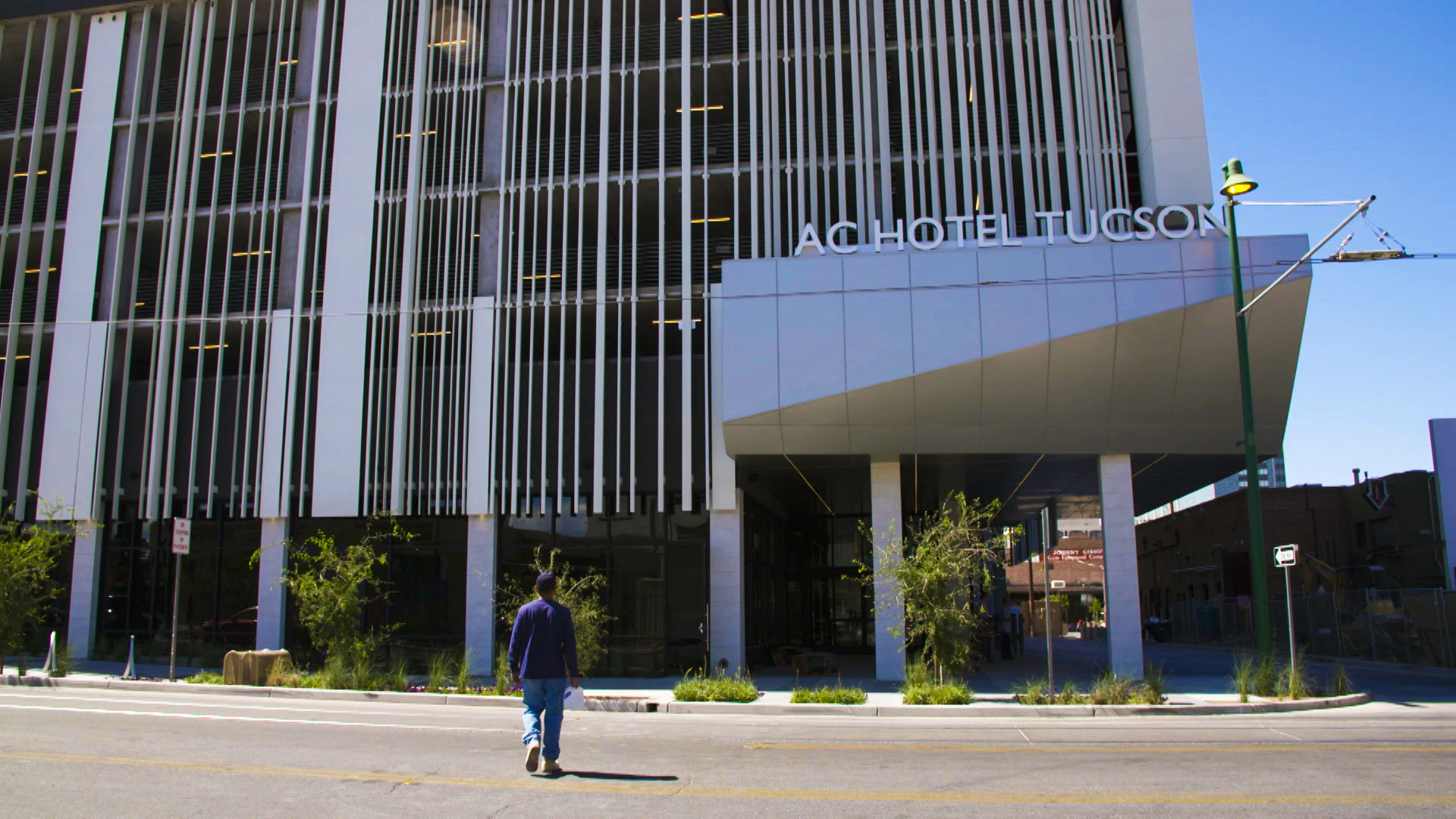 The exterior of the AC Marriott Hotel in downtown Tucson. The hotel is one of many downtown that have taken advantage of the GPLET tax incentive.
AZPM
Tucson has seen a lot of new development downtown, and there's more on the way in spite of the pandemic. What some describe as revitalization, others see as gentrification and displacement of longtime residents and businesses.
The city makes use of a state program called the Government Property Lease Excise Tax, better known as GPLET, to incentivize downtown development. The GPLET allows developers to rent city owned property for virtually nothing so long as they agree to increase the property's value by at least 100%. As an example, the first grocery store in downtown Tucson, Johnny Gibson's Downtown Market, is a GPLET project. Rent on the property is set at $10 a year.
The deal also allows the developer to not pay property taxes for eight years — the life of the lease.

According to a city report, 90% of Tucson's 25 GPLET projects have gone to local developers. They've spurred over $300 million of capital investment, but they've also helped transform downtown into a far more expensive place than it used to be. Prior to the pandemic, rents downtown had increased 8% over the last year.
The GPLET subsidy has been controversial since it was introduced into law by the Arizona Legislature in 1996. This year saw a fresh wave of GPLET criticism sweep Tucson, partly driven by the Barrio Neighborhood Coalition, composed of neighbors who organized in response to rising costs downtown, and the fear their neighborhoods would be next.
In September, the city was set to renew and expand its Central Business District, in which it is allowed to offer a GPLET. In response, the coalition launched a week of protest at every ward office.
The mayor and council ended up renewing the district, but agreed the incentive was due for some changes. Beginning in January, the city will solicit public feedback on ways such projects can better benefit the community. Sign up here for updates on how to participate.
Some argue eliminating or attaching strings to the GPLET would do more to raise housing costs and worsen poverty. That's because without it, many of the projects that have brought more housing and jobs downtown wouldn't have happened.
Randi Dorman is a local developer and board member for the Downtown Tucson Partnership. She said it's expensive to build downtown, and local developers only have so much of their own money. Eventually, they need a loan and outside investors.
With the GPLET, property tax isn't a part of the picture at first, making banks and investors more likely to back a project.
She said GPLET helps bring in more revenue to the city in the long term by creating valuable projects that, after eight years, will generate more substantial property taxes.
But given Tucson's hot real estate market, some argue new development no longer needs the tax incentive. Sean McCarthy is a senior research analyst for the Arizona Tax Research Association, a taxpayer watchdog that advocates for efficient government fiscal policy.
State statute requires the city designate areas where it offers the GPLET as "blighted." McCarthy said Tucson should reevaluate whether its downtown really warrants that status anymore.
Barbra Coffee is the economic initiatives director for the city of Tucson. She said she thinks the GPLET program is one factor that attracts businesses to Tucson, but that no single incentive will make or break a development project.
GPLET projects help drive foot traffic downtown, which is good for businesses, Coffee said. But community feedback is also valuable and something the city will want to incorporate into any modifications to GPLET.
"There's a concern that what the essence of Tucson, what makes Tucson unique, is its independently-owned, locally-owned or even employee-owned type of businesses," Coffee said. "We absolutely want to keep the flavor of what makes Tucson unique. That absolutely is what attracts people to Tucson."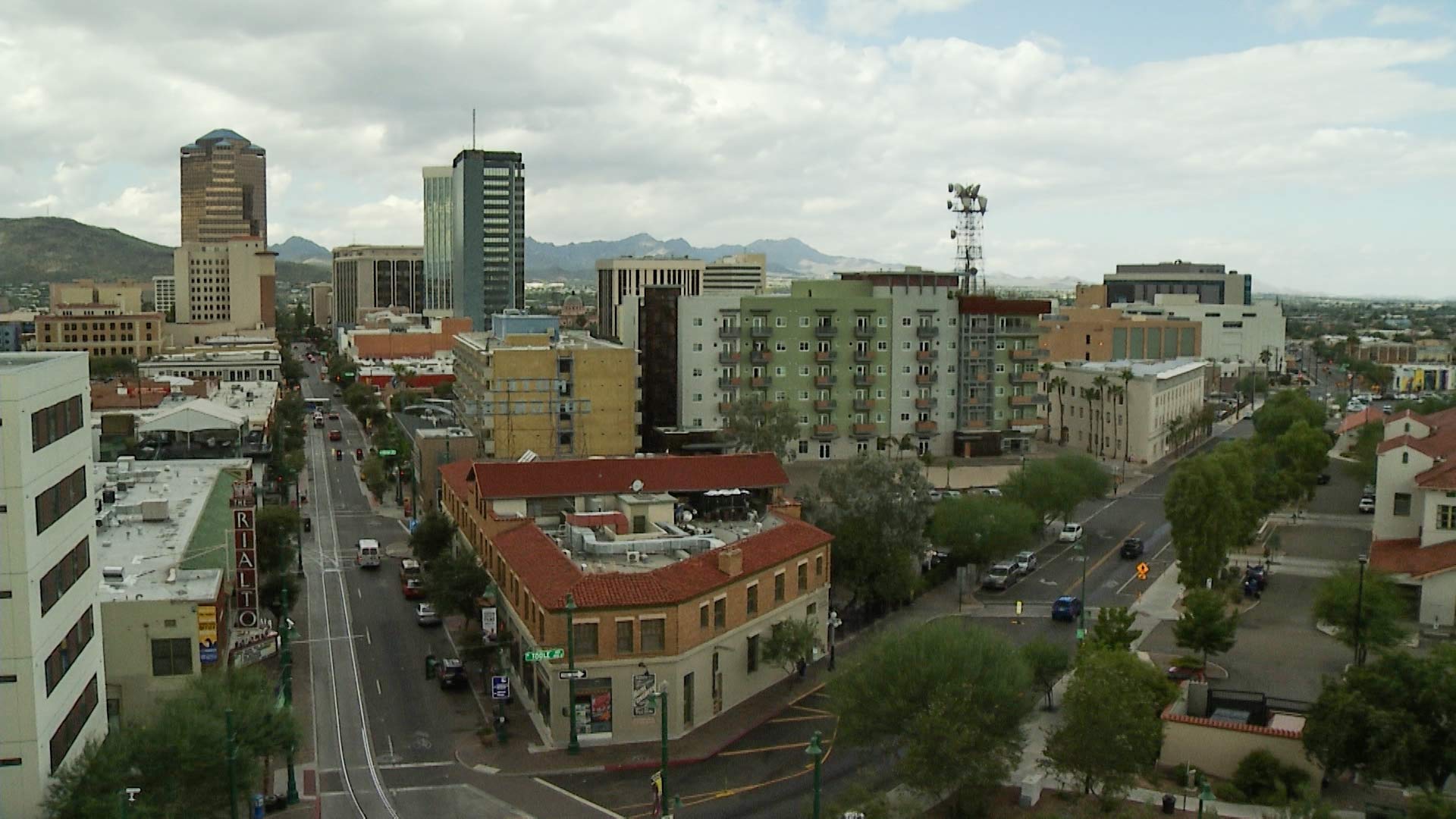 A view of downtown Tucson.
AZPM Staff
Peach Properties has been a local Tucson developer for decades. Currently Peach Properties manages more than 20 properties from South Tucson up to about 6th Street and the downtown center. They are a leading driver of downtown redevelopment, responsible for notable properties like the Manning House and Chicago Music Store.
"We like to, basically, take underutilized buildings and bring them back to life and fill them with local businesses," said Chris Leighton, the company's project manager.
GPLET is a tool Peach Properties uses to help keep rents low for those local businesses, Leighton said.
Tucson City Council member Lane Santa Cruz represents Ward 1, which includes the west side, south side and part of downtown.
She said that GPLET has met its original goal of revitalizing the economy of the downtown area, but it came with the side effect of potentially pricing longtime residents out of the area.
Santa Cruz said the city needs to find a balance between the goals of economic development and community preservation. That balance might lie in making sure that local businesses can take advantage of economic incentives.
"How are we making sure that we are actually addressing the folks who don't come from having inherited wealth in their families, but are trying to be creative and work with other folks on addressing a lot of the needs we have in our community?" Santa Cruz said.
Santa Cruz said a crucial first step for the city to take is to actively solicit and listen to concerns from its citizens.

The Buzz
airs Fridays at 8:30 a.m. and 6 p.m. and Saturdays at 3:30 p.m. on NPR 89.1. You can subscribe to our podcast on
iTunes
and NPR One. See more from
The Buzz
.