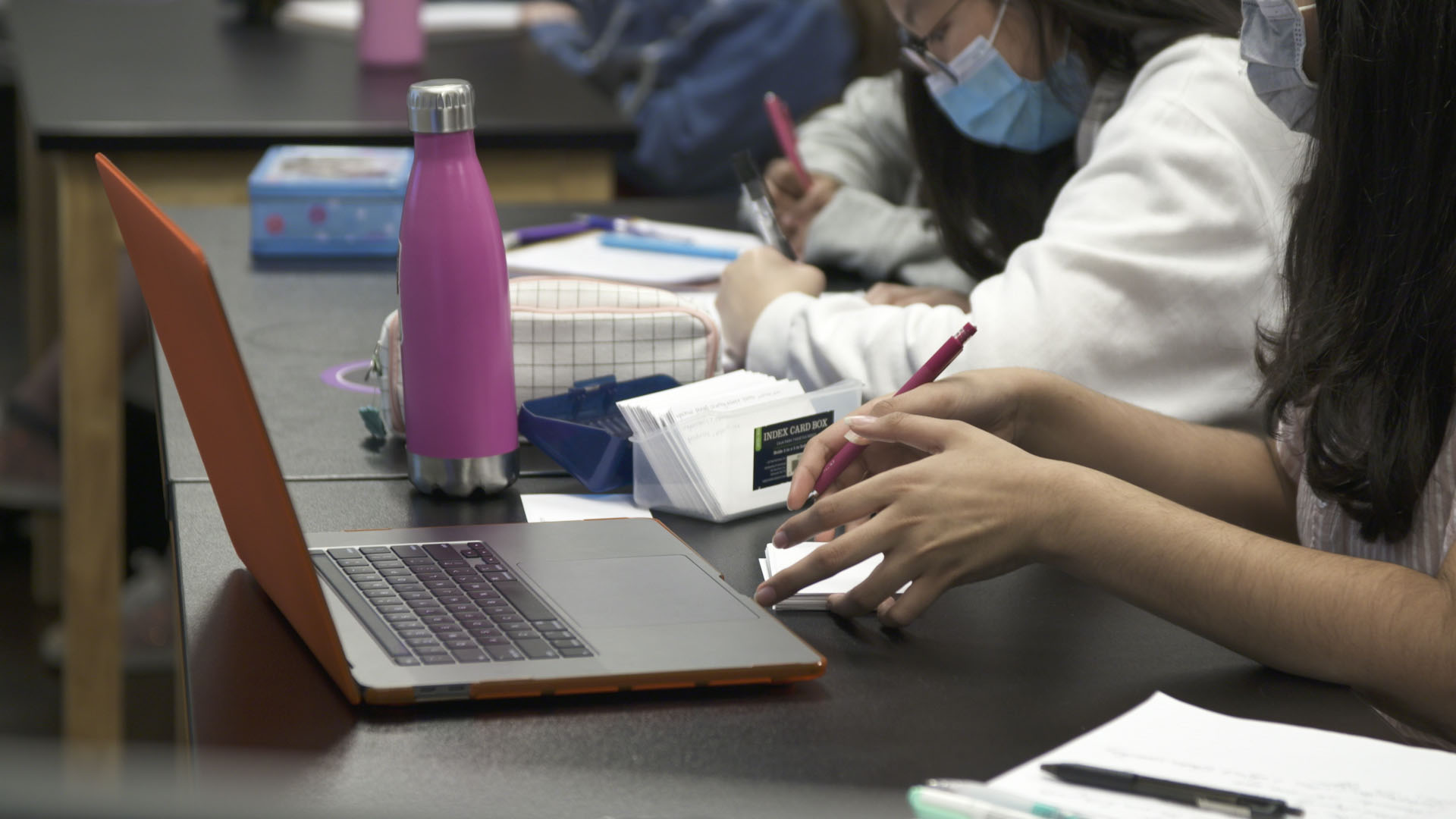 Children at school during the COVID-19 pandemic.
AZPM
The rolling average of new cases of COVID-19 in Arizona is slowly declining as vaccination rates continue to increase. But at the same time new variants of the virus have been found in Arizona, which could slow the rate of decline if they prove more contagious.
This week the state reached one million fully vaccinated residents — that's about 15% of the state's population. Public health experts estimate somewhere between 70% to 80% of the population vaccinated is needed to achieve herd immunity.
After reopening last spring ahead of what became a deadly summer surge, Arizona's economy did not shut down again, but Gov. Doug Ducey did place temporary restrictions on businesses like gyms, restaurants and bars. As pandemic metrics improve, Ducey has begun lifting some of the restrictions while continuing to urge residents to follow health protocols like wearing masks, social distancing and washing hands.
On March 3, Ducey announced schools would be required to offer in-person learning starting this week, or following spring break.
Wes Oswald, a third-grade teacher at Manzo Elementary School in Tucson, spoke to The Buzz about how the pandemic year has gone.
He said it has been a very challenging year, with many teachers leaving the profession, lots of technical difficulties with remote teaching and a loss of connection with students.
He said he's trying to make the best of the return to in-person instruction, but does not feel teachers are getting the support they need from the district or elected officials.
"We are really being pushed into a corner in terms of how we deliver instruction," Oswald said.
In his classroom, seven students will return for in-person instruction, while 14 will remain online. He raised concerns about the internet connection at Manzo and how that might impact his ability to reach the majority of his class.
Oswald also said that a large portion of the remaining school year will be spent administering the AzMERIT test. The test must be administered in-person, but students can choose not to participate. Oswald said he does not think this is the best use of teachers' or students' time.
"It's shameful that we are going to be expected to spend time testing kids instead of like 'hey, here's our opportunity to do some extra learning,'" Oswald said.
The Tucson Unified School District will offer in-person instruction starting Monday.
Amphitheater Public Schools is a district with about 10,000 students. Like many school districts, Amphi began a hybrid program last fall, but had to switch back to fully remote learning during Arizona's winter COVID spike. The district returned to hybrid learning Feb. 15.
Now Amphi is looking to expand in-person learning and fully reopen March 24, shortly after the end of its spring break.
During a recent school board meeting, Superintendent Todd Jaeger said that the plan to fully reopen relies on successful mitigation strategies. Among these are mask wearing, physical distancing, hand washing, frequent sanitation, having ventilation systems in each room and onsite COVID-19 antigen testing.
"We're not in the position in terms of being able to open here soon because of any one thing. It is actually our interdependence on a number of mitigation strategies," Jaeger said.
In a Amphi parent survey from early March, 94% of respondents chose the in-person learning option. An online learning option is still available for families who don't want to send their kids back to campus.
---
Gov. Ducey recently issued an order allowing restaurants to return to full capacity, so long as they continue to maintain physical distancing and masking rules put in place by the health department.
Josh Jacobson is one of three owners of Lucky Wishbone restaurants, a local chain in Tucson. The combined eight locations employ around 200 people. He is also on the board of the Arizona Restaurant Association.
He said that the Lucky Wishbone team's first priority was staff safety and retention and they used a mantra to remember this: "Stay safe, stay paid, run a good business."
Jacobson said because their business is predominately takeout, they've fared better than some other restaurants during the pandemic, but they still felt its impacts in other ways.
While sales have remained relatively steady, supply costs have increased, as has lead-time, or the time between when a supply order is placed and when it arrives.
"Everything is pushed back because everybody is so tight on labor, they just physically don't have the hands to make the products," Jacobson said.
He said that lifting capacity restrictions is a good first step, but restaurants are not operating quite like normal yet.
---
Last week, on The Buzz's sister show Arizona 360, host Lorraine Rivera spoke with Amber Smith, president of the Tucson Metro Chamber, about how the year has gone for local restaurants. The chamber set up the Tucson Restaurant Advisory Council to support local businesses during the pandemic.
Smith said that restaurants have received conflicting information and guidelines from local and state officials, prompting her group to push for clarity.

After the governor's decision to lift capacity restrictions, Smith said she thinks both restaurant employees and patrons will feel safer. She pointed out that restaurants will continue to physically distance patrons as a safety precaution.
The council also provides online information to the Tucson community regarding the safety practices in place at local restaurants.

The Buzz
airs Fridays at 8:30 a.m. and 6 p.m. and Saturdays at 3:30 p.m. on NPR 89.1. You can subscribe to our podcast on
iTunes
and NPR One. See more from
The Buzz
.