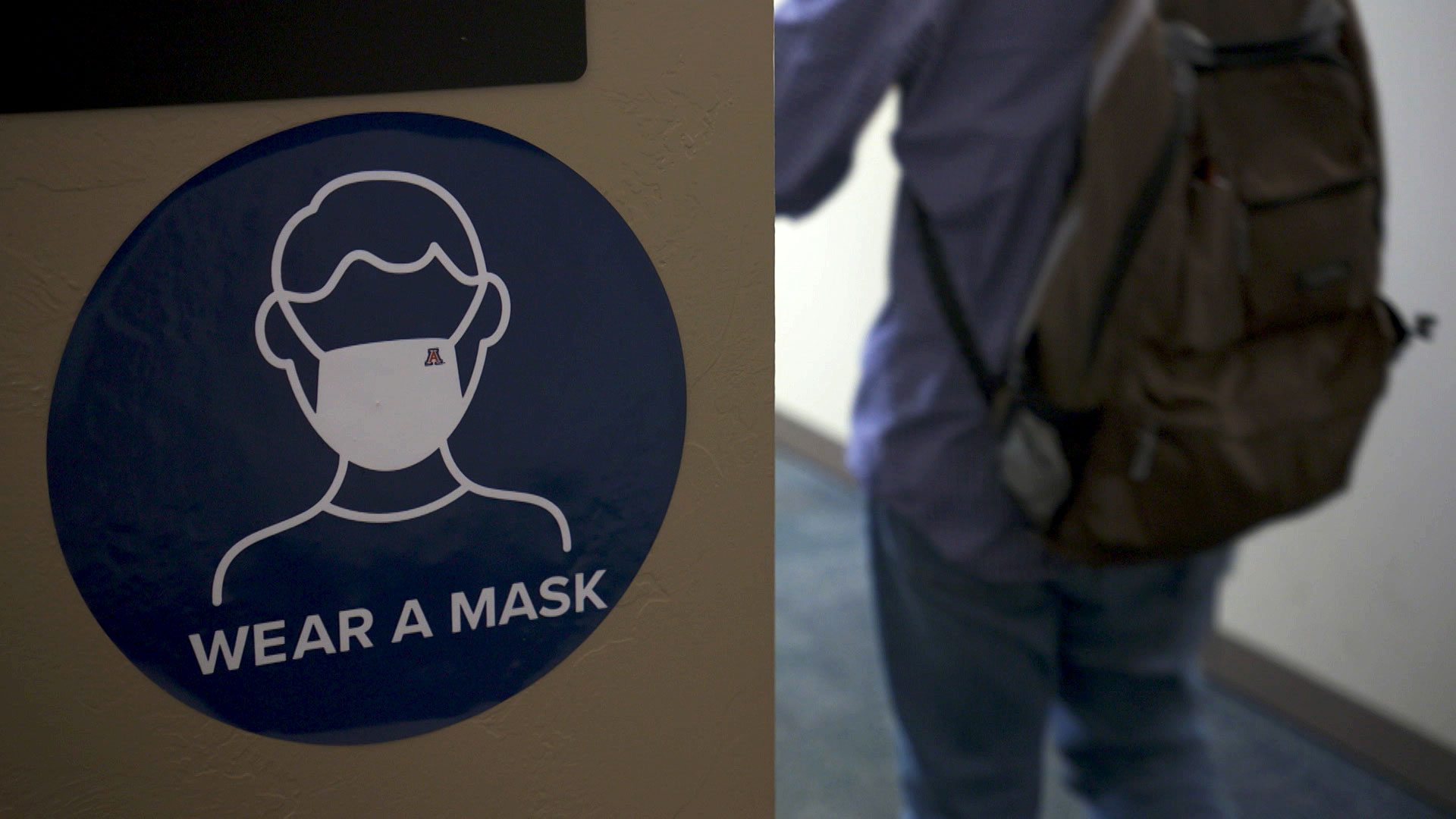 Signage inside a building at the University of Arizona promotes mask wearing on campus, July 2020.
Robert Lindberg/AZPM Staff
The University of Arizona has a strict mask wearing policy for anyone coming on campus and it is not changing despite Governor Doug Ducey's executive order allowing mask mandates to be lifted.
"We need to keep doing that's been so successful and gotten us to this point," said Dr. Robert Robbins, President of the University of Arizona.
Robbins said the mitigation and push for vaccines is important not only for the university but for the community as a whole.
"Otherwise, this virus is going to continue to mutate and kill people," said Robbins
The University of Arizona entered Phase Three this week, which means allowing classes of 100 or fewer students to meet in person.
Some people worry that allowing more students on campus could bring a spike in cases. Dr. Mike Worobey, an evolutionary biologist and virus expert at UA said classrooms are safe.
"It is kinda our most controlled scenario that we have, and my concern is more what happens off-campus, after hours," Worobey said
University officials are watching the local, state, and national COVID-19 numbers carefully and if there is too much non-compliance with mask-wearing and the numbers go up again things on campus would change.
"If we see that there is a trend going in the wrong direction, we'll shut that down right away," said Dr. Richard Carmona, head of the UA COVID response team and former U.S. Surgeon General.
The university requires students, faculty, and staff coming on campus to get weekly tests for COVID-19. Robbins said he would like to require anyone coming on campus to get vaccinated but the university can't do that.
"Because the vaccine is under an emergency use authorization, we can't mandate it, we're strongly encouraging," said Robbins.
If the Food and Drug Administration changes the emergency classification, Robbins said, the university would look at making vaccines mandatory. Last week, Rutgers University announced that it will require all students to be vaccinated in order to return to campus for the fall semester.
UA reported fewer than 50 cases of COVID-19 in the last week with a positivity rate of less than a half percent.